Cool and crisp lettuce wrap recipes
When the mercury soars, keeping cool is what it's all about. And that can make eating healthy foods a challenge. Good thing lettuce wraps are an easy way to turn your usual wraps and salads into cool summertime (or anytime) meals.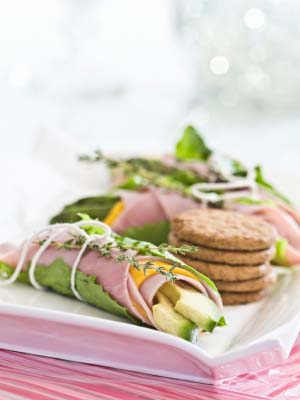 Think of lettuce as a crisp and cool delivery system that turns your everyday dishes into something fun and different. Lettuce wraps are also a great way to use up any leftovers, and if you must cook ingredients, cook them ahead so they are cool when you are wrapping. On hot summer days, it's a meal that allows your family to eat as much or as little as they want, and can provide interesting and tasty (and, again, cool!) fuel to get you through the heat wave. Asian beef lettuce wraps Ingredients:
Large butter lettuce leaves, rinse and dried
1 pound ground beef
1 tablespoon canola oil
1 large onion, finely chopped
2 cloves fresh garlic, minced
1 tablespoon soy sauce
1/4 cup hoisin sauce
2 teaspoons minced pickled ginger
1 tablespoon rice wine vinegar
Asian chili pepper sauce
1 can water chestnuts, drained and finely chopped
1 bunch green onions, chopped
2 teaspoons dark sesame oil
Directions:  
Heat the oil in a medium skillet over medium high heat. Crumble in the ground beef and brown. Drain, and set aside to cool.
Saute the onion in the same pan, stirring frequently. Add the garlic, soy sauce, hoisin sauce, ginger, vinegar, and chili pepper sauce to the onions, and stir. Stir in chopped water chestnuts, green onions, and sesame oil, and continue cooking until the onions just begin to wilt, about 2 minutes. Add the ground beef back to the pan and stir to combine.
To serve, wrap the lettuce around the meat like a burrito.
Mango caprese salad lettuce wraps Ingredients:
Four tomatoes, chopped
1 mango, peeled and chopped
1 1/2 cups fresh mozzarella cheese cubes
1/3 cup chopped fresh basil
2 to 3 tablespoons olive oil
2 to 3 teaspoons balsamic vinegar
Kosher salt and pepper to taste
Large butter lettuce leaves, rinsed and dried
Directions:
In a bowl, toss together the tomatoes, mango, mozzarella and basil.
In a second bowl, whisk together the olive oil, balsamic vinegar and salt and pepper. Toss with the tomato-mango mixture.
Serve wrapped in lettuce leaves.
Curried rice noodles and chicken lettuce wraps Ingredients:
4 ounces uncooked rice sticks
2 1/2 teaspoons  olive oil
1 1/4 cups thinly sliced onion
1 tablespoon grated peeled fresh ginger
2 1/2 teaspoons curry powder
4 garlic cloves, minced
1 cup grated carrot
1 1/2 cups thinly sliced napa cabbage
1 1/2 tablespoons water
1/4 cup chopped fresh cilantro
2 1/2 tablespoons sake
1 1/2 tablespoons low-sodium soy sauce
1/2 teaspoon sugar
1/2 teaspoon salt
1/4 teaspoon freshly ground black pepper
2 cups shredded cooked chicken
1 1/2 cups  fresh bean sprouts
Several large butter lettuce leaves
Directions:
Place noodles in a large bowl. Cover with boiling water. Let stand 20 minutes, then drain and rinse with cold water.
Heat oil in a wok or large skillet over medium-high heat. Add onion, ginger, curry powder and garlic to pan; stir-fry 3 minutes. Add carrot; stir-fry 2 minutes. Add cabbage and water; cook 2 minutes, stirring often. Remove from heat.
Whisk together cilantro, sake, soy sauce, sugar, salt and pepper in a bowl until sugar dissolves.
Add the noodles, cilantro mixture, chicken and bean sprouts to pan with the vegetable mixture; toss to combine.
To serve, spoon mixture on each lettuce leaf; roll up.