Cool & hot: Cool summer recipes with a spicy kick
Just because it's summer and just because it's hot outside and cool meals are preferred, doesn't mean flavor should go by the wayside. In fact, the juxtaposition of spicy heat in a cool dish on a hot summer day can be just what your taste buds ordered.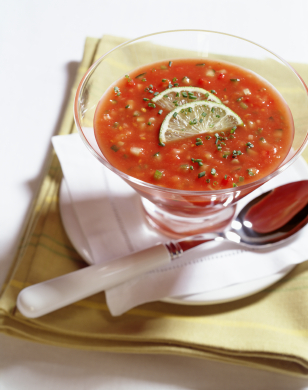 Cool but spicy summer meals seem to combine just what we need in a summer meal with how we feel in the summer: there's delicious nutrition, yes, but the spice bring something extra, maybe taking our focus away from the heat outside and focusing that feeling inside - and sometimes going inside out by making sure those sweat glands are working properly. It somehow balances.
All that said, with some planning, you don't have to heat up the house in the process of making your cool but hot summer meals. Plan several day's worth of necessary cooking for late one night - then you'll have chicken or beef or shrimp or pasta ready to go on an as needed basis. But do be careful about how soon you add the heat to a meal. The flavors of some peppers build over time, so what was reasonable heat on Tuesday may have concentrated and built up to much more than that on Thursday!
Gazpacho Recipe
Ingredients:
2 cucumbers, thinly sliced
1/2 bunch celery, coarsely chopped
1/2 red onion, coarsely chopped
1/2 red bell pepper, seeded and coarsely chopped
1/2 yellow bell pepper, seeded and coarsely chopped
2 small hot chili peppers, seeded and finely chopped
4 scallions, chopped
4 cloves garlic, minced
1/2 cup fresh parsley, chopped
1 tablespoon tabasco sauce (more or less to taste)
1 tablespoon Kosher salt
1 tablespoon freshly ground black pepper
1 tablespoon red wine vinegar
2 tablespoons olive oil
6 large ripe red tomatoes, seeded
Directions:
In a food processor, combine about 1/2 of the cucumbers with the remaining ingredients.
Chill thoroughly. Serve with slices of reserved cucumber on top.
Chipotle Chicken Salad Recipe
Ingredients:
1/4 cup orange juice
1/4 cup soy sauce
3 teaspoons cumin, divided
2 teaspoons chili powder, divided
2 cloves garlic, smashed
3-4 boneless skinless chicken breasts
4 corn tortillas, sliced into strips
Canola oil
1 teaspoon smoked paprika
1 teaspoon Kosher salt
2/3 cup sour cream
1/3 cup fresh cilantro, minced
Juice from 2 limes
1 chipotle chili, minced (canned in adobo sauce)
salt to taste
4 cups shredded romaine
1 cup diced tomato
1 large avocado, peeled and sliced
1 cup frozen corn kernels, thawed
1/4 red onion, sliced
Directions:
Whisk together the orange juice, soy sauce, 1 teaspoon cumin, 1 teaspoon chili powder and garlic. Marinate the chicken breasts in this overnight. Grill the marinated chicken, let cool completely, and dice.
Combine 1 teaspoon cumin, paprika and salt. Heat about one inch of oil in a skillet. Fry tortilla strips until golden brown and crisp. Toss in the spices.
In another bowl, combine sour cream, cilantro, lime juice, 1 teaspoon cumin, 1 teaspoon chili powder, chili and salt. Mix well.
In a large bowl combine lettuce, tomato, avocado, corn, red onion, corn and chicken. Toss with the dressing and serve with crisp tortilla strips on top.
Thai Beef Salad Recipe
Ingredients:
1/3 cup fresh lime juice
1/4 cup fresh cilantro leaves, chopped
2 tablespoons brown sugar
1 tablespoon low-sodium soy sauce
1 tablespoon water
1 tablespoon fish sauce
4 cloves garlic, minced
1 serrano pepper, or red Thai pepper, seeded and minced
1 1/2 lbs flank steak
Kosher salt and freshly ground black pepper
6 cups red leaf lettuce, torn into pieces
1 cucumber, peeled and sliced
1 tomato, diced
3 green onions, sliced diagonally
1/3 cup fresh mint leaves, chopped
Directions:
Preheat grill.
In a bowl, whisk together the lime juice, cilantro, sugar, soy sauce, water, fish sauce, garlic and hot pepper. Set aside.
Season both sides of the steak with salt and pepper, then grill until done, about 6 minutes per side.
Let steak rest for 5 minutes, then slice diagonally into 2-inch pieces.
In a large bowl combine lettuce, cucumber, tomato, green onions, mint and beef. Toss with dressing and serve.
Curried shrimp and pasta salad
Ingredients:
2 teaspoons curry powder, divided (or more, depending on your preference)
1/4 cup plus 1 tablespoon olive oil
1 pound shrimp, peeled and deveined
1 pound angel hair pasta
1/4 cup vegetable oil
1 tablespoon vinegar
1 teaspoon curry powder
1 teaspoon sugar
1/2 teaspoon salt
1/2 teaspoon garlic powder
1/2 cup chopped red onion
1 can Mandarin orange segments, drained
1/2 green pepper, thinly sliced
Directions:
Combine 1 teaspoon of curry powder with 1/4 cup olive oil. Toss the shrimp in this to coat, then refrigerate for 1 hour.
Cook the shrimp in a grill pan until done.  Let cool.
Meanwhile, cook the pasta. Drain, toss with 1 tablespoon olive oil and let cool.
Combine 1 teaspoon curry powder, vegetable oil, vinegar, sugar, salt and garlic powder. Mix well.
In a large bowl, combine shrimp, pasta, red onion, mandarin orange segments and green pepper. Pour the dressing over it and toss to coat.