Sundae bar fun
Whether the occasion is a graduation, a birthday or just plain Tuesday, sundae bars are fabulous fun for the whole family. With an array of choices in frozen desserts and toppings, everyone from the youngest to the oldest, picky eaters to omnivores alike are sure to find something to enjoy for a very special dessert.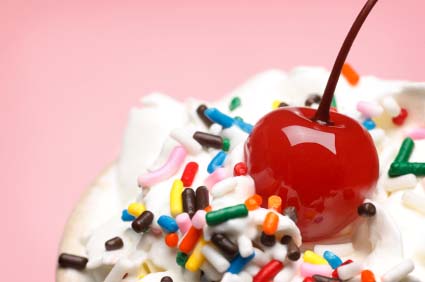 The key to a sundae bar is preparation. Yes, you need to have a wide range of choices to have a memorable sundae bar, but the preparation for that does not have to be onerous. Many items can be prepped in advance and others come already prepared from the local megamart; all you have to do is pop a lid. The ice cream Whether you choose store bought or homemade, have at least two ice cream flavor choices; preferably three or more. While chocolate and vanilla are obvious foundations for sundaes, don't rule out other combinations, like butter crunch and coffee, or rocky road and strawberry. You can also use sorbets (and gelatos) in your sundae bar. Strawberry sorbet with a drizzle of chocolate sauce and some softly whipped cream is quite tasty. The toppings What really makes a sundae is its toppings. From syrups to nuts to fruits to whipped cream, a sundae is what YOU make it - not anyone else. You can keep a stash of syrups in the fridge, and keep canned whipped cream on your regular shopping list, and always have a jar of maraschino cherries handy. Also, prepping some specific items and keeping them on hand is a great way to make any sundae bar go from great to out-of-this-world. Some traditional sundae toppings include:
Whipped cream, of course
Chocolate syrup
Butterscotch syrup
Hot fudge
Chopped nuts (peanuts, walnuts)
Maraschino cherries
Fresh bananas
Crushed candies such as toffee bars and peanut butter cups
Candy sprinkles
With these common ingredients on hand, you can create a fabulous sundae bar anytime. Be ready at a moment's notice If you like to host regular, impromptu sundae bars, chop up nuts and fruits in advance and keep them in the fridge or freezer. Keep syrups in your refrigerator and probably a quart (or two or three!) of good ice cream hidden in the back of the freezer. Don't forget the napkins. That way, when your son's baseball team comes over hoping to celebrate a win, you can put out sundae fixings quickly and easily. Don't forget the napkins.