Family road trip snacks
Summer is high time for cross country road trips, passing time taking in the sights with your family while you reach your vacation destinations. Road trips are also mostly sedentary adventures which, if peppered with frequent convenience store stops and fast food drive-thrus, can lead to a car load of fat and crabby travelers. To keep your family happily well-nourished during your summer travels, keep your cooler stocked with a healthy array of road trip snacks.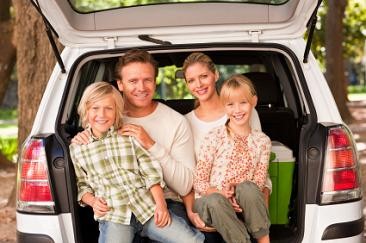 Best choices for travel snacks
Fruit and vegetables
Guilt-free goodies are your best bet for noshing on the highway. Fruit and vegetables are the gold standard for low-calorie filling road trip fare. Keep the mess to a minimum by choosing produce that doesn't run juice down your arm when you bite into it. Make sure you package them in reusable bags, such as Lunchskins, or containers so you can wash them out and reuse them throughout your trip. Fruit and vegetables for the road:
Red or green grapes
Bananas
Apple slices
Raisins and other dried fruit
Cherry tomatoes
Cucumber slices
Celery and carrot sticks
Radishes
Lightly steamed broccoli or cauliflower
Include a small container of low-fat dressing or yogurt for dipping or individual servings of nut butter, such as Barney Butter's 90 calorie almond butter packets (perfect for families with peanut allergies) to add a healthy dose of protein.
Trail mix
Just because trail mix is comprised of nuts, seeds and dried fruit, it isn't always a health food. Read labels of many storebought mixes and you'll find added sugar and fat as well as high-calorie additions such as yogurt covered pretzels and chocolate coated candies. More concerning, if your family is following a gluten-free lifestyle, many trail mixes are danger zones. Enjoy Life trail mixes, such as No Nuts Beach Bash and Mountain Mambo, are deliciously gluten- and allergen-free. You can also make your own trail mix to suit your family's favorite tastes. DIY trail mix: In a reusable gallon-sized bag, combine raw nuts and seeds (almonds, cashews, pistachios, sunflower seeds, etc.) and diced dried fruit (papaya, pineapple, mango, blueberries, cherries, raisins, etc.). Simple and delicious. Trail mix is a stellar source of protein, complex carbs, fiber, healthy fats, vitamins and minerals, but it is also a concentrated source of calories. Keep portion sizes small.
Protein power
Car food is frequently high in carbs, which if not partnered with proteins and healthy fats, can be ultimately unsatisfying and lead to mindless freeway bingeing. Before you hit the road, hard-cook a dozen eggs and place them in the cooler in their original packaging to protect the shells from cracking. Pack cheese sticks and an assortment of jerky. You can also make your own high-protein wraps with deli meat and cheese – there is no mess from crumby bread or drippy condiments. If meatless is your thing, consider Primal Strips, a meatless vegan jerky that comes in six bold flavors, such as Texas BBQ, Thai Peanut and Mesquite Lime. Deli roll ups: Stack a thin slice of deli meat on a thin slice of cheese and top with a lettuce leaf or fresh basil leaves. Roll thinly and place seam-side down in a reusable container. Repeat until container is full. High-protein snacks can keep hunger at bay until you stop for a sit-down meal or reach your destination.
Nutrition bars
Many nutrition bars are no better than a bar of candy from the convenience store, but well-balanced bars made of wholesome ingredients are a slam dunk for road trip snacking. Before you grab a value-pack of these ready to eat snacks, read the labels.  Choose brands of nutrition bars with the following:
Ingredients you recognize as real food and that you can pronounce
No high fructose corn syrup (HFCS)
At least 3 grams of fiber
At least 6 grams of protein
No more than 2 grams of saturated fat (the less the better)
Less than 250 calories (this is a snack, not a meal)
Low sugar, preferably naturally sweetened with fruit, honey or agave
No allergens, if your family has food allergies or intolerances
To save you some time in the snack aisle, some ChefMom nutrition bar picks are: Larabar (16 yummy flavors, including Ginger Snap and Lemon Bar); ClifKid Organic Zbar (only 130 calories and packed with vitamins and minerals); Luna Protein Bar  (3 flavors, made especially for women); and Wings of Nature Bars (cold-processed, organic ingredients, organic).
Rules of the road
Being stuck in the car for miles upon miles can quickly lead to boredom, and what better way to pass the time than eat all these healthy snacks, right? Wrong. Keep your family busy singing songs, telling stories, and playing games to pass the time. Limit snacks to every two to three hours and, most important, check in with your travel crew and make sure that a grumbling tummy – not restlessness – is the need for a nibble. Happy traveling!