An unexpected treat: Zucchini blossoms
If you have a garden and you've planted zucchini and summer squash, you're likely in for a bounty of zucchini and summer squash. Or not. Not? Yes, not. Because those beautifully sunny yellow colored zucchini blossoms are a food ingredient in and of themselves.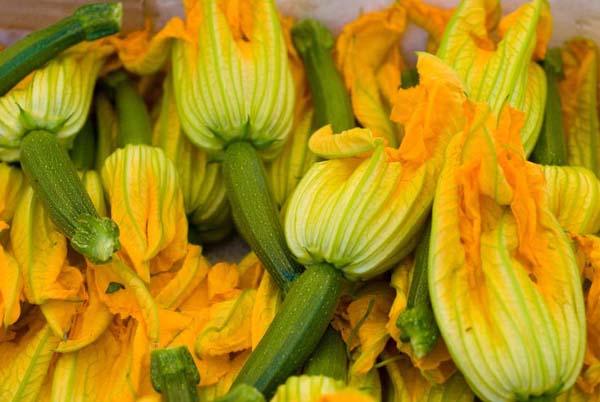 With careful harvesting, you can keep your zucchini harvest from being over-abundant and enjoy a delicate, delicious treat in the process. Or, you can start to grow zucchini for the blossoms only, like we do! Zucchini blossoms are a delicacy. They are extremely perishable, and available in limited quantity at farmer's markets, if at all. If you don't see them out, ask for them! While a favorite and classic presentation is stuffed with a little herbed goat cheese, dipped in a light batter and fried (and with a green salad and a glass of nice wine make an elegant summer meal!), there are numerous ways to enjoy zucchini blossoms. Plus it's plain fun to eat flowers! Preparing zucchini blossoms Zucchini blossoms have a gender. Yup, they do. Female blossoms tend to be preferred by chefs, but both are edible. Females are the blossoms growing on the end of an emergent zucchini; males grow directly on the stem of the plant and are slightly smaller. In either instance, the flowers' organs need to be removed from the center of the flower before cooking: pistils from the females and stamens from the males. Very gently rinsed and dried, zucchini blossoms can be used in salads, soups and side dishes - as well as that delicious fried presentation. Yum. Squash blossom risotto with Prosecco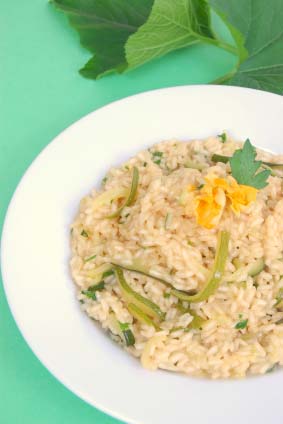 Ingredients: 6 1/4 cups low-sodium vegetable broth 2 tablespoons olive oil Half a white onion, minced 2 cups Arborio rice 1 cup Prosecco at room temperature 10 squash blossoms, cleaned, rinsed and dried 1/4 cup freshly grated Parmesan cheese 2 tablespoons chunks of unsalted butter Salt & pepper to taste Directions: 1. In a heavy saucepan, bring the vegetable broth to a simmer. 2. In another heavy saucepan, heat the olive oil over medium high heat. Add the onion and saute until golden. 3. Add the rice and cook, stirring, until the grains have become translucent, 3 to 5 minutes. 4. Add half the Prosecco, lower heat and begin adding broth a ladle at a time, stirring gently until liquid is absorbed before adding more broth, 18-20 minutes. 5. When the rice is almost done, thinly slice the zucchini petals and stir them in. Stir in the butter and the cheese. Remove from heat and let the risotto sit covered for about a minute. Stir in remaining Prosecco and serve. Zucchini blossom soup Ingredients: 1 pound zucchini blossoms, cleaned, rinsed and dried 1 small onion, diced 1 small celery stalk, diced 1 clove garlic, minced 1 quart low-sodium chicken broth 1/4 cup olive oil Salt and freshly ground pepper Directions: 1. Saute onion, garlic and celery in olive oil over medium heat until nearly tender. 2. Stir in broth, bring to a simmer, then add the zucchini blossoms. 3. Simmer for 30 min. Add salt and pepper to taste and serve. Pasta with squash blossoms Ingredients: 2 tablespoons unsalted butter 1 clove garlic, sliced 1 teaspoon dried chili flakes Grated zest of 1 lemon 16 to 20 large squash blossoms, cleaned, rinsed, dried and cut into strips Kosher salt 1 pound pasta, cooked to al dente Parmesan cheese Directions: 1. In a large skillet over low heat, add the butter and garlic, letting the garlic infuse into the melting butter. Remove the garlic. 2. Add the dried chili flakes and the lemon zest to the melted butter. Stir then add the zucchini blossoms. 3. Season to taste with the salt and add the cooked, just-drained pasta. Toss in the pan until coated, and serve with a grate of Parmesan over the top. Zucchini blossom quesadillas Ingredients: 3/4 cup chopped white onion 1 garlic clove, finely chopped 2 tablespoons vegetable oil 3/4 teaspoon salt, divided 1 medium tomato, chopped 3 cup zucchini blossoms, rinsed, washed, dried and coarsely chopped Unsalted butter Tortillas Oaxacan string cheese, shredded Directions: 1. In a large, heavy skillet over medium heat, cook onion, garlic, and 1/2 teaspoon salt in oil, stirring, until onion is softened. 2. Add tomato and cook, stirring occasionally, until tomato breaks down, 3 to 5 minutes. 3. Add blossoms and 1/4 teaspoon salt, then cover and cook, stirring occasionally, until tender, 4 to 5 minutes. Remove from heat and set aside. 4. Heat another skillet or griddle over medium-high heat. Melt a little bit of butter on the surface. 5. Place a tortilla in the pan, and let cook about 10 seconds. Turn over. 6. Sprinkle some cheese over the hot tortilla, then spread some of the filling on top. Let cook for 30 seconds or so until the cheese starts to melt, then gently fold the tortilla in half. Cook until cheese is completely melted and outer tortilla starts to brown a bit, turning once for even cooking. Serve with salsa. Zucchini blossom tart Ingredients: 1 sheet puff pastry Herbed goat cheese Zucchini blossoms, cleaned, rinsed, and dried Directions: 1. Preheat oven to 350 Fahrenheit. Line a baking sheet with parchment paper. 2. Place a sheet of puff pastry on the baking sheet. Spread the goat cheese over the top of the pastry, leaving about a 3/4 inch border. Gently lay the zucchini blossoms on top. 3. Bake 20-25 minutes until pastry is golden. Let cool a few minutes, cut into slices and serve.
---
More From SheKnows Explorer
---
---