Cool zucchini and summer squash recipes
Although you may think of zucchini and summer squash more often in hot or warm recipes, they don't have to be served that way. They do just as well cool or cold.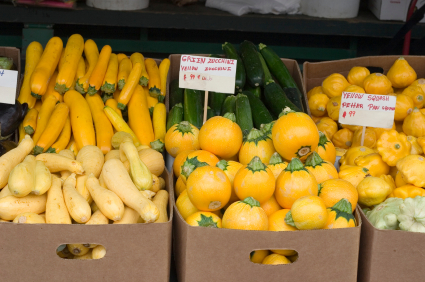 Zucchini and summer squash make excellent salad elements, either as the star or in a supporting role. In everyday meals, you could grate some fresh zucchini or summer squash into a green salad to give it a little more oomph. Some of these recipes will require some cooking, but the final result is cool and not too heavy. Try doing your cooking late at night after the heat of the day has died down and before the day you will serve the recipe. How lovely it would be to come home to a chilled salad or slaw waiting for you after a warm day! With a loaf of bread from the local bakery, you could make a delicious meal that doesn't weigh you down. Keeping dips and a lovely cake handy in the fridge is also excellent for impromptu guests on the porch on a summer evening.
Zucchini slaw Ingredients: 2 pounds zucchini, halved, seeded and julienned 4 plum tomatoes, seeded and diced into 1/4-inch pieces 1 teaspoon minced garlic 1/4 cup sherry vinegar 2 tablespoons extra virgin olive oil 1/2 teaspoon Kosher salt 1/4 teaspoon pepper 8 large basil leaves thinly sliced 1/2 cup toasted pine nuts Shaved Asiago cheese, for garnish Directions: 1. In a large bowl, gently combine the zucchini, tomatoes and garlic. 2. In a small bowl, whisk the sherry vinegar, olive oil, salt and pepper. Toss gently with the vegetables. Adjust the seasoning, if necessary, then stir in the basil. 3. Just before serving, stir in the pine nuts, and shave Asiago over the top. Summer squash and orzo salad with mint Ingredients: 1 cup dried whole wheat orzo 3 large summer squash, thickly sliced 3 tablespoons extra virgin olive oil, divided 2 tablespoons lemon juice 2 tablespoons chopped mint 1 clove garlic, minced 6 ounces feta cheese, crumbled 1/2 cup pitted Kalamata olives 2 ripe tomatoes, chopped Ground black pepper to taste Directions: 1. Cook the orzo until al dente. Drain well, rinse in cold water and drain again. 2. Meanwhile preheat the broiler. Brush summer squash with 1 tablespoon oil and arrange on a baking sheet. Broil, flipping halfway through, until tender and deep golden brown, 6 to 8 minutes. Let cool. 3. Roughly chop the summer squash and transfer to a large bowl. Add remaining 2 tablespoons oil, orzo, lemon juice, mint, garlic, feta, olives, tomatoes and black pepper and gently toss to combine. 4. Cover and chill for several hours before serving. Grilled zucchini and bean dip Ingredients: 1 medium zucchini, thinly sliced 2 tablespoons olive oil, divided 2 small cans cannellini beans, drained 2 tablespoons minced fresh parsley 2 tablespoons fresh lemon juice 2 garlic cloves, minced 1/2 teaspoon Salt 1/4 teaspoon Pepper Directions: 1. Preheat grill to medium. Toss the zucchini with one tablespoon of olive oil. 2. Grill zucchini 5 minutes, turning once, until slightly charred and fork-tender. 3. In a food processor, combine zucchini, beans, parsley, juice, garlic, oil, salt and pepper; puree until smooth. 4. Cover and refrigerate several hours before serving. Zucchini "bruschetta" Ingredients: Zucchini Kosher salt Mozzarella Tomatoes Basil Olive oil Balsamic vinegar Parmesan (optional) Directions: 1. Slice the zucchini on the diagonal about 1/4 inch thick. Line a colander in a single layer with these slices. Sprinkle generously with Kosher salt and let sit for 30 minutes. 2. Meanwhile, thinly slice the mozzarella and tomatoes. You can chiffonade the basil if you choose, or leave them in whole leaves. 3. Shake off the salt off the zucchini and pat the slices dry with a paper towel. 4. Layer a slice of mozzarella and tomato on each zucchini slice, and top with basil (leaf or chiffonade). 5. Drizzle just a little bit of olive oil over the tops of the stacks, then a little balsamic vinegar. Finish with a grate of Parmesan on top of each stack. Summer squash and orange cake While this cake can be iced, it doesn't have to be. Ingredients: 1 cup flour 1 teaspoon baking powder 1/2 teaspoon baking soda 1/4 teaspoon salt 1 teaspoon ground cinnamon 1/2 teaspoon ground nutmeg 3/4 cup sugar 1/2 cup vegetable oil 2 eggs 1/2 cup bran cereal 1 1/2 teaspoon grated orange peel 1 teaspoon vanilla 1 cup grated summer squash 1/2 cup chopped nuts Directions: 1. Preheat oven to 325 Fahrenheit. Grease rectangular baking pan. 2. In a medium bowl, combine flour, baking powder, soda, salt, cinnamon and nutmeg. Set aside. 3. In a large bowl, beat sugar, oil, eggs until well combined. Stir in cereal, orange peel and vanilla. 4. Add flour mixture, zucchini and nuts. Mix well. Spread evenly in the greased pan. Bake 35 minutes or until cake tester comes out clean. Let cool completely before serving.