Red, white and blue 4th of July desserts
Independence Day is all about lazy picnics on the beach, backyard BBQs and honoring our country with a brilliant display of fireworks. In addition to wearing red, white and blue, you can show your patriotic spirit by serving your family and friends a sweet selection of 4th of July desserts that boast the country's colors. Make one or make them all, the following Independence Day desserts are a yummy finale to your 4th of July festivities.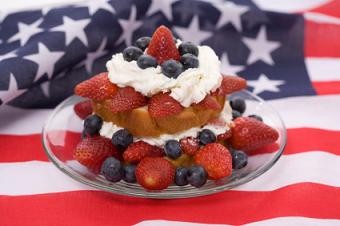 4th of July dessert recipes
Red, White and Blue Cheesecake Pie
Serves 8
Ingredients
2 (8-ounce) packages cream cheese, softened at room temperature
1/2 cup granulated sugar
1 tablespoon all purpose flour
2 eggs
1 tablespoon grated lemon zest
Juice of half a lemon
1-1/2 teaspoons pure vanilla extract
1 prepared graham cracker pie crust
2 cups fresh strawberries, halved
1-1/2 cups fresh blueberries
1/3 cup strawberry preserves, warmed
Freshly whipped cream
Directions
Preheat oven to 325 degrees F.
In a standup mixer fitted with the paddle attachment, beat cream cheese, sugar and flour until fluffy. Beat in eggs one at a time. Add lemon zest, lemon juice and vanilla, beating to combine.
Transfer cream cheese filling to pie crust. Bake for 30 minutes or until filling is just set. Cool on a wire rack. Refrigerate until chilled.
Arrange strawberry halves, cut side down,  around the edge of the pie. Arrange some of the blueberries around inside of edge of the strawberries. Repeat with strawberry halves. Place remaining blueberries in the center.
Brush with preserves and refrigerate until ready to serve. Serve with whipped cream.
Independence Day Trifle
Serves 16
Ingredients
1 (16-ounce) box angel food cake mix, prepared according to directions, cooled
1 cup raspberry preserves
2 tablespoons orange juice
1 (24-ounce) honey-flavored
Greek yogurt 2 cups fresh raspberries
2 cups fresh blueberries
Fresh mint leaves
Directions
Cut angel food cake into large chunks and place a layer in the bottom of a trifle bowl or large clear round bowl.
In a small bowl, whisk together preserves and orange juice. Warm in the microwave.
Drizzle 1/4 cup of preserves over angel food cake chunks in trifle bowl. Layer with 2/3 cup of the yogurt and 2/3 cup raspberries. Add a layer of angel food cake.
Drizzle with 1/4 cup preserves. Layer with 2/3 cup yogurt and 2/3 cup blueberries. Add a layer of angel food cake.
Repeat step 3 and 4. Top off with remaining ingredients and garnish with mint leaves.
Fourth of July Flag Cake
Serves 16
Ingredients
1 (18.5-ounce) box white cake mix with pudding
1-1/2 cups plain whole milk yogurt 3 eggs
1-1/2 (16-ounce) containers whipped vanilla or cream cheese frosting
1 cup fresh blueberries
3 to 4 cups small strawberries, halved
Directions
Heat oven to 350 degrees F. Generously spray a 15x10-inch pan with cooking spray.
Prepare cake mix according to directions, using yogurt (in place of oil and water) and eggs. Pour batter into pan and use a spatula to spread evenly. Bake for 20 to 25 minutes or until toothpick inserted in center comes out clean. Cool completely in pan on a wire rack.
Frost cake with 1 (16-ounce) container of frosting. Transfer the remaining frosting into a piping bag fitted with a star tip.
To make the starsArrange the bluberries in the upper left corner of the cake in a single layer. Pipe frosting stars in between the blueberries.
To make the stripesStarting at the top right outer edge of the blueberries, make a horizontal row with strawberry halves. Pipe a row of stars. Repeat with strawberry halves and piped stars until you reach the bottom of the cake. Keep in refrigerator until you are ready to serve.
---
More From SheKnows Explorer
---
---