Grills are for vegetables too
Meats such as beef and chicken may be the most common items cooked by grilling, they are not the only options. We may associate grills with carnivorous eating habits, but herbivores have just as much reason to look forward to summer grilling season. If you haven't tried grilling vegetables before, you must try them now.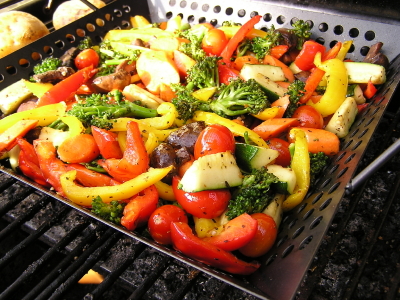 \
Grilling vegetables rocks! Yes, you really can grill vegetables -- just about any of them. It's simple, fast, and really tasty. Of course -- and as with anything -- you can get fancy and complicated if you want to, but the beauty of grilled vegetables is the way it lets the vegetables speak for themselves. You can, with much success, grill:
Corn on the cob
Zucchini and yellow squash
Eggplant
Sweet (or hot) peppers
Onions and scallions
Garlic scapes
Asparagus
Broccoli and cauliflower
Portobello mushrooms
Acorn and butternut squash
Radishes
Brussels sprouts and cabbages
Artichokes
Potatoes
Preparation One key element in grilling vegetables is preparation. Specifically, cutting the vegetables into a grillable form -- one that will cook evenly in a reasonable amount of time, won't fall through the grate of the grill, and is easily graspable with tongs. For some vegetables -- zucchini, squashes, onions, potatoes -- this often means thick slices. Some veggies such as radishes, artichokes, peppers, Brussels sprouts, and cabbages, you can just halve or quarter the vegetable in question. Some vegetables are fine as is -- asparagus, scallions, garlic scapes -- but just be sure to place them across the grates. Tossing the veggies liberally with oil is also critical to grilling success to reduce and prevent sticking to the grill. Using a light, neutrally flavored oil, such as canola, when you intend to serve the veggies with other bold flavors is a good idea, but no one ever went wrong using a good quality olive oil, either. Veggie grilling tools If you feel a little intimidated with placing vegetables right on the grill, or you want to use smaller chunks of veggies, there are grill tools available so you can cook your vegetables on the grill with more confidence. Kebab sticks, of course, allow you to skewer vegetables together. Grilling baskets contain all your veggies on one place and allow you to move them onto and off of the grill with easy. There are also grill baskets -- essentially saute pans with small holes -- designed specifically to cook vegetables like you might saute them on the stovetop, but outside on the grill. Simply perfect grilled vegetables These are delicious on their own, or wrapped in a tortilla with a spoonful of salsa and a dollop of sour cream. Ingredients: Vegetables prepped for grilling Olive oil Seasoned salt Directions: 1. Preheat the grill to medium-high. 2. In a large bowl, toss the veggies with the olive oil and seasoned salt. 3. Place the veggies on the grill, but be careful not to overcrowd them. Close the grill, and reduce the heat to medium low. 4. Turn the veggies once after about five minutes. Grill another five minutes or so, or until done. 5. Remove from heat, correct seasoning, if necessary, and serve. Variation: When tossing the veggies with olive oil, toss with some balsamic vinegar, too. Grilled corn on the cob Ingredients: Fresh corn on the cob -- the fresher the better! Directions: 1. Prepare the ears by carefully peeling back the husks - but not removing them! - removing the silks, then carefully rolling back the husks. Meanwhile, heat the grill to high. 2. Place the husked but de-silked ears on the grill, cover, and lower the heat to medium. 3. Turn the ears about a quarter turn every five minutes or so. 4. After about 20 minutes total, remove from heat, carefully remove the charred husks (some coloration on the kernels themselves is good!), and serve. Curry marinade for vegetables Ingredients: 2 tablespoons curry powder 3 tablespoons balsamic vinegar 1 tablespoon honey 1/2 teaspoon black pepper 1/2 teaspoon ground cinnamon 4 cloves garlic, minced 2 tablespoons orange juice 1 tablespoon minced fresh ginger Directions: 1. Whisk together all the ingredients. 2. Combine with prepared vegetables, and let sit in the refrigerator overnight. 3. Grill the vegetables as usual. Veggie stir-fry at the grill Ingredients: Vegetables, prepared (chopped, trimmed, etc., as appropriate) Canola oil Sauce of your choice, warmed Directions: 1. Preheat the grill to medium-high. 2. Toss the vegetables with the oil, salt and pepper 3. Place the vegetables into a grilling pan over the heat, and cook, tossing frequently. 4. When vegetables are done, transfer to a serving dish and toss with the warmed sauce. Grilled artichokes Ingredients: Artichokes, leaves trimmed, halved, and choke removed Olive oil Salt and pepper Directions: 1. Preheat the grill to medium high. 2. Toss the artichoke halves with oil, salt and pepper. 3. Place on the grill cut side up, close the lid and reduce the temperature to medium. 4. After 10 minutes, turn the artichokes cut side down. Cook another 5 minutes or so. 5. Serve with melted butter or dip of choice.