Kid-friendly snacks
It seems like kids are constantly hungry. Even though you just finished feeding them a big meal a couple of hours ago, they are at your side saying, "Mommy, what can I have to eat?" As if worrying about meals isn't enough, you need to also make sure you have nutritional kid-friendly snacks on hand.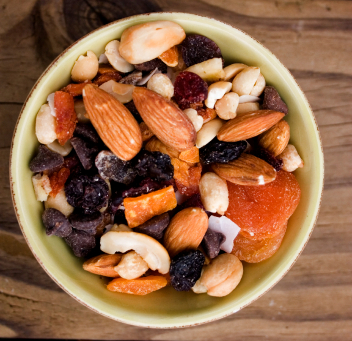 Kids need nutritious snacks
Given the rate at which kids grow and the energy with which they play, it's really no surprise that they eat so much. They need a lot of nutritious calories to meet their growth and play demands. It's easy to keep convenient snack foods on hand, like chips, cookies, and other packaged goodies, but these kid-friendly favorites pack a lot of empty calories. Your kids will fare much better from healthier kid-friendly snacks.
Fruits first
The easiest of all kid-friendly snacks is fresh fruit. Apples, oranges, pears, bananas and more are loaded with nutrition and already come in single serving packaging. A washed bunch of grapes on the counter makes for easy walk-by snacking. Chunks of fresh pineapple (the extra prep is worth the effort!) can be kept in bowls in the fridge. Any piece of fresh fruit within reach will be a better choice for your hungry kids. While fresh fruit is preferred, canned fruit is a close second. Many cans even come with tops kids can open themselves. Best of all, promoting fruit for snacking boosts the nutrition of your kids' diets, ensuring that they get their five servings of fruit a day.
Snacks by the handful
Chips and cookies are, admittedly, delicious. By the handful, and another handful, and another, they taste great, but the nutritional value of their calories is limited. Many a mom has solved the handful of snacking challenge by offering up dry cereal as a snack. If your kids like cereals with milk, they are as likely to like cereal munching out of hand.
Do it yourself snacks
Other snacks, though easy to buy packaged, are just as easy to prep and package yourself, making them more cost effective than prepackaged store-bought snacks, too. Popcorn, for example, can be made one day, placed in individual zip-close plastic bags and placed in the snack cabinet for easy access. You can even add flavors to your popcorn so they taste like the packaged varieties. Another simple DIY packaged snack is cheese. If your children like cheese cubes for snacking, cube up their favorite cheeses and store them in single serving plastic bags in the fridge.
Get your kids involved
Let your kids help you choose and package up healthy snacks. Getting your kids involved in their snack prep lets them learn and become invested in their food choices. If they are stumped on the types of snacks to make, prime them with snack ideas and see what snacks they want to try. Additional healthy kid-friendly snack ideas:
Mini carrots with salad dressing for dipping
Peanut butter and apples
Yogurt
Celery sticks with cream cheese or peanut butter
Dried fruit and nuts
Baked whole grain chips and homemade fruit salsa
Kid-friendly snack recipes
Kettle Corn
Ingredients: 1/4 cup vegetable oil 1/4 cup packed brown sugar 1 teaspoon salt 1/2 cup unpopped popcorn kernels Directions: 1. Heat the vegetable oil, sugar and salt in a large pot over high heat. When the mixture is very hot and the sugar mostly melted, add the popcorn kernels. 2. Keep the pot moving continuously, as the popcorn pops. When the popping slows to every 2 to 3 seconds, remove the pot from the heat. Continue shaking the pot until popping stops completely. 3. Pour the popcorn into a large bowl and allow to cool, stirring every few moments to break up clumps. 4. When cool, serve or portion into individual resealable plastic bags.
Homemade Peach Mango Salsa
Ingredients: 2 ripe mangoes, peeled, pitted and chopped 4 ripe peaches, peeled, pitted and chopped 4 roma tomatoes, seeded and chopped 1 medium red onion, finely chopped 6 cloves of garlic, minced 1 cup finely chopped fresh cilantro 1 jalapeno, seeded and finely chopped 1 lime, juiced Salt to taste Directions: Combine all ingredients and gently toss together. Allow to sit for several hours or overnight to let the flavors come together.
Homemade Trail Mix
You can truly make this to match your family's taste preferences. Ingredients: Dried fruits of your choice (try raisins, apricots, banana chips, peaches, cranberries, and nectarines) Nuts of your choice (try flaked coconut, peanuts, cashews, pecans, almonds, or hazelnuts) Small quantity of chocolate chips or mini M&Ms, optional Directions: 1. Chop up larger dried fruits, if desired. 2. Combine all ingredients in a bowl, mix, then portion into resealable plastic bags.