Fast, fun kid-friendly breakfasts
With more and more evidence supporting the importance of breakfast, you may often be aiming to get a healthy meal into your family in the morning. Sure, it would be great to serve a sit down morning meal seven days a week, but few of us have that luxury in our busy schedules. More often it's every member of the family -- including the kids -- eating on a slightly different schedule, sometimes overlapping and sometimes not. How do you make sure everyone, especially your kids, gets a healthy breakfast, and hopefully something more than "just" a bowl of cereal? There's no need for fancy presentation or silly names, simply offer kid-friendly foods and flexibility.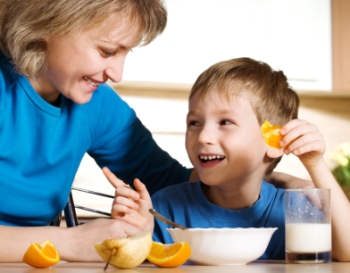 Offer options, but not too many
Keep several breakfast foods in the house -- but not too many. Three healthy breakfast options at any given time offer enough opportunity to make choices, yet not so many that it's difficult to make a choice. Instant oatmeal, yogurt, and frozen waffles are easy to keep on hand and pull together in minutes; if you have a little more time, you can add dried fruit to the oatmeal, and juice and fruits to the yogurt to make a smoothie. Hard-cooked eggs and raisin toast are also handy to keep around for a quick balanced breakfast.
Make what you can - with help
Convenience food is just that, convenient, but you can also make many "convenience" foods at home. When you are making waffles or French toast on the weekend, make a double batch and freeze some for the week ahead. Similarly, you can make instant oatmeal at home so it's always on hand. And when you cook breakfast foods yourself, you can make them just how your family prefers and, best yet, without additives and preservatives. Kids love to help out in the kitchen -- preparing their favorite breakfast items is an easy way to get them involved and teach them the importance of a morning meal. From adding the actual ingredients to helping you prepare storage options, when the kids are invested in their meal options, they are more likely to eat them.
Stay flexible and think beyond breakfast
Who says breakfast is limited to "breakfast" food? If a lunch or dinner dish is something your family will eat for breakfast and it's healthy and filling, why not let them? A peanut butter and honey sandwich can be as tasty in the morning as it is at noon, and the leftover Hawaiian pizza has most of the major food groups represented. Likewise, add some dried fruit to the weekend's warmed rice pudding for a delicious weekday breakfast treat.
Kid-friendly breakfast recipes
Pizza Bagels
Ingredients: Bagels Pizza/pasta sauce Mozzarella cheese Optional: Various pizza toppings Directions: 1. Set the oven broiler to high. 2. Halve bagels and top each half with some pizza sauce, mozzarella cheese and toppings, if using. 3. Place on a baking sheet and put under the broiler for 1 to 2 minutes, until cheese is bubbly. Let cool a few minutes before serving.
French Toast Sticks
Ingredients: 2 eggs 1/4 cup milk Dash of ground cinnamon 1/2 teaspoon pure vanilla extract Butter Thick slices of a hearty bread, cut into sticks Directions: 1. In a shallow dish, whisk together the eggs, milk, cinnamon and vanilla. 2. Heat the butter in a skillet over medium heat. 3. Soak the sticks of bread in the egg mixture, coating all sides. 4. Cook in the butter for about 2 minutes on each side. Serve immediately, or let cool and freeze in an airtight bag. 5. To serve, if frozen, heat in a toaster oven for 10 minutes or on high in the microwave for 1 minute per stick.
Instant Oatmeal
Ingredients: 3 cups quick cooking oats 1/2 cup dry milk powder 1/4 cup granulated sugar (more or less to taste) 1 teaspoon salt Optional ingredients: 1/8 teaspoon ground cinnamon and chopped dried apple bits 1/2 cup chopped dried fruit Brown sugar instead of white sugar Mini chocolate chips Directions: 1. In a food processor, process the oats until they are fairly fine in texture. 2. Combine the oats with the milk powder, sugar and salt, and any optional ingredients. Store in an airtight bag. 3. To serve, combine 1/2 cup of the instant oatmeal mixture with 3/4 to 1 cup of very hot water. Stir and serve.