Recipes with organic grains
With pesticide residue in virtually all conventionally-sourced food products, going organic is becoming more appealing to a growing number of people -- especially moms trying to provide optimal nutrition for their families. While it can be a challenge -- and an additional expense -- to go organic with fresh fruits, vegetables, meats and dairy, you'll be pleased to discover that organic grains are increasingly available and, best yet, they are reasonably priced.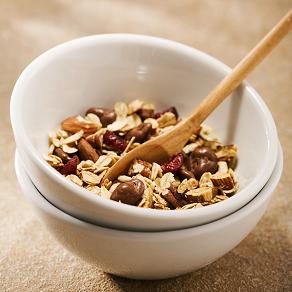 Organic grains
"Grains" is a broad, encompassing term. It's wheat, yes, but it's also grasses, cereals, seeds and often beans (particularly if those beans can be ground into a grain). For example, corn is considered a grain even though it is a vegetable, wild rice is a grass that cooks up like a grain, and soybeans are often ground into a flour though edamame (fresh soybeans) is often eaten like a vegetable.
Organic grains are part of a sustainable diet
Another benefit of choosing organic grains is supporting smaller farms and the sustainable growing practices at those farms. Farms that grow organic grains are more careful about the source seed they choose, the ways they rotate crops, and how they protect their crops. This often results in healthier soil, and tastier, more nutrient-dense grains and grain products.
Organic grains are ready for your picking
Because of the prevalence of organic grains, it's fairly easy to acquire organically produced flour for your favorite cookie or bread recipe, and you can conveniently buy organic pasta or rice at your local supermarket. Watch for store specials just as you would for conventionally-produced products and stock up when you can!
Recipes for organic grains
Barley Risotto with Spinach and Walnuts
Ingredients: 5 cups vegetable broth 1 cup white wine 1 tablespoon olive oil 1 medium onion, finely chopped 1 shallot, finely chopped 2 cloves garlic, minced Pinch of kosher salt 2 cups organic pearled barley Grated zest of 1 lemon 3 cups fresh spinach, coarsely chopped 1/2 cup grated Parmesan cheese 2 tablespoons sour cream 1/4 cup walnuts, toasted and chopped Directions: 1. In a medium-sized pot, bring the broth and the wine to a simmer. 2. In a second medium-sized pot, heat the oil over medium heat. Add the onion, shallot and garlic. Cook, stirring occasionally, until softened, about 5 minutes. Add the salt and barley and cook for another 5 minutes. 3. Stir broth mixture into barley mixture, 1 cup at a time, waiting until most of the liquid is absorbed between additions. Stir in the lemon zest and spinach and stir until the spinach is wilted. 4. Remove pot from heat and stir in the Parmesan and sour cream. Serve, sprinkled with chopped walnuts.
Kettle Corn
Ingredients: 1/4 cup vegetable oil 1/4 cup brown sugar 1/2 teaspoon kosher salt 1/2 cup unpopped organic popcorn kernels Directions: 1. Heat the vegetable oil in a large pot over medium heat. Once hot, stir in the sugar, salt and popcorn. Cover and shake the pot constantly to keep the sugar from burning. Popcorn will start to pop. 2. Once the popping has slowed to once every 2 to 3 seconds, remove the pot from the heat and continue to shake for a few minutes until the popping has completely stopped. 3. Pour into a large bowl, and allow to cool, stirring occasionally to break up large clumps.
Banana Bread
Ingredients: 1 cup organic unbleached all purpose flour 1 cup organic whole wheat flour 1 teaspoon baking soda 1/2 teaspoon salt 2 tablespoons ground organic flax seed 8 tablespoons unsalted butter, softened 3/4 cup granulated sugar 2 eggs 3 large ripe bananas, mashed 1 teaspoon vanilla extract Directions: 1. Preheat oven to 350 degrees F. Grease a standard-sized loaf pan. 2. In a medium-sized bowl, whisk together flour, baking soda, salt and ground flax together. Set aside. 3. In a large bowl, cream butter and sugar together until fluffy. Add eggs one at a time and beat well. Add the flour mixture to the butter mixture and combine. It will be a little dry. Add the bananas and vanilla and beat well. 4. Pour into prepared pan. Bake 50 to 60 min, or until cake tester comes out clean. Cool in pan 10 minutes, then invert from pan and cool on a wire rack.
Baked Edamame
Ingredients: 1 (12-ounce) package frozen shelled edamame, thawed 1 tablespoon olive oil 1/4 cup grated Parmesan cheese Salt and freshly ground black pepper to taste Directions: 1. Preheat the oven to 400 degrees F. 2. Spread edamame in a single layer on the bottom of a rectangular baking dish. Drizzle with olive oil. Sprinkle cheese over the top and season with salt and pepper. 3. Bake until the cheese is crispy and golden, about 15 minutes.