Organic potatoes and root vegetables
Potatoes and root vegetables, especially carrots, are such a staple in kids' diets. Carrots are often one of the first foods for babies. And potatoes? Think French fries -- eaten often. Learn why these root veggies and others should be an organic purchase for your family.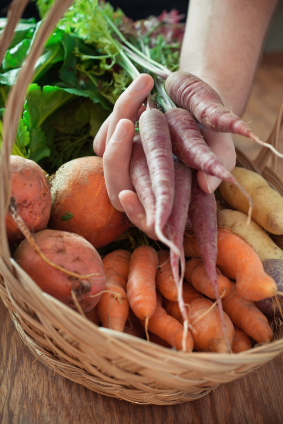 The more you eat, the higher your exposure
When a food is so frequently eaten, it's a good candidate to be consumed organically because of relative pesticide exposure. If you eat a lot of that ingredient, your pesticide exposure is higher, and if that ingredient retains more pesticides than other foods, your exposure is even higher. Potatoes, carrots and other root vegetables are not only exposed to -- and readily absorb -- pesticides from the soil in which they are grown, their above the ground greens are also sprayed with pesticides and such. Sure, you can wash and peel your root veggies, but that doesn't remove all of the chemicals. In fact, one USDA study showed that 81 percent of potatoes still contained pesticides, even after being washed and peeled.
Organic root veggies carry a worthy price
Admittedly, purchasing organic potatoes can be a pricey option; some estimates declare that organic potaotes have as much as a 40 percent lower crop yield per acre than non-organic. In addition, organic potatoes and other produce might not look the same as the produce you are used to purchasing, whether in surface appearance or size. Looking for specials on organic produce helps, as would plain asking your local market (or communicating with corporate headquaters) that buying organic is important to you and anything they can do to source organic produce at a reasonable cost would affect your loyalty. The more customers that insist on quality, fairly priced organic produce, the more likely a store will stock it.
Vegetable size doesn't determine quality
We as Americans are accustomed to large pieces of food, yet size is not always an indicator of food quality. Sometimes organic foods can look a little different than their conventionally grown counterparts, but a smaller size or less aesthetic appearance makes little difference in most recipes. The more important aspect to consider is that organic root vegetables and other organic goods are reducing your family's exposure to the potentially toxic chemicals found in conventionally grown or produced foods.
Organic potato and root vegetable recipes
The following recipes include organic root vegetables. It is up to you to include organic varieties of the other ingredients.
Potato and Rosemary Pizza
Ingredients: 1 quantity pizza dough Olive oil 1 to 2 organic potatoes, scrubbed (not peeled) and very thinly sliced (use a mandoline) Fresh rosemary, minced Kosher salt Directions: 1. Place a pizza stone in the oven and preheat to 450 degrees F. 2. Stretch the pizza dough (doing it right on the pizza peel scattered with cornmeal is helpful) to form a flat circle. Drizzle a little bit of olive oil onto the dough and rub it in with your fingers. 3. Lay thin slices of potato on the pizza dough, overlapping them to form a fan pattern around the dough. Drizzle on a little more olive oil, and sprinkle with rosemary and salt. 4. Transfer pizza to the pizza stone and bake 9 to 11 minutes or until dough is lightly browned and cooked through.
Carrot and Parsnip Gratin
Ingredients: 1 pound organic carrots, peeled and coarsely grated 1 pound organic parsnips, peeled and coarsely grated 1/4 cup plus 2 tablespoons all purpose flour 1 cup grated Parmesan cheese 1/4 cup butter 2 cups milk 1/2 cup whipping cream 2 eggs   Directions: 1. Preheat oven to 350 degrees F. Grease a 9x13-inch baking dish. 2. Place the grated carrots and parsnips in a large bowl. In a small bowl, combine 2 tablespoons flour with 1/4 cup Parmesan cheese and then stir mixture into the vegetables. 3. Melt butter in a medium saucepan. Stir in remaining flour and cook for 2 minutes, stirring constantly. Gradually stir in milk and continue to heat and stir until it starts to bubble. Remove from heat. 4. In a small bowl, beat whipping cream and eggs. Gradually stir into hot milk mixture. Pour milk mixture over vegetables and stir well to combine. 5. Scrape into the baking dish and sprinkle with remaining Parmesan cheese. Bake, uncovered, for about 1 hour or until golden and bubbly.
Mashed Turnips with Bacon
Ingredients: 2 pounds organic turnips, peeled and cubed 2 tablespoons butter 1 pinch salt 1 pinch ground black pepper 1 dash garlic powder 1/2 pound bacon, cooked, drained and crumbled 2 tablespoons rendered bacon fat Directions: 1. Cook turnips in a large pot of lightly salted boiling water until very tender. Drain off water. Mash turnips with butter, salt, pepper and garlic powder to taste. 2. Place the skillet in which you cooked the bacon over medium heat. Add the rendered bacon fat, mashed turnips and crumbled bacon. Stir and heat to the desired temperature just before serving.
Grilled Radishes
Ingredients: Organic radishes, cleaned and cut in half Canola oil Seasoned salt Directions: 1. Heat the grill until quite hot. Meanwhile, toss the halved radishes with oil and seasoned salt. Place radishes in a grill basket (as they are small and will fall through the grill grate). 2. Cook the radishes for about 5 to 7 minutes on each side as you grill the other foods you are having for dinner that evening.