Kitchen gadgets for fabulous fruit salad
Fruit salads are one of the easiest, most colorful, tastiest, nutritious salads you can prepare...but what about all that fruit preparation? The chopping, peeling, hulling, and so on can seem onerous. A few helpful kitchen gadgets can make the fruit salad process less intensive -- and sometimes even fun. With the following fruit salad kitchen tools, you will not only save on fruit salad prep time, you will also add visual appeal by adding new shapes and decor to your fruit.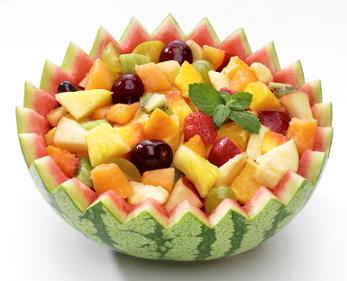 Melon ballers
A common fruit gadget is a melon baller. A twist of your wrist into a halved melon of any type and you have perfect little balls of fruit to complement the more angular cuts of other fruits. Most melon ballers have two ends, so you can vary your sizes. (Melon ballers are also handy for other things, such as making balls of butter to set out when you have a special dinner.)
Banana slicer
Even though it's easy to slice bananas, my slices are always uneven in thickness and shape. When presentation is important, a banana slicer makes sure all the banana slices are uniform.
Strawberry huller
Using the tip of a knife to hull strawberries can be tedious. A strawberry huller makes the job so much faster. Twist the serated edge into the top of the strawberry and you're done!
Mango splitter
That luscious tropical fruit, the mango, can be hard to handle. A mango splitter makes getting the most of the delicious mango flesh a breeze. Press down on the top of the mango with the splitter and you near effortlessly have two halves for further chopping or slicing.
Pineapple corer
Fresh pineapple is a real treat, but difficult to prepare. Between the coring and removing the rough skin, I'm always making such a mess! Enter the hand-held corer and a spiral slicer/corer. Both of these fruit gadgets help you get to the juicy flesh with less mess.
Apple machine
Although often solely thought of in terms of pie, apple machines can peel, core and slice apples for apple pie or fruit salads. And the simple crank handle is fun for kids, meaning an apple machine is a great way to get the kiddos involved in the kitchen!
Fruit salad recipes
Here are a few fabulous fruit salad recipes to get your fruit salad kitchen gadgets to work.
Strawberry and Sunflower Seed Salad
Ingredients: 2 cups fresh strawberries, hulled and sliced 1 medium apple, peeled, cored, and sliced 1 cup green grapes, halved 1/2 cup sliced celery 1/4 cup golden raisins 1/2 cup strawberry Greek-style yogurt 2 to 3 tablespoons sunflower seeds Directions: 1. Combine the strawberries, apple, grapes, celery, raisins and yogurt in a bowl. Mix well and refrigerate for 1 hour. 2. Just before serving, stir in the sunflower seeds.
Watermelon and Greens Salad
Ingredients: 1/2 pound (generous) arugula and/or other salad greens, washed and dried 1/2 watermelon, balled 1/2 red onion, finely chopped 1 cup feta cheese, crumbled Balsamic vinaigrette, to taste Directions: Toss all the ingredients together and serve immediately.
Peach, Strawberry, and Mango Salad
Ingredients: 3 ripe peaches, peeled, pitted and chopped 2 mangos, split, peeled and chopped 1 pound strawberries, hulled and sliced 1 pound grapes (red or green), halved 3 bananas, peeled and sliced 1/3 cup granulated sugar, or to taste Juice of one lime 1/2 cup pineapple juice 1 teaspoon ground ginger Directions: 1. Combine chopped fruit in a bowl. Sprinkle with sugar and let macerate for a few minutes. 2. Whisk together the lime, pineapple juice and ginger. Drizzle over fruit and toss well.