Kitchen gadgets for Mexican food
Any cuisine you enjoy eating out, you can enjoy making at home. That includes Mexican food. Sure, you can get tortillas in the local market, but as with so many other food items from all cuisines, it can be so fun and tasty to make them yourself! Ditto on every other element in Mexican cuisine! With a few kitchen gadgets and tools to help you along, you'll be making delicious tamales, enchiladas and guacamole at home in no time. Here are a few Mexican food gadget essentials to get you started.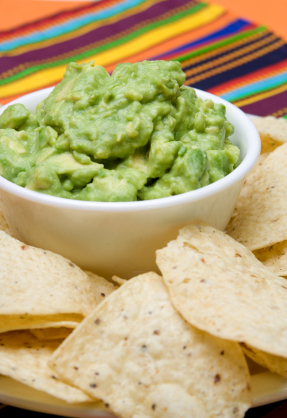 Tortilla press
The first thing you'll need is a tortilla press -- it's what helps you make perfect (or close to perfect) tortillas at home. Roll a small amount of your corn or flour tortilla dough into a ball, then press in the tortilla press a couple of times until it is a flat, even thickness. Simple as that! Cook's tip: To ensure easy release from the tortilla press, line the inside with plastic wrap.
Tortilla warmer
After you have made and cooked your tortillas, use a tortilla warmer to keep them warm and soft for your meal. Some tortilla warmers can even be placed in your microwave.
Molcajetes
Much like a mortar and pestle, a molcajete is used to grind up spices and prepare and even serve guacamole. Molcajetes are traditionally made from rough volcanic rock so the ingredients break down fairly easily. The "pestle" part is called a tejolote. Cook's tip: Because of the rough surface, a molcajete can be a challenge to clean. A steel brush and a damp paper towel work well for this task.
Tamale steamer
If you are a serious tamale maker, a tamale steamer is for you. Yes, it works just like other steamers, but it's form has evolved over the years to be ideally adapted to tamale steaming.
Onion goggles
For any cuisine that uses lots of chopped raw onion, you can benefit from onion goggles. Put them on before you start chopping your pico de gallo and you'll experience fewer onion tears.
Mexican recipes
Flour tortillas
Ingredients: 4 cups unbleached all purpose flour 2 teaspoons salt 4 teaspoons baking powder 2 tablespoons lard or vegetable shortening 1-1/2 cups warm water Directions: 1. In a large bowl, stir together flour, salt and baking powder. With a pastry blender, work in the lard or shortening until it is all incorporated. 2. Add enough warm water to make a soft but not sticky dough. Turn out onto a lightly floured board and knead for 5 minutes. 3. Divide the dough into approximately 1/4 cup portions and form them into balls. Press each ball into a flat round, about 6 inches in diameter, using a tortilla press. 4. Heat large heavy dry skillet (a cast iron pan is ideal) over medium high heat until hot. Cook each tortilla, one at a time, until lightly browned, 15 to 30 seconds per side. Keep finished tortillas in a tortilla warmer until ready to serve.
Corn tortillas
Ingredients: 1-3/4 cups masa harina 1 cup plus 2 tablespoons hot water Directions: 1. Mix together masa harina and water until thoroughly combined. Turn dough onto a work surface and knead until pliable and smooth, adding more masa harina or water as necessary. 2. Cover dough tightly with plastic wrap and allow to stand for 30 minutes. 3. Preheat a cast iron skillet or griddle to medium-high. 4. Divide dough into 15 equally sized balls. Using a tortilla press, press each ball of dough flat. Immediately place each tortilla in preheated pan and cook until brown on one side, 15 to 30 seconds, then turn and brown the other side. 5. Keep finished tortillas in a warmer while you cook the others.
Guacamole
Ingredients: 2 ripe avocados, halved, pitted, peeled and diced 1/2 red onion, minced 1 to 2 serrano chiles, stems and seeds removed, minced 2 tablespoons fresh cilantro leaves, finely chopped 1 tablespoon of fresh lime juice 1/2 teaspoon coarse salt A dash of freshly ground black pepper 1/2 ripe tomato, seeds and pulp removed, chopped Directions: 1. Place avocados, onion, chiles and cilantro in a molcajete and grind up until well incorporated. 2. Add the lime juice, salt, pepper and tomatoes and continue to grind until smooth.
Pico de Gallo
Ingredients: 6 medium tomatoes, diced 1 medium onion, diced 1/4 cup fresh cilantro, chopped 2 to 4 fresh serrano or jalapeño chiles, seeded and minced 1 to 2 garlic cloves, minced 1/4 cup water Kosher salt Directions: Combine all the ingredients in a bowl. Refrigerate for about an hour to let the flavors meld.