Ice cream and ice pop gadgets
When I see statistics about ice cream consumption, I'm amused. To me, logic says that the southern and southwest states with higher average temperatures would consume more ice cream than colder states. But apparently the opposite is true: the north central states of the USA have the highest per capita consumption of ice cream, which is why thinking about ice cream and frozen desserts mid-winter isn't all that odd. No matter the temperature outside, northerners like their ice cream.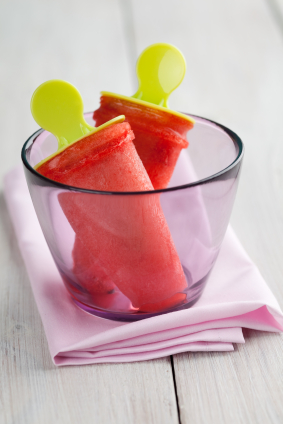 Make ice cream and ice pop treats at home
With many brands and types of ice cream makers available, making ice cream at home is easier than ever. From simple ice cream makers to more serious ice cream gadgets, you can make all sorts of specialty frozen desserts at home. You can even make soft-serve at home! But why stop with simply making ice cream, or frozen yogurt, or any other frozen dessert? Why not take them to the next level of fun with some simple kitchen gadgets to turn your frozen desserts into something really special?
Ice cream sandwich molds
Sure, it's easy to put some softened ice cream between two big cookies for a tasty treat. But it's just as easy to use molds and cutters to make those cookie ice cream sandwiches in traditional rectangles, in the shape of hearts and stars -- or even cows and pigs.
Personal ice cream security
For your most favorite ice cream flavors, it's sometimes okay not to share. Rather than simply hiding the ice cream in the back of the freezer, get a pint lock and be sure that you are the only who will get than luscious treat.
Creamy or fruity ice pops
I think we all remember making mini-popsicles using fruit juice and the family ice cube tray. I never could get those toothpicks to stand upright. No need to worry about that anymore, nor do I have to endure the endless wait for the little pops to freeze. With a nifty little ice pop maker, pops are frozen and ready to eat in a mere seven minutes!
Shaped pops
However, if you can wait for the freezing process to be complete, there are many options for fun-shaped pops. From sailboats pops to animal pops to small pops that can be filled with additional flavors, you can make ice pops fun for the whole family.
Hawaiian shaved ice
For those who are really serious about frozen treats, bring the Islands to the mainland with a shaved ice business! Yes, it's an investment, but on a hot summer day, I'll take shaved ice over lemonade any time. Better yet, I'll take a lemon-flavored shaved ice! Bonus: You can teach your child about entrepreneurship and saving for college while providing a cool and delicious service to the neighborhood.
Ice cream and ice pop recipes
Basic Ice Cream Sandwiches
Ingredients: 1 recipe cookie batter Ice cream, softened Directions: 1. Prepare the cookies as directed, but instead of forming them into individual cookies, spread or roll the batter in an even layer on a cookie sheet. Bake as directed and remove from the oven. 2. After just a couple of minutes of cooling, cut the cookies into your desired sandwich shapes. Let cool completely. 3. With the cooled cookies and softened ice cream, carefully scoop ice cream onto the backside of one cookie, press another on top. If you are using sandwich cutter and mold set, place the cut cookie into the mold, scoop in the ice cream, place the other cookie on top and gently press. 4. Place in the freezer to firm up.
Cookie and ice cream combinations for ice cream sandwiches
Don't limit yourself to chocolate cookies and vanilla ice cream (though it is delicious), try some new flavor combinations:
Oatmeal cookies and peach ice cream
Sugar cookies and chocolate ice cream
Espresso cookies and chocolate chip ice cream
Chocolate cookies and strawberry ice cream
Chocolate chip cookies and mint ice cream
Ginger snap cookies and mango ice cream
Or try layering a bit of jam on each cookie before adding the ice cream. Experiment and enjoy!
Layered Ice Pops
Ingredients: Two or more pop fillings of your choice Directions: 1. Fill an ice pop mold part way with one filling flavor. Freeze until almost set. 2. Add the next flavor and freeze until almost set. Repeat until the mold is full.
Ice pop flavor ideas
Here are some inventive ice pop flavors to try:
Crushed fresh fruit of almost any kind
Fresh juice mixed with a little cream
Pressed fresh juices with a little honey or agave syrup and a squeeze of lemon or lime
Strong green tea or herbal tea with honey
Coffee, or coffee with sugar and cream
Yogurt
Homemade pudding
Flavored gelatin
Eggnog
Ice cream and ice pops are easy to make at home, especially with the handy array of ice cream and ice pop gadgets. No matter the season or temperature outside, you can customize your very own cold and refreshing treats.