Understanding serving sizes
Portion control is one of the easiest ways to avoid weight gain as well as sensibly lose weight. Portion distortion, however, is one of the most common American dietary faults.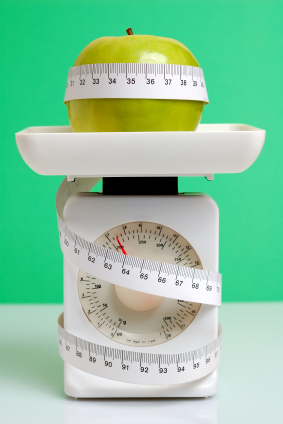 Registered dietician and author of Making Weight Control Second Nature: Living Thin Naturally, Susan Burke March recommends comparing food to everyday objects to help you learn healthy serving sizes.
Portion control gadgets
From the basic kitchen scale and measuring tools to portion control dishware, portion control gadgets are useful in teaching you to eat and drink sensible servings of food and beverages. Measuring your foods may seem like a tedious, even annoying, task, but you'll only need to measure and weigh (and cross-compare, if you are using portion plates, bowls and glasses) initially. Once you see and feel healthy serving sizes of your everyday foods, you'll be able to eyeball items and know if they fall within the healthy range. Read more: The best portion control gadgets
Practical portion control comparisons
Burke March, who promotes intuitive eating rather than restrictive dieting, encourages comparing foods to common objects as a way to visually learn and stick to sensible serving sizes. Here is Burke March's list of portion sizes and corresponding everyday objects:
A serving of cold cereal (1 cup) looks like a clenched fist.
A serving of hot cereal, oatmeal, or cooked grain (1/2 cup) looks like half a tennis ball.
A piece of bread (1 ounce) looks like a computer disc.
A serving of fruit (medium-sized piece) looks like a baseball.
A serving of dried fruit, such as raisins or dried cranberries (1/4 cup) looks like a large egg.
3 ounces of meat or poultry looks like a deck of cards.
4 ounces of fish looks like a checkbook.
1 cup of cooked pasta, rice, or mashed potato looks like a tennis ball.
1 ounce of shelled nuts looks like a small handful that fits into a closed fist.
1/2 cup of ice cream looks like a tennis ball sliced in half.
1-1/2 ounces of hard cheese (such as cheddar or Swiss) looks like two playing dice, stacked.
1 tablespoon of butter looks like the tip of your thumb.
2 tablespoons of peanut butter looks like your thumb-tip plus first joint.
1/2 cup of cooked vegetables looks like...who cares…eat all you like.
1 cup of raw vegetables looks like...same for raw veggies…the more the merrier!
As you are learning proper portions, consider keeping a record of your daily food intake. This can help you determine if you are meeting your recommended daily servings of fruits, vegetables, whole grains, dairy and more. Online tool: Evaluate your diet with MyPyramid Tracker
Journal for weight loss
In addition to incorporating regular exercise into your lifestyle, keeping a food journal is considered the best single way to manage your weight. When researchers from Kaiser Permanente Center for Health Research followed more than 2,000 dieters who were encouraged to record meals and snacks, they found that the single best predictor of whether a participant would drop weight was whether that person kept a food diary. Writing down food and drink consumed trumped exercise habits, age and body mass index. The number of pounds people in the study lost was directly related to the number of days they wrote in their food diary. You can keep a notepad in the kitchen or in your purse to pencil in your daily food intake or you can track your diet online with one of the many diet and nutrition websites. Learn more about food journaling
Portion control is beneficial for your whole family
If you eat out frequently or have never read a nutrition label, portion control may seem like an impossible feat. It will certainly require an adjustment in your approach to meals, but it is a valuable lesson that will benefit your long-term health and weight management as well as set an example for your children about portion control before portion distortion becomes the norm for them.