Healthy French recipes from the south of France
Just three words: south of France.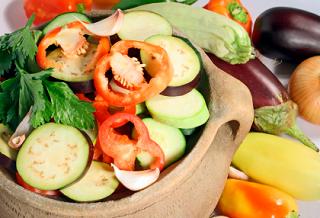 How many of you let out a wistful sigh, "If only..."? I'm sighing, too. I've never been there in real life, but I've seen it in my mind's eye as well as in the movie theater. Its reputation -- deservedly, I hear -- precedes it. The Mediterranean coast of France is a region that has inspired books and movies and daydreams -- and, unsurprisingly, appetites. It's glamourous (think stars and cinema in Cannes), it's simple and beautiful (think lavender fields in the countryside), and it's delicious.
Mediterranean cooking in France
As with other areas of the Mediterranean, the southeast coast of France makes use of locally available and adapted food products to make up its world-renowned cuisine. It's a region rich in fruits, vegetables, olives, herbs, honey, goat cheeses, air dried sausages, lamb, beef, and of course, seafood from the the Mediterranean itself. Preparations run the gamut from deceivingly simple (a loaf of bread, some cheese and sausage) to complex and elaborate French dishes. And all the while, the food and eating in France is simply elegant. When you look closely, it's Provencal cooking uses many of the same core ingredients used in other areas of the Mediterranean. The variations that have developed within each region are part of the reason the Mediterranean diet is so rich and varied. Each region along the Mediterranean puts its own twist on the basics.
Healthy Mediterranean recipes from the south of France
Herbes de Provence
This is a classic herb blend. Sure, you can buy a bottle of it already blended in the market, but if you have your own herb garden, wouldn't it be fun to make your own? Herbes de Provence can add seasoning to just about any dish, including soups, salad dressing, chicken and vegetables. Ingredients: 2-1/2 tablespoons dried oregano 2-1 /2 tablespoons dried thyme 2 tablespoons dried savory 2 tablespoons dried, crushed lavender 1 teaspoon dried basil 1 teaspoon dried sage 1 teaspoon dried, crushed rosemary Directions: Combine all the ingredients and store in an air-tight, light-proof jar.
Wild Mushrooms on Toast
A delicious appetizer. Ingredients: 3 ounces dried mushrooms 3 pounds button mushrooms, cleaned, stemmed, and thickly sliced 1/4 cup olive oil 3 tablespoons finely chopped shallots 6 cloves garlic, crushed 1/4 cup low-sodium chicken broth 2 tablespoons cognac 2 tablespoons butter 1-1/2 teaspoons Kosher salt 1/2 teaspoon ground black pepper 2 sprigs fresh rosemary 2 sprigs fresh thyme 1/4 cup flat-leaf parsley, coarsely chopped 1-1/4 ounces shaved Parmesan Thin slices of toast Directions: 1. Heat oven to 450 degrees F. 2. Soak dried mushrooms in a bowl of hot water for 10 minutes. Rinse and squeeze to dry. 3. Heat a wide oven-proof skillet over high heat. When very hot, add fresh mushrooms and oil. Cook over high heat, stirring frequently, for about 10 minutes. The mushrooms should release their liquid. 4. Add the shallots, garlic and rehydrated mushrooms. Cook until all liquid has evaporated. 5. Add broth, cognac, butter, salt, pepper, rosemary and thyme. Transfer skillet to the oven and roast, stirring occasionally, for 30 minutes. 6. Stir in remaining herbs and serve warm on garlic bread with Parmesan curls.
Stuffed Tomatoes
Ingredients: 2 large cloves garlic, peeled and chopped fine Small bunch fresh parsley, coarsely chopped Pinch fresh thyme 2/3 cup fine whole grain breadcrumbs 2 tablespoons extra-virgin olive oil 8 large ripe tomatoes Kosher salt Freshly-ground black pepper Directions: 1. Preheat the oven to 325 degrees F. 2. Rechop the garlic with the parsley and thyme, combining well. Mix with breadcrumbs, then moisten with the olive oil and set aside. 3. Cut the tomatoes in half. Carefully and gently squeeze out the seeds. Place tomatoes cut side up on a baking tray. Season with salt and pepper. 4. Fill the tomato cavities with the breadcrumb mixture. Bake for 20 to 30 minutes or until the topping is a light golden brown.
Ratatouille
This is a classic vegetable stew that originated in Nice. You may think "stew" equals "winter,"  but this dish is best when the vegetables are the freshest...and that's in the summer! You can serve it warm or at room temperature. Ingredients: 2-1/2 pounds tomatoes, blanched, dunked in cold water, peeled, and coarsely chopped. 8 large garlic cloves, thinly sliced 1 cup fresh flat-leaf parsley, chopped 20 fresh basil leaves, torn in half 1 cup plus 2 tablespoons extra-virgin olive oil 2 pounds eggplant, cut into 1-inch cubes 2-1/4 teaspoons salt 2 large onions,  quartered lengthwise then thinly sliced 3 bell peppers (different colors preferably), seeded, cut into 1-inch pieces 4 medium zucchini, quartered lengthwise and cut into thick pieces 1/2 teaspoon black pepper Directions: 1. Combine tomatoes, garlic, parsley, basil and 1/3 cup oil in a heavy 5-quart pot. Simmer, partially covered, stirring occasionally, until tomatoes break down and sauce is slightly thickened, about 30 minutes. 2. While sauce is simmering, toss eggplant with 1/2 teaspoon salt in a large colander and let stand in the sink for 30 minutes. 3. Heat 3 tablespoons oil in a wide skillet over medium heat. Add the onions and 1/4 teaspoon salt. Cook until the onions are softened, 10 to 12 minutes. 4. Transfer onions to a large bowl. Repeat this procedure with the peppers, and then the zucchini, adding 3 tablespoons of olive oil the skillet each time, and 1/4 tespoon of salt with the vegetables. 5. While zucchini are cooking, pat eggplant dry with paper towels. Repeat the cooking procedure with the eggplant until soft. 6. Add vegetables, remaining teaspoon salt, and black pepper to tomato sauce and simmer, covered, stirring occasionally, until vegetables are very tender, about 1 hour. 7. Cool, uncovered, and serve warm or at room temperature.
Fish en Papillote
Ingredients: 1-inch thick firm fish fillets (red snapper works well) 1/2 teaspoon salt 1/4 teaspoon black pepper 1/2 teaspoon rubbed sage 1/2 teaspoon dried parsley 2 teaspoons orange zest 3 roma tomatoes, sliced 12 black olives 2 tablespoons butter, cut into small cubes Parchment paper Directions: 1. Preheat oven to 375 degrees F. Cut 12-inch by 12-inch squares of parchment paper and set aside. 2. Season fish with salt, pepper, herbs and zest, and then place each fillet in each parchment square, just off the middle. Top with evenly divided tomatoes, olives and butter. 3. Put a baking sheet in the oven to heat. Fold parchment squares in half until edges meet, crimping and overlapping edges until the fish is sealed in the paper. 4. Place parchment packets on the hot baking sheet and bake for 17 to 20 minutes. 5. Carefully slide fish onto dinner plates and serve.