Heart-healthy Spanish recipes
At the very southern tip of Spain, in Tarifa, you can look 7.7 miles across the Strait of Gibraltar to Morocco, in Africa. This narrow waterway is the entrance to the Mediterranean Sea -- and the opening to an amazing region of beauty, culture and conflict. This is also the entrance to a delicious region of Mediterranean food.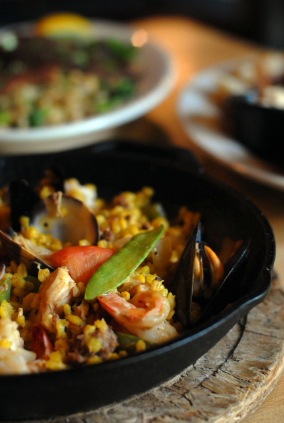 Spanish-inspired Mediterranean food
As one of the 16 countries that border the Mediterranean Sea, Spain has adapted locally available ingredients into its unique and delectable regional cuisines. Many of those recipes fall into what has come to be known as the Mediterranean diet, a wholesome way of eating that has been linked to a reduced risk of heart disease and cancer. When you think about Spanish cuisine, you likely think of the following foods:
Gazpacho A tomato-based raw vegetable soup, served cold.
Paella A regional rice dish from Valencia that combines the rice with vegetables and several fish and seafood elements.
Sangria A wine-based beverage that includes wine, fresh fruit, juice, sweetener and sometimes a small amount of liqueur.
Tapas Tapas isn't a single dish. Rather, it is a wide variety of appetizer-sized dishes that emphasize the tasting of quality ingredients and encourage the communal element of eating.
Each of these components of Spanish cuisine reflect Spain's geography. In Spain's generally warmer climate, the gazpacho and sangria are refreshing and cooling. The paella combines the bounty of both the sea and the agricultural areas. The tapas culture grew out of the need for a snack between main meals and has come to reflect the importance of the social aspect of eating; tapas are often eaten out in the early evening before the later main meal. While Spanish cuisine is so much more than these elements (they use a fair bit more ham and pork than other cuisines, for example), it is a good starting point for incorporating Spanish flavors into your application of the Mediterranean diet.
Mediterranean diet recipes
Gazpacho
Ingredients: 2 pounds large tomatoes, halved 1/2 pound rustic bread, crusts removed, cut into 1/2-inch pieces 1 red bell pepper, seeded and diced 1 cup chopped peeled cucumber 1 cup chopped red onion 1/4 cup Sherry wine vinegar 1/4 cup extra-virgin olive oil 1 garlic clove, minced 1/2 teaspoon ground cumin 1/2 teaspoon paprika 1 cup water Salt and freshly ground black pepper Directions: 1. In a sieve set over a bowl, squeeze the seeds and juices from the tomato halves. Press the solids through the sieve to extract as much juice as possible. Chop the squeezed tomato solids and transfer with the juices to a large glass bowl. 2. Add the bread cubes, pepper, cucumber, onion, vinegar, olive oil, garlic, cumin and paprika. Mix and let stand at room temperature for 1 hour. 3. Working in batches, puree gazpacho with the water in a blender until smooth. Pour gazpacho into a coarse strainer and press on solids to extract as much soup as possible. Season with salt and pepper. 4. Chill at least 2 hours and up to 1 day. Serve cold.
Paella
For best results, you'll need a paella pan, but a large wide frying pan will also do. Ingredients: 1 cup olive oil, divided 1 small onion, chopped 2 tomatoes, peeled, seeded and chopped 1/2 pound shrimp, peeled, and deveined (reserve the shells) 2 pounds mussels or clams 1 green pepper, seeded and diced 2 medium-sized squids, chopped Fish broth Saffron 1 clove of garlic (optional) Fresh parsley Salt 2 cups rice 1 red pepper, seeded and diced 1-1/2 cups frozen peas Directions: 1. In a frying pan, heat half of the oil. Add the onion and saute 5 minutes. Add the tomatoes and let braise about 5 minutes, mashing the tomatoes a bit as they cook. Put this mixture in the paella pan. 2. Place some cold water and the shrimp shells in a pot and bring to a simmer. In another pot, cook the mussels. When the mussels are open, remove them from the water, then strain the mussel broth and cooking water for the shrimp shells into a large bowl. 3. Add the rest of the oil to the paella pan and heat the pan. Add the green pepper and the squid and saute, but don't let them brown. Add fish broth to the strained shrimp and mussel broth to make five cups and add this to the paella pan. 4. In a mortar and pestle, mash several saffron threads with the garlic, parsley and some salt. Add this spice mixture with the rice to the paella pan. Stir in the shrimp. Let cook for a few minutes, then add the red pepper, mussels and peas. Mix well and let cook about 20 minutes, until the rice is tender. 5. Remove from heat and let sit 5 minutes before serving.
Sangria
Ingredients: 2 bottles dry red wine 1 tablespoon granulated sugar Juice of 1 large orange Juice of 1 large lemon 1 large orange, sliced thin crosswise 1 large lemon, sliced thin crosswise 2 medium peaches, peeled, pitted and cut into chunks 1 cup club soda Directions: 1. In a large pitcher, combine the wine, sugar, juices and fruits. Let sit in the refrigerator overnight. 2. Just before serving, add the club soda. Serve over ice.
Tapas ideas
Since tapas isn't any one recipe, here are some ideas for small-sized dishes that you can use to build a meal. Just a bite or two of each dish per person adds up to a variety of flavors and textures as well as a very satisfied belly for everyone at the table. The possibilities really are endless; the following don't even scratch the surface.
Avocado toast: Thin slices of smoked ham and avocado on toast smeared with garlic aioli
Figs and ham: Fresh fig halves wrapped with thin slices of ham
Olives: Stuffed, marinated, or blended into a tapenade
Sausage: Thin slices of grilled spicy sausage
Array of very good cold-cuts: Slice them very thinly!
Ceviche: Raw firm-fleshed fish "cooked" in lime juice and garnished with chili
Fruit and cheese: Quince paste with manchego cheese
Garlic mushrooms: Mushrooms quick-sauteed with garlic, sherry vinegar, lemon juice, chili and paprika
Orange salad: Salad of red onions and oranges with a light dressing
Nuts: Bowl of dry, spiced almonds
Bread and olive oil: Good bread and good olive oil for dipping
Shrimp-filled zucchini blossoms: Paste made of cooked shrimp and seasonings stuffed in a zucchini blossom and slightly sauteed
Sauteed spinach and chickpeas: Serve with thin toasts
Spanish cuisine is a delicious starting point for incorporating the Mediterranean diet into your family meal planning. Spanish foods are not only tongue-tantalizing, they are heart-healthy and nutritious.