Spanikopita: More than spinach pie
It's an appetizer, it's a main dish. It's healthy, it's a little bit decadent. It's delicious. It's Spanikopita - or, more simply, spinach pie.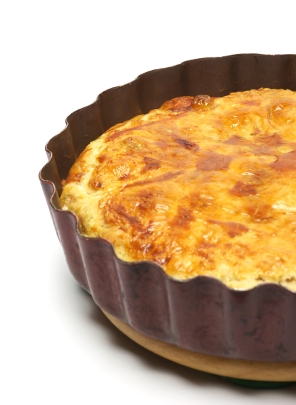 Spanikopita is delicious comfort food
Spanikopita is a savory Greek pastry traditionally made with spinach, feta cheese and phyllo dough. With these three basic ingredients, you can have a tasty tidbit to put out the next time you entertain, or to serve your family when the need for comfort food on a chilly winter night arises. Best yet, with a basic technique and a few extra ingredients, you can turn simple and tasty to spectacular and craved.
Making Spanikopita
A primary ingredient of Spanikopita is, of course, spinach. As spinach is one of my favorite greens -- not to mention extremely healthy -- I'm always looking for more ways to use it. As far as the feta, it's often too salty for me -- so I just scale back the amount I use. I occasionally find some lower sodium feta -- or sometimes I use ricotta salata in its place.
Very Basic Spanikopita Bites
A very basic recipe for a last minute appetizer or a late night snack. Ingredients: Frozen spinach, thawed and drained well Feta cheese, crumbled Phyllo dough, thawed, and sliced in half Unsalted butter, melted Directions: 1. Preheat oven to 350 degrees F. 2. In a bowl, combine about two parts spinach to one part feta cheese. Combine as best you can. 3. On a work surface, lay out a half sheet of phyllo and brush very lightly with butter. Repeat with a second half sheet of phyllo. 4. Place a couple or three tablespoons of the spinach cheese mixture at one corner and roll or fold into a shape you like. This can be very free form (translation: I've never been able to get triangles to look right, so I gave up!).  Repeat with remaining spinach mixture and phyllo. 5. Place rolls on a cookie sheet and bake until phyllo is golden, about 25 minutes. Let cool.
Better Than Basic Spanikopita
This version makes a whole pie, but you can use the filling in individual pastries, too. Ingredients: 3 tablespoons olive oil 1 large onion, chopped fine 1 bunch green onions, chopped 2 cloves garlic, minced 2 pounds fresh spinach, rinsed and chopped 1/2 cup chopped fresh parsley 2 eggs, lightly beaten 1/2 cup ricotta cheese 1 cup crumbled feta cheese Phyllo dough Unsalted butter, melted Directions: 1. Preheat oven to 350 degrees F. Lightly oil a square baking pan. 2. In a large saute pan over medium heat, heat the olive oil. Add the onion, scallions and garlic, and saute until lightly browned (don't scorch the garlic). Add the spinach and parsley. Saute until the spinach is wilted. Let cool. 3. In a mixing bowl, combine eggs, ricotta and feta. Stir in cooled spinach mixture. 4. Layer 4 sheets of phyllo in the baking dish, lightly brushing with butter between the layers. Spoon the filling into the baking dish, then layer 4 more sheets of phyllo on top, again lightly brushing with butter between the layers. Tuck in any overhanging dough and seal up the filling. Brush the top with a little more butter. 5. Bake 30 to 40 minutes or until golden brown. Let cool just slightly before cutting into into squares. Variations on Spanikopita:
Use Swiss chard instead of spinach, or a mxiture of spinach and mustard greens.
Let the onions caramelize before adding the spinach for some intriguing sweetness.
Add a big squeeze of lemon juice to the spinach saute for a little extra zing.
Put the spinach and cheese mixture into pastry cups - or large mushroom caps - instead of wrapped in phyllo.
Use tofu instead of feta (and oil instead of butter) for vegan Spanikopita.
The spinach and feta filling is great for filling omelets.
Use puff pastry instead of phyllo for a more continental dish.
Add leeks to the mixture of onions.
Add some spinach-feta mixture to ground beef for delicious burgers or meatloaf.
Add finely diced wild mushrooms to the saute.
More than spinach pie, Spanikopita can take on many delicious variations, giving you a delicious array of Spanikopita-inspired meals.