Kitchen tips: Small appliance maintenance
If you are like me, your small kitchen appliances have had quite a workout the last few weeks. From Thanksgiving right through the New Year, I ask a lot of my appliances. Now is the time to give your appliances a little love so they will continue to give and give right through next holiday season and beyond. A little yearly effort to clean and maintain your appliances lengthens their life, protects your investment and, as important, is a safety precaution.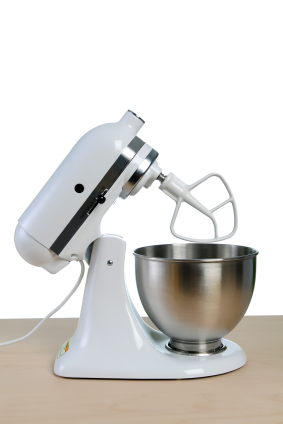 Give your small kitchen appliances a good cleaning
First thing, give all of your small kitchen appliances a good cleaning. I'm talking lots of paper towels, cotton swabs and even toothpicks with a spray cleaner to gently get all the bits of flour or butter or whatever out from everywhere. You need to be careful not to immerse your electric parts in water, so using paper towels that have been lightly sprayed with water instead of sopping wet sponges is safer for the electric parts. Make sure the appliance in question is unplugged, too, of course. A good move is to consult your user's manual (you did save it, right?) for any specific maintenance instructions. If you didn't save your manual, check the manufacturer's site online. Most manufacturers have manuals on their websites to accomodate appliance owners who have misplaced the user's manual.
Check for excess wear and tear on your small kitchen appliances
While you are cleaning, look very closely at cords, joints and edges for excess wear and tear. Take an especially good look at the plug for any exposure of wires. This is not just a use issue, but a safety issue. I sure hope it goes without saying, but I'll say it anyway: If any part is so worn it's interfering with safe use of your appliance, stop using the appliance. DO NOT try to override safety features!
Find replacement parts for your small kitchen appliances
If your appliance has parts that are particularly worn, it may be time to replace them. The blade of our food processor has given us nearly 20 years of faithful, frequent service, but the blade is visibly duller. It's time for a new one. There are numerous online vendors that replace small appliance parts -- even for appliances that are decades old. Enter your make and model number in a search engine and start comparing prices and shipping options.
Take your small kitchen appliance to a professional, if necessary
If your appliance has behaved at all "funny" during this high-intensity time, it may be necessary to have a professional look at it. Authorized and non-manufacturer service centers can help you determine whether your appliance is worth fixing or if it might actually be time to invest in a new appliance.