Making pretzels with the kids
Looking for something fun to do with the kids while they are home from school? Try making your own pretzels!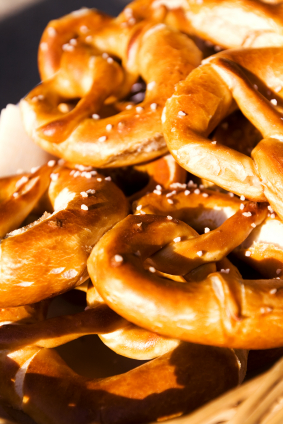 Why buy pretzels when you can easily make your own?
Sure, as with so many other food items, you could just buy them at the mall or in a package at the grocery store, but the pretzels you can make at home are so much better! Not only are homemade pretzels tastier, you can also experiement with them and control the ingredients. You can make soft pretzels or hard pretzels, adjust the amount of salt you use, sprinkle on different flavors, and generally make it a fun family activity. And a tasty one at that!
Giving pretzels a twist
Pretzels are part of German culture that thrived in the United States among European immigrants, most notably in Pennsylvania. The dough is a simple yeast dough, but instead of making a bread, you roll it into ropes and give them a twist. The twist of a pretzel has been given varying degrees of symbolism. Some believe the shape is like that of praying hands, others say that the three "holes" represent the Trinity. Some people also say the pretzel shape represents "tying the knot" or symbolizes everlasting love. For many, though, pretzels just mean one thing Yum!
Pretzels aren't for snacking only
Although most often eaten as a snack, a good fresh soft pretzel can become a delicious breakfast - especially if it has been sprinkled with some cinnamon sugar. You can wrap pretzel dough around a hot dog and bake your own pretzel dogs for a fun lunch. Or sprinkle a hot, just-from-the-oven pretzel with some cheese and serve it alongside a hearty soup. You can also roll a pretzel in crushed toffee for a decadent dessert treat -- with or without a caramel or chocolate sauce for dipping. Or you can just eat pretzels as a snack.
Soft Pretzels
Ingredients
4 teaspoons active dry yeast
1/2 cup oil
1 teaspoon granulated sugar, divided
1-1/4 cups warm water
4-1/2 to 5 cups all-purpose flour
1-1/2 teaspoons salt
2 tablespoons unsalted butter, melted
1/2 cup baking soda dissolved in hot water
4 cups hot water
Kosher salt, sea salt, or pretzel salt, to taste
Directions
Combine yeast, 1 teaspoon sugar and 1-1/4 cups warm water in a small bowl. Let stand 10 minutes to bloom the yeast.
In a large bowl, combine 4-1/2 cups flour, the salt and remaining sugar. Add the yeast mixture and butter and form a dough. Knead about 5 minutes or until the dough is smooth and elastic, adding more flour if needed.
Transfer to an oiled bowl, turn dough over in bowl to coat with oil, cover with plastic wrap and let rise for about 1 hour.
Preheat the oven to 450 degrees F. Dissolve baking soda in the hot water. Line baking sheets with parchment paper and spray the parchment paper with cooking spray.
Divide the risen dough into 10 to 12 equal pieces and roll each piece into a long, even rope. Twist each rope into a pretzel (try following a photo of a pretzel and remember it doesn't have to be perfect!). Dip pretzel into the baking soda solution and place pretzel on a lined cookie sheet.
Sprinkle with salt, if desired. (If you are going to make it into a sweet pretzel after baking, omit the salt.) Bake for 8 minutes or until browned.
If making sweet pretzels, brush the still hot pretzels with melted butter and sprinkle with some cinnamon sugar.
Hard Pretzels
Ingredients
1 package dry yeast
1-1/4 cups warm water
1 teaspoon salt
1 tablespoon granulated sugar
4 cups all-purpose flour
4 tablespoons unsalted butter, melted
1 egg, beaten
Kosher salt, sea salt, or pretzel salt, to taste
Directions
In a small bowl, dissolve yeast in the water. Add the salt and sugar and let sit for a few minutes.
In a large bowl, combine the flour, yeast mixture and melted butter. Form into a dough and knead until smooth.
Transfer dough to an oiled bowl and let rise for 1 hour or so.
Preheat oven to 350 degrees F. Line baking sheets with parchment paper and spray the parchment paper with cooking spray.
Cut the dough into small pieces and roll into thin ropes. Form traditional pretzel shapes or other shapes, or just stick with the long straight ropes. 6. Brush with the beaten egg and sprinkle with salt. Bake 45 to 55 minutes or until golden and hard.