Not too late for a gingerbread house
It's late in the holiday season, yes, but it's not too late for gingerbread - and a gingerbread house. In fact, I think the week between Christmas and New Year's when the kids are out of school is a better time for such a cookie construction project than any time beforehand. Once the actual holiday season is over, there's (hopefully) less stress, you're looking to keep the kids occupied, and a gingerbread house is a great way to use up any leftover holiday candy when you've had your fill.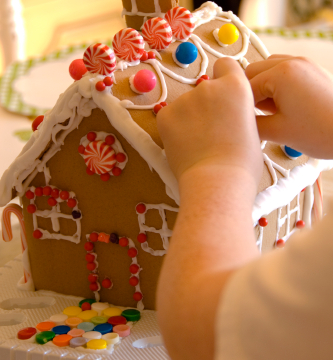 Making a gingerbread house is a fun family project
I've seen some great gingerbread houses lately - but I never seem to have time before Christmas to make one. Sure, I could buy a gingerbread house kit, but that doesn't seem quite the same. I am always looking for ways to keep the kids occupied in a constructive manner during our off week between Christmas and the New Year, and a family gingerbread house project is just the thing.
Make a gingerbread house plan
Start your gingerbread house planning by tapping into your inner architect. It's time to sketch and plan. Why not give something spectacular and challenging a try? The expectation of Christmas is over, so dream away. Look online for inspiration, or just peer out the window at a neighbor's house for creative gingerbread house ideas.
Make a gingerbread house pattern
Next, draw out a pattern for the main structure of your gingerbread house. Make sure that the edges that join are the same length. You can use just about any kind of paper for this, but freezer paper works especially well.
Make the gingerbread house dough
Make your basic gingerbread house dough (recipe below) and roll it out. Depending on the size of your house, you may need more than one batch. An important consideration when making gingerbread houses is you don't want the structure to be too thin or too thick. A thickness of 1/4-inch should do the trick. Place your patterns on the gingerbread and carefully cut around them. Now is the time to also cut out the windows, if your house has them. Transfer cut out dough to cookie sheets that have been lined with greased parchment paper, taking great care not to stretch the dough in the process. After baking the dough, allow it to cool completely and dry out a bit. Baking the gingerbread on one day, and constructing and decorating the house the next day is a great way to go.
Make a gingerbread house base
You are going to need a foundation for your house. A small piece of plywood covered with aluminum foil is a quick and easy job.
Make the gingerbread house icing
When you are ready to construct and decorate the house, make a fairly stiff royal icing (recipe below). This will be your glue or, better said, the mortar to your gingerbread bricks, if you will.
Decorating and constructing your gingerbread house
I find it easier to decorate the sides of a gingerbread house before I put them together. Windows, doors and other details can be more carefully decorated with icing while the walls of the house are on a flat surface. This is less critical for roof pieces. I also find it helpful to use toothpicks in the inner structure of the house to help keep things together. Insert toothpicks very gently as diagonal brace pieces at corners to help hold the house up while the icing sets. From here, you can do as much or as little decorating to your gingerbread house as you desire. Candy of all shapes, sizes and colors can be used in one way or another. Mints, gumdrops, kisses, licorice and just about any other candy you have on hand can be a part of your gingerbread house decor. Again, look to the internet for many fun and creative ideas.
Don't rush it
Making a gingerbread house is a perfect way to spend quality time with your kids, so take your time. As you glue and add pieces to your house, the icing will need time to set up and dry. Be sure the icing is completely dry before you add another structural element to your gingerbread masterpiece.
Up next: Gingerbread house recipe >>
---
More From SheKnows Explorer
---
---