4 Fun holiday recipes with phyllo
Light, crisp and flaky phyllo dough can enrobe both savory and sweet holiday fillings, ranging from turkey and wild mushrooms to cream cheese and homemade cranberry sauce. Whether you create original recipes, such as crab-filled phyllo shells for Christmas or New Year's appetizers, or need a creative way to serve holiday leftovers, a box of phyllo dough in your refrigerator can be a time-saver as well as an easy way to impressively present many delicious and festive holiday dishes.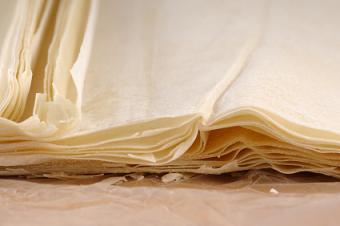 What is phyllo dough?
Phyllo (fillo) dough, often mistaken for puff pastry, consists of papery-thin sheets of raw unleavened dough that is commonly used in Middle Eastern dishes, such as Baklava, but can also be filled with any number of savory or sweet fillings. Phyllo is available fresh in some specialty markets but more conveniently can be purchased in the frozen dessert section of most supermarkets. It typically comes in a box that contains one or two individually-wrapped rolls of phyllo sheets. Mini phyllo shells as well as shredded phyllo (kataifi) is also available, offering many more mouthwatering possibilities for phyllo-based recipes.
Working with phyllo dough
Phyllo dough is delicate and can dry out rather quickly. If you buy frozen phyllo, you will need to let it thaw before using. Thaw it in the refrigerator overnight or on the countertop for a few hours. Refrigerated phyllo will stay fresh for up to 30 days, but the sooner you use it, the better. When ready to cook with phyllo, prepare all the other ingredients you need for your recipe before you unwrap the phyllo. Once unwrapped, keep phyllo covered with a sheet of plastic wrap and a damp towel until you need it.
Cutting phyllo
You can cut stacks of phyllo sheets into circles, squares or rectangles, depending on your recipe. Use a sharp knife or biscuit/cookie cutters to cut your desired shape. You can also use whole sheets to wrap fillings, bake, then cut to serve. Mini phyllo shells and shredded phyllo won't need to be cut.
Butter it up
If using sheets of phyllo, use a soft-bristle brush to carefully moisten each sheet with melted butter or olive oil, brushing each sheet as you stack them. Depending on how thick you want your phyllo crust, you may find five to seven sheets is sufficient for most recipes. Carefully wrap your fillings and brush the outside of the phyllo before placing in the oven. The layers of butter or oil and phyllo will create the delicate, flaky, golden brown crust so coveted with phyllo-based dishes.
Up next: Four holiday phyllo recipes >>