Delicious Christmas dinner recipes
The time has come for you to finalize your Christmas dinner menu, but you're still short a dish or two. Perhaps you're making your signature prime rib entrée but can't fathom appetizers to serve before the holiday feast. Maybe you've got all the makings for cocktails and a perfect dessert course but can't decide on the dishes to make for the most important part of the Christmas meal. Don't fret. We've got you covered. Here is a complete Christmas dinner menu featuring recipes for each holiday course plus additional recipe ideas if you're feeding an extra large Christmas crowd.
Christmas appetizer: Lamb Meatballs with Cranberry Sauce
Makes 36
Ingredients
1-1/4 pounds ground lamb
1/2 cup unseasoned breadcrumbs
2 garlic cloves, minced
3/4 cup grated red onion
1/2 cup finely chopped dried cranberries
1 egg
1 teaspoon ground cumin
1 teaspoon ground coriander
1/2 teaspoon ground cinnamon
Pinch of ground cardamom
2 tablespoons finely chopped parsley
Salt and freshly ground black pepper to taste
Olive oil 2 cups prepared or store-bought cranberry sauce
Directions
In a large bowl, combine lamb, breadcrumbs, garlic, onion, cranberries, egg, cumin, coriander, cinnamon, cardamom and parsley. Season with salt and pepper. Roll lamb mixture into 36 meatballs.
Place a large high-sided skillet over medium-high heat. Pour in enough oil to cover the bottom. When oil is hot, add meatballs in one layer. Cook, turning a few times, to brown the outside of all of the meatballs.
Reduce heat to medium and cover skillet. Let cook until meatballs are cooked through. Transfer to paper towels to drain.
Meanwhile, heat cranberry sauce in a small saucepan over low heat. Transfer to a serving bowl. Arrange meatballs on a serving platter with cocktail toothpicks. Serve meatballs and cranberry sauce immediately.
Christmas main dish: Prime Rib with Creamy Horseradish Sauce
Prime rib
1 (8- to 9-pound) prime rib roast with ribs, trimmed
2 tablespoons mixed dried herbs and spices of your choice
Salt and freshly ground black pepper
Sauce
1 cup sour cream
3 tablespoons prepared horseradish sauce
1-1/2 teaspoons white balsamic vinegar
Pinch of salt or more to taste
Directions
Preheat oven to 450 degrees F.
Rub roast with herb and spice mixture and sprinkle with salt and pepper. Place roast to a rack in a large roasting pan. Roast for 25 minutes.
Reduce oven heat to 350 degrees F. Roast for 1-1/2 hours longer or until a meat thermometer stuck in the center of the roast reaches 110 degrees F. Let stand for 20 minutes, uncovered.
Meanwhile, combine sauce ingredients in a serving bowl. Serve prime rib with sauce.
Christmas side dish: Roasted maple sweet potatoes
Ingredients
2 quinces, peeled, cored, cut into 1/2–inch cubes
3 medium sweet potatoes, peeled, cut into 1/2–inch cubes
1/3 cup maple syrup plus extra for drizzling
Salt and freshly ground black pepper
Directions
Preheat oven to 425 degrees F. and oil a large rimmed baking sheet.
In a large bowl, combine quince, sweet potatoes and maple syrup, tossing to coat. Season with salt and pepper and toss again. Spread mixture on the baking sheet in one layer.
Roast for 30 to 40 minutes, stirring occasionally, until quince and sweet potatoes are tender. Transfer to a serving bowl and drizzle with extra maple syrup. Serve warm.
Christmas dessert: Christmas Trifle
Serves 10
Ingredients
1 (18.25-ounce) box white cake mix prepared according to box directions
Orange juice 1 (8-serving) box pistachio pudding prepared according to box directions
1 cup cherry preserves
1 cup shaved dark chocolate
1 cup shelled pistachios
Freshly whipped cream
Directions
Cut prepared cake into chunks. Cover the bottom of a large trifle dish with cake. Sprinkle with orange juice to moisten. Continue to layer with pudding, cake, preserves, chocolate, and pistachios, moistening each layer of cake with orange juice. Top it off with whipped cream and any extra chocolate shavings and pistachios.
Christmas cocktail: Eggnog martini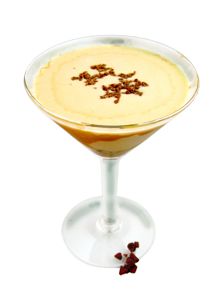 Serves 1
An elegant presentation of the season's quintessential quaff, this Eggnog Martini is much kinder to your waistline.
Ingredients
2-1/2 ounces eggnog
1 ounce Van Gogh Vanilla Vodka
3/4 ounce Amaretto Freshly grated nutmeg or ground cinnamon for dusting
Directions
Combine eggnog, vodka and Amaretto in a shaker with ice and shake vigorously.
Strain into chilled martini glass. Dust with freshly grated nutmeg or cinnamon.