Christmas candy: Torrone
At the little market in the Italian neighborhood where I would make an annual visit to purchase some special ingredients for making Christmas stollen, there was always torrone. It was wrapped in big bars, behind the market's candy counter, and in bags - but I didn't know what it was and I was usually in too much of a rush to consider trying it or to even ask about it. Then one year, I picked up a bag of individually-wrapped torrone on a whim, along with my other purchases. A day or so later when I finally tried one of these interesting confections, I realized that I'd been missing something pretty special in my yearly haste. I was hooked and now I make it at home.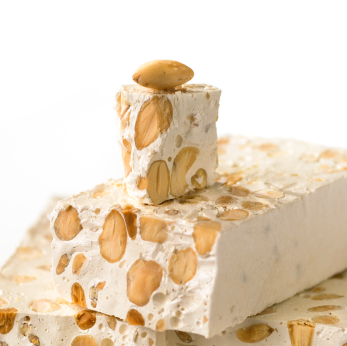 Making torrone for Christmas
Torrone is an Italian holiday specialty of white nougat and nuts, typically almonds. It will take candy making skills and maybe a little experimentation, but it's a deliciously worthwhile effort. Torrone makes great gifts during the Christmas season -- if it lasts that long. You can make several versions of torrone with different nuts and candied fruits, wrap them in various sizes, then present them in a glass jar (or just a cellophane bag) with a big bow as a hostess gift. You can cut torrone into smaller pieces and, wrapped, put them in stockings -- or just keep a log handy for general snacking. No matter what you do, I bet torrone will become a delicious part of your Christmas season celebrations.
Torrone
Toasted pistachios, almonds and hazelnuts work especially well in torrone. Candied orange peel and citron are also quite nice. Toasted nuts should be coarsely chopped and candied fruit should be fairly finely chopped. Most important, pick your favorite ingredients and experiment to find your favorite torrone recipe.
Ingredients
1-1/2 cups mild honey
1-1/2 cups granulated sugar
1/2 cup water
3 large egg whites
1/4 teaspoon salt
1-1/2 teaspoons orange-flower water or orange extract
3/4 teaspoon almond extract
2-1/2 cups nuts, candied fruit, or both
1 tablespoon cornstarch plus additional
Directions
Oil an 8x8 metal baking pan. Line the bottom and sides with either parchment paper or, preferably, edible wafer paper. If you are using parchment paper, lightly oil the paper as well.
In a large heavy pot over low heat, heat the honey, sugar and water, stirring constantly until the sugar has dissolved.
Increase the heat to medium and bring the mixture to a boil. As sugar crystals form on the sides of the pan, dip a pastry brush in cold water, and brush them down the sides of the pan.
Put the candy thermometer into the hot syrup. Continue boiling until the syrup is 310 degrees F. Remove from heat and let stand for a few minutes until the bubbling subsides.
Meanwhile, beat the egg whites with the salt to soft peaks in a stand mixer.
Turn the mixer to low, and slowly pour the hot syrup down the side of the mixing bowl. Then increase the speed to high and beat until the mixture has cooled significantly; it should be just warm. This will take about 20 minutes.
Add the flavorings and beat another minute. Stir in the nuts and/or candied fruit.
Sprinkle a cutting board (preferrably something like marble) with the cornstarch. Scrape the torrone out onto the board. Dust your hands with cornstarch and knead the torrone several times.
Press the torrone into the prepared baking pan, evening out the surface as best you can. Let stand for 8 hours.
Turn the torrone out onto the cutting board. Trim into desired shapes and lengths and wrap into cut pieces of parchment or wax paper.