A cookbook series is a great food gift
I love to give cookbooks as gifts as much as I like to receive them. I can seriously sit and read a cookbook like a novel! I have a fairly large cookbook collection that I can thumb through for hours looking for delicious recipes to try - or just savoring the idea of the recipes. Particularly fun to peruse are cookbook series.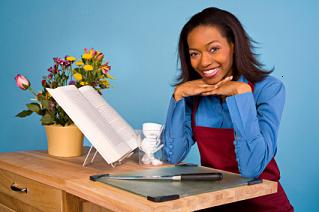 A cookbook series is a great gift
My cookbook library has several sets of related cookbooks -- or a series of cookbooks -- some by the same author, some by the same publisher, some by the same topic. With the enjoyment these cookbook sets have given me, I conclude that the only thing more fun than getting a cookbook as a gift is receiving a series of related cookbooks as gifts over the course of several occasions! When giving a cookbook as a gift, sometimes it can be hard to know what cookbook to give. There are the current bestsellers, of course, and there are old classics. Starting a cookbook set for a friend is a great way to give a lovely culinary gift without getting into the bestseller versus classic debate. When you start a cookbook set, you not only give great cookbooks, you give years of many, much anticipated gifts.  Just think - no brainstorming gifts for a while! You know what to give! Most cookbooks by the same author or publisher tend to be the same size and general printing quality. This makes them particulary consistent and attrative when grouped together on the bookshelf. And from my experience, series cookbooks tend to be good...if one cookbook wasn't enough.
Collecting cookbooks by publisher
In the late 1980s and 1990s, a series of cookbooks called The Beautiful Cookbooks were published over many years by Time-Life. These were large scale books with stunning photography that were equally at home on the coffee table as in the kitchen. These cookbooks were categorized by geographic locales, both international and domestic. These were very much "gift" books, though they did have excellent recipes along with those amazing photographs and supporting text. Some of these books are still in print, and some are available in high-quality paperback. At the same time, Williams-Sonoma started publishing smaller cookbooks on specific topics. These books were really meant to be used! My husband gave me one of these cookbooks for birthdays and Christmas for several years, and we still have most of the set. Williams-Sonoma continues to publish several cookbook series, many many focusing on products available in their stores. These cookbooks are a deliciously excellent way to start a collecting a cookbooks series. Other cookbook series available today include the 1000 Recipe series published by Wiley (1000 Indian Recipes, 1000 Mexican Recipes, 1000 Italian Recipes) and translations and reprints of foreign cookbooks published by Phaidon (Silver Spoon (Italian), Vefa's Kitchen (Greek), 1080 Recipes (Spanish) and I Know How to Cook (French) ). I suspect more are going to be published in both of these series. Meanwhile, only tangentially related cookbooks can also make a good starting point for a collection. Junior League cookbooks from around the country, perhaps. Or church cookbooks in whatever form they may take.
Collecting cookbooks by author or restaurant
When you find a cookbook author you like or like to give, don't stop at one cookbook! Well-known chefs and authors such as Ina Garten have published multiple cookbooks, and often they are very complementary. Other chefs concentrate on a different topic for each cookbook; Rose Levy Beranbaum, for example, has published a series of excellent "bibles": The Cake Bible, The Pie and Pastry Bible, and The Bread Bible. Favorite restaurants - whether cafe or high-end - often put out cookbooks as well. Every time I open one of my three Foster's Market cookbooks, I remember fondly the brunches we'd have at the market in Durham years and years ago. Todd English has published cookbooks of recipes from his two original restaurants, Olives and Figs. Almost anyone who has tasted the Figs White Chocolate Challah Pudding wants to take the Figs cookbook home. Somewhere between author and publisher are cookbooks put out by cooking magazines. Gourmet magazine, before it was cancelled, put out a series of cookbooks, as have many other magazines.
Collecting cookbooks by topic
Another way to collect cookbooks is to collect by topic. With so many specialty cookbooks available, you can collect -- or help a friend collect -- a significant number of cookbooks just on a specific food, such as pears, or perhaps food from a specific region? Cookbooks are out there, I'm sure of it. Collecting a series of cookbooks is a great way to start a cookbook library, and they are great to give as a gift -- or a series of gifts. Whether you start with a specific author or chef, a cuisine, or a particular format, they are sure to inspire for years to come.