Mince and quince
Do you recall the classic Edward Lear line "They dined on mince and slices of quince"? It's not often that a children's rhyme is the impetus for a culinary adventure, but this particular rhyme piqued my culinary curiosity. I was reciting Edward Lear's classic poem, The Owl and the Pussycat, to my daughter at bedtime for, oh, the thousandth time a couple of weeks ago when I thought that I really should investigate the two foodstuffs -- mince and quince --mentioned in more detail. One I knew and one I did not.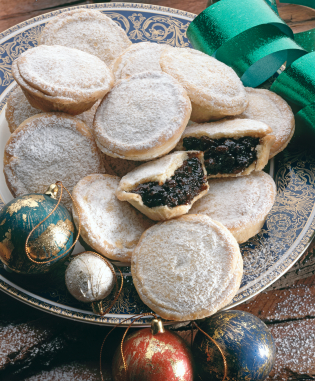 Mince pie is a Christmas favorite
The mince in the poem refers to mince pie, a Christmas classic for many. I remember having it at the holidays a couple of times when I was small, but never really liking it; I think the richness of flavors was just too much for my young palate. Either that, or my aunt had used the cheapest possible ingredients (a distinct probability) so it just wasn't very good. I've since learned that mince pie can be very good, though my taste does run toward the modern interpretation. Modern mince filling usually is a selection of dried fruits and spices held together with vegetable shortening, and quality of ingredients does make a difference. But mince, as it was known when Edward Lear was writing, is different from how we usually think of it today. "Mince" is short for "mincemeat" and pies did indeed contain some meat or meat product and quite a lot of animal fat (lard). They were heavy and not necessarily healthy - and I can't even say if I would think they were tasty. Our modern palates have changed so much!
Quince is a special fruit
Quince, in stark contrast to mince, would and certainly should find its place on the modern table. Quince is a fruit that looks something like a cross between an apple and a pear - and is actually related to both. It is native to parts of Asia. It has a strong perfume and makes lovely jams and puddings, but is not often eaten out of hand. This underappreciated fruit can be hard and sour unless fully ripened (on the tree) in hot climates; the occasional quince seen in specialty produce sections of North American mega-marts will not likely be ripe enough for such raw eating, though specialty produce companies may be able to get them. Quince needs to be cooked to be used in everyday dishes. As such, quince is most often used in jams and puddings, or to enhance other dishes, such as applesauce. In Spain, membrillo, a jelly-like paste, is made with quince and is traditionally served with Manchego cheese.
Recipes for mince and quince
Both mince and quince continue to have a place in our culinary tradition. Here are some recipes to try - and don't forget the runcible spoon!
Modern Mince Pie Filling
This mince filling is especially delicious in small tartlets or mini-pies. Ingredients: 1-1/2 cups seedless raisins 1 cup sultanas 1 cup currants 1/2 cup mixed candied citrus peel (such as citron and orange), diced 1/2 cup prunes, chopped 1-1/2 cups brown sugar 1 pound cooking apples, peeled, cored and grated 1 cup suet, shredded, or vegetable shortening Grated rind and juice of 2 oranges Grated rind and juice of 2 lemons 1/4 cup almonds, chopped 1/4 cup pecans, chopped 1 tablespoon allspice 1 teaspoon freshly grated nutmeg 2/3 cup brandy, divided Directions: 1. Mix all the ingredients together, reserving 1/3 cup brandy, in a large ovenproof bowl. Cover and let stand overnight. 2. Preheat the oven to 225 degrees F. Cover the bowl with foil and place in the oven for 3 hours. 3. Allow to cool, then mix in the rest of the brandy. Place in sterilized jars (use your canning skills) or refrigerate for at least two weeks before using.
Traditional Mince Pie
Makes 2 pies Ingredients: 1-1/4 pounds of beef round or leftover roast 1/4 pound suet 1-1/2 pounds apples, peeled, cored and chopped 1 cup raisins or currants 1/2 cup granulated sugar 1/2 cup brown sugar 1/8 teaspoon black pepper 1/2 teaspoon salt 2 teaspoons ground cinnamon 1 teaspoon ground clove 2 teaspoons freshly grated nutmeg 1/4 cup brandy 2 cups cider or apple juice Two double pie crusts Directions: 1. If using uncooked meat, simmer beef 2 to 3 hours or until very tender, adding suet during the last 30 minutes of cooking. When the meat is done and cooled, chop beef and suet into about 1/4-inch pieces. 2. Preheat oven to 400 degrees F. 3. Mix beef, suet, apples, raisins or currants, sugars, spices, brandy and cider or apple juice. Set aside. 4. Roll out the four pie crusts, and line the pie pans with two of the crusts. Fill each pie with half the mixture. Cover each with remaining crusts, seal edges and slit holes on top for steam to escape. Bake for 45 minutes.
Quince Paste (Membrillo)
Ingredients: 4 quince, peeled, cored, chopped Granulated sugar Directions: 1. Place the quince in a large pot, and add enough water to just cover. Bring to a boil, cover, reduce heat and simmer until the quince is very soft, about 30 minutes. The quince flesh will turn orange-red. 2. Drain off the excess water into a measuring cup and weigh it (having weighed the measuring cup beforehand). Write the weight down. 3. In a food processor, puree the quince until very smooth. Return it to the pot, and add sugar equal in weight to the water you drained off. 4. Cook the pureed fruit and sugar over low heat until the sugar dissolves, and then for an additional 60 to 90 minutes until the paste is very thick. 5. Line a pan with parchment paper and grease it. Scrape the paste into this pan and spread evenly. Place in a slightly warm oven (about 120 degrees F.) for an hour so the paste continues to dry out. 6. Let cool and cut into pieces to be served with cheese.
Spinach, Duck, and Quince Salad with Walnuts
Ingredients: 2 quinces, peeled, quartered and cored 2/3 cup water 1/3 cup superfine sugar 2/3 cup cider vinegar 2 wide strips lemon rind 1 cinnamon stick 3 whole star anise 4 duck breasts, skin on Salt and black pepper 1 tablespoon unsalted butter Baby spinach and watercress leaves 1/4 cup chopped, toasted walnuts Dressing: 4 teaspoons white wine vinegar 1/2 teaspoon Dijon mustard 6 tablespoons walnut oil 3 tablespoons olive oil 1/2 teaspoon superfine sugar Directions: 1. Put the quinces in a saucepan with water, sugar, vinegar, lemon rind and spices. Bring to a boil, stirring until the sugar is dissolved, then turn the heat down and poach the quinces for 10 to 15 minutes or until just tender. 2. Make the dressing by whisking all the dressing ingredients together. 3. Season the duck breasts with salt and pepper. Heat a frying pan on a medium heat and cook the duck, skin-side down for 10 minutes. Turn over and quickly brown the other side. Drain off the rendered fat. (Save for other uses!) Turn down the heat, cover and cook for another 3 minutes until just cooked through. 4. Remove the duck breasts from the pan, cover with foil and let rest for 3 to 4 minutes. 5. Cut the quinces into segments that are about 3/4-inch thick at the widest part. Melt the butter in a frying pan and sauté quince slices until the edges just start to brown. 6. Carve the duck breasts into thick slices. Toss the spinach leaves, watercress, quince slices and walnuts with half of the dressing. Arrange the duck with the salad and serve with the extra dressing on the side.
Quince Brandy Ice Cream
Ingredients: 2 large quinces, peeled, cored and quartered 1-1/4 cups water 1-1/4 cups superfine sugar, divided 2 egg whites 1 lemon, juiced 1/4 cup brandy or apple brandy (calvados) 1-1/4 cups heavy cream Directions: 1. Put the quince in a saucepan with water and 1/3 cup sugar. Cook gently for 10 to 15 minutes until soft. Drain, reserving the liquid. Purée the quince flesh, then push through a sieve to ensure it is smooth. Cool completely. 2. Measure the poaching liquid – there should be just under 2/3 cup. Add the remaining sugar to this and heat slowly, stirring to help the sugar dissolve. Bring to a boil and boil for 4 minutes. 3. Whisk the egg whites until stiff, then pour on the hot syrup, beating continuously. Fold in the lemon juice, brandy and quince purée. 4. Loosely whip the cream and fold it in. Freeze the mixture according to the instructions for your ice cream maker. Enjoy!