Mouthwatering meatball recipes
Sometimes the simplest food is the best of all. Call it comfort food, simple food, or whatever, it's just yummy stuff. It's what your grandmother made - and what her grandmother made before her. Meatballs are one of those simple comfort food items that don't get much consideration or attention, but should. They can be big (think one giant meatball on top of a plate of spaghetti and marinara sauce) or small (think appetizer-sized Swedish meatballs) or anywhere deliciously in between. You can make them ahead and freeze them for use later, or make them fresh every time. You can slice meatballs onto pizza or in panini, put them in sandwiches or eat them in any number of creative ways. They are also a great way to stretch a pound of ground meat!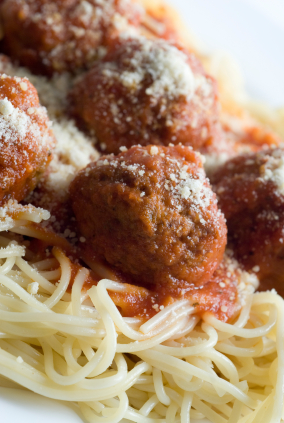 The meatball basics
Meatballs are just that -- ground meat formed into balls, usually with some filler (breadcrumbs), binder (egg) and seasoning (herbs and spices). You can use a single kind of meat, or a mixture, and you can add all sorts of flavors to make them simply savory to seriously spicy. You can bake meatballs or fry them in oil -- or simmer them in a sauce until cooked through. If you bake or fry meatballs, they are easy to store in the freezer for quick use later.
Different types of meatballs
With a basic meatball recipe, you can experiment with all sorts of ingredients, like these:
Make turkey meatballs with ground dried cranberries served over mashed potatoes with turkey gravy.
Pair beef meatballs with barbecue seasoning in barbecue sauce.
Make chicken meatballs with some horseradish for a sinus-clearing kick!
Combine ground meat with cooked rice for meatballs with a different texture.
Try using taco seasonings and serving the meatballs in a tortilla with salsa and other taco toppings.
Meatball recipes
Basic Italian Meatballs
Italian meatballs are best served with spaghetti and tomato sauce, of course, but can be made into a meatball sub, sliced into a panini or onto pizza, or even used in meatball soup.
Ingredients
1-1/2 pounds lean ground meat (beef or pork or a mixture of both)
1/4 cup Parmesan cheese
1 large slightly beaten egg
1/2 cup breadcrumbs
2 tablespoons minced garlic
1 teaspoon salt
1 teaspoon black pepper
1/2 cup milk
1 teaspoon dried oregano
2 teaspoons dried parsley
Directions
Preheat oven to 350 degrees F.
In a large bowl, combine all the ingredients. It works best to use your hands.
Shape the mixture into 1-1/2-inch wide meatballs. Place them on a baking sheet.
Bake 25 to 30 minutes. Use immediately or cool and freeze cooked meatballs for use later.
Swedish Meatballs
Serve these meatballs by themselves as an appetizer, over boiled potatoes or with noodle-like dumplings (such as spaetzle).
Ingredients
1 pound ground beef
1 egg
1 cup soft bread crumbs
1 teaspoon brown sugar
1 teaspoon salt, divided
1/4 teaspoon black pepper
1/4 teaspoon ginger
1/4 teaspoon ground cloves
1/4 teaspoon freshly ground nutmeg
1/4 teaspoon ground cinnamon
1/2 cup milk
Canola oil
2 tablespoons butter
2 tablespoons all purpose flour
1 cup beef broth
Dash cayenne pepper
1/2 teaspoon Worcestershire sauce
1/2 to 3/4 cup sour cream, room temperature
Directions
In a large bowl, combine the ground beef, egg, bread crumbs, brown sugar, 1/2 teaspoon salt, black pepper, ginger, ground cloves, nutmeg, cinnamon and milk. Form into meatballs.
Heat the oil in a frying pan, and fry the meatballs until cooked through, turning once. Drain on paper towels.
Pour all excess-oil from fry pan. Add butter to browned bits, then stir in flour and cook until bubbly. Add broth, remaining salt, cayenne pepper and Worcestershire sauce. Cook, stirring until thickened and bubbly. 4. Put the sour cream in a serving bowl. Gradually add sauce, stirring constantly. Fold meatballs into sauce, reheat if necessary and serve.
Sweet and Sour Meatballs
Ingredients
1 pound ground beef
1 egg, slightly beaten
1/4 teaspoon salt
1/4 teaspoon black pepper
2 tablespoons bread crumbs
4 teaspoons low-sodium soy sauce
2 tablespoons grated or finely minced onion
1 tablespoon canola oil
3 tablespoons vinegar
3 tablespoons cornstarch, divided
1/2 cup granulated sugar
1 large sweet bell pepper, seeded, cut into 1-inch pieces
Cooked rice (white or brown)
1 can pineapple chunks
Directions
In a large bowl, combine ground beef, egg, 1 tablespoon cornstarch, salt, pepper, 1 teaspoon soy sauce, bread crumbs and onion. Shape into 1-1/2 in balls.
In a large skillet, lightly brown meatballs in the canola oil. Drain well. Transfer meatballs to slow cooker or a large pot.
In a small bowl, combine vinegar, sugar, remaining soy sauce and cornstarch and bell pepper. Pour over meatballs, cover and simmer over lowest possible heat for several hours. In the last 30 minutes of cooking, stir in pineapple with juice.
Serve with hot cooked rice.
Indian Chicken Curry Meatballs
Ingredients
2 pounds chicken meat (white or dark, or a combination - or ground chicken)
2 tablespoons chopped onion
1/4 cup bread crumbs
1 egg
1/2 teaspoon each cayenne, turmeric, ginger powder, black pepper, dried basil, dried thyme leaves, dried oregano, paprika
1 teaspoon salt
1 minced garlic clove
3 tablespoon canola oil
2 tablespoon butter
2 tablespoons all purpose flour
1 teaspoon curry powder
1-1/2 cups chicken stock
3/4 cup light cream
Directions
Preheat oven to 350 degrees F.
In a food processor, pulse the the chicken several times. Add onions, bread crumbs, egg, seasonings, salt and garlic, and pulse into a fine texture. (If using ground chicken, do this in a bowl.)
Shape into small meatballs. Heat oil in large skillet and brown the meatballs. Drain them on paper towels and transfer to a large casserole dish.
Heat butter in a sauce pan. Add the flour and curry powder, stir, and cook for 2 minutes over low heat. Add stock and cream. Simmer for 5 minutes.
Pour sauce over meatballs and bake for 45 minutes. Serve with rice.
Lamb Meatballs
These are amazing in a fresh pita with some yogurt-cucumber sauce.
Ingredients
1 pound ground lamb
1/4 cup finely chopped scallions
1/2 teaspoon ground cinnamon
1 teaspoon ground cumin
1 teaspoon ground allspice
1 teaspoon salt
3 tablespoons semolina flour
1 egg Canola oil, for frying
Directions
In a large bowl, combine all ingredients except oil. Form into evenly-sized meatballs.
In a skillet over medium high heat, heat the oil. Fry the meatballs in batches, browning on all sides. Drain on a paper towel and serve.