Poached eggs
Eggs are a terrifically versatile food. They are an ingredient in baked goods and other recipes as well as a meal all on their own. And whether you like them scrambled, over easy, fried, poached, in an omelet, or as an ingredient in your favorite waffles or cupcakes, they are an excellent source of protein. Okay, eggs do contain fat, but some of that fat is made up of omega-3 and omega-6 fatty acids, which are a healthier type of fat. Eggs are also a good source of vitamin A, vitamin B12, riboflavin and folate. One of my favorite ways to eat eggs is a method that has fallen out of favor in recent years: I love poached eggs. There, I admit it. I love eggs cooked whole in simmering water. I love how the yolk breaks over an English muffin. I love the sprinkle of sea salt over this yummy runny egg. I just love it.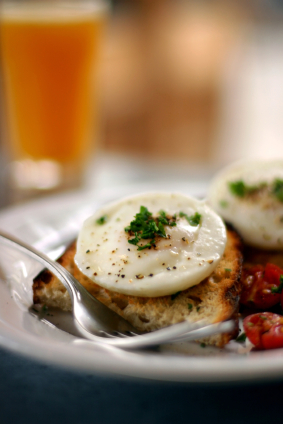 Why have poached eggs fallen out of favor?
With increased worries about salmonella, poached eggs -- or any cooking method that leaves any part of the egg less than solid -- have fallen out of fashion. In addition, Eggs Benedict and Eggs Florentine, two classic presentations of poached eggs are relatively heavy dishes that don't follow the current simple food trends (a good hollandaise sauce takes time!). Organic eggs from small farmers have similar salmonella risks as do the eggs from large commercial operations -- even with increased attention to salmonella risk management and good practices implemented at all levels of egg production.
Pasteurized eggs are a tasty solution
In light of the potential for salmonella, what's a poached egg lover to do? Be aware of the inherent risks in eating poached eggs and find pasteurized eggs whenever possible. Unless I can find pasteurized eggs on any given occasion, I will not serve poached eggs to my children or anyone with a compromised immune system. Another option: You can poach an egg until the centers are firm -- poached eggs don't have to be runny.
Poached eggs are an easy, elegant, delicious dish
All the talk of salmonella risks might scare you away from trying poached eggs, but I hope one day you'll give them a try. They are easy to make, and new kitchen gadgets make them easier than ever. When you take the time to make Eggs Benedict or Eggs Florentine (or any one of dozens of variations) from scratch, you're in for a real treat. I think poached eggs are especially perfect for a Thanksgiving or Christmas brunch.
How to make poached eggs
Perfectly Poached Eggs
Ingredients: Fresh eggs - the fresher the better! 2 to 3 teaspoons fresh lemon juice Directions: 1. Bring a wide saucepan of at least 3 inches of water to very low boil over medium-low heat. Add the lemon juice to the simmering water. 2. Carefully crack an egg into a large spoon, small bowl or ramekin. Then lower the egg into the just boiling water. Add 2 or 3 more eggs to the water, cover, and remove saucepan from the heat. Let eggs sit undisturbed for 7 to 9 minutes, depending on how loose you like your yolks. 3. Carefully remove poached eggs from the water with a slotted spoon and serve immediately.
Serving suggestions for poached eggs
While Eggs Benedict is a traditional dish for poached eggs, they are just as tasty served simply over a toasted piece of bread or, more substantially, over corned beef hash or hash browns. Try serving your poached eggs with these variations for breakfast or brunch:
Corn tortillas, grilled spicy sausage, fresh salsa, sour cream whisked with fresh chopped cilantro
English muffins, asparagus, cooked crab or lobster, hollandaise sauce
English muffins, cooked chopped spinach, chevre
Flour tortillas, corned beef hash, Jack cheese
Italian bread, bacon (or pancetta), diced tomatoes, mozzarella
Pita, sun-dried tomatoes, feta, fresh mint
Use your imagination and cravings to come up with your own favorite ways to serve poached eggs. They are an easy dish to make yet tend to impress everyone who sits down to eat them.