Christmas gifts for the little chef
Wondering what to get the little chef in your life for Christmas? Kitchen gadgets, cookbooks and cooking classes for kids are at the top of ChefMom's gift list.
Kitchen gear and chefwear for kids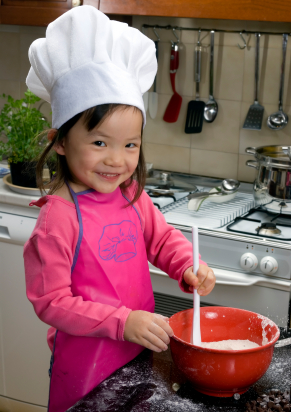 Batter Up Kids Cooking Shop
With so many fun cooking kits, kitchen gadgets, little chefwear and cookbooks, choosing even a dozen possible gifts for the young culinary enthusiast in your home can prove challenging at Barbara Beery's KidsCookingShop.com. This kid-focused culinary website offers over 600 cooking and kitchen items that can further the skills of a food-savvy child as well as intrigue the little ones who haven't yet had an interest in the kitchen. "What's great about getting kids in the kitchen at any age are the valuable lessons cooking can teach them," says Beery, well-known author of  the Pink Princess cookbooks and founder of Batter Up Kids, a culinary school for little gourmets. "Through cooking, kids can learn reading, math, sequencing skills, and science…it's creative, fun, and helps build self-esteem while being non-competitive." This is a site that your kids will want to continue to use even after the holidays are long gone: Beery posts monthly culinary how-to videos, age-appropriate recipes, party ideas and gear-of-the-month suggestions. Families can also join the Kids Cooking Shop Club, which entitles children to an exclusive recipe and kitchen utensil from Beery as well as site-wide merchandise discounts.
Curious Chef 27-Piece Build-A-Kitchen Set
Little gourmands need utensils designed for little hands. All of Curious Chef's cooking and kitchen tools are kid-friendly and age appropriate for children age five and older. The Curious Chef 27-Piece Build-A-Kitchen Set gives your kids a collection of kitchen utensils, including a spatula, rolling pin and measuring tools, plus an apron, oven mitts and even a chef's hat. Your aspiring little chefs can cook right alongside you with their own kitchen essentials, learning how to accurately measure and mix ingredients as well as how to properly use the gadgets you commonly grab when getting family meals to the table. Bonus: Curious Chef products are BPA-free and product packaging is made from recycled or earth-friendly materials. Curious Chef 27-Piece Build-A-Kitchen Set is available at CuriousChef.com and retailers throughout the country (visit the Curious Chef website to find a retailer near you).
Cookbooks for kids
The Silver Spoon for Children

Featuring 40 quick, wholesome and easy-to-make authentic Italian recipes that children aged eight and above can master and proudly serve, The Silver Spoon for Children is a kid-enticing illustrated cookbook with clear step-by-step instructions for healthy, delicious Italian food. All the recipes, from lunches and snacks to main course meals and desserts, have been tested and approved by children, who may need occasional help from Mom or Dad. Your kids will learn how to make pizza and fresh pasta dough, impressive entrees such as roast leg of lamb and authentic Italian desserts (Hazelnut Cake and Stuffed Peaches anyone?). With Italian food being one of the most popular cuisines in restaurants and at home, The Silver Spoon for Children will teach your budding cooks invaluable kitchen skills to make the dishes the whole family loves to eat. Best yet, the cooking skills they learn will also boost their confidence to adventure into other cuisines. The Silver Spoon for Children (Phaidon Press, November 2009) is available at Amazon.com and other major book retailers.
Cute Yummy Time: 70 Recipes for the Cutest Food You'll Ever Eat

The perfect gift for the artistically inclined chef, Cute Yummy Time, written by Japanese food enthusiast La Carmina, is as fun to peruse as it is to follow in creating foods that, according to the National Post, "are almost too adorable to consume." Inspired by the Japanese bento box tradition, but using healthy food common to American culture, Cute Yummy Time is chock-full of easy-to-make foods that will amuse as much as delight. These intriguing little bites can be served as fun finger foods for a neighborhood get-together or at birthday parties for kids of all ages. Your aspiring chef can learn how to construct whimsical and themed recipes, such as Crab Bagel, Party Owl Egg White Quiche, Flying Birds Panna Cotta, Evil Pumpkin Soup, Panda Tofu Soba, Politician Frog Pita, Little Lamb Chai Muffins and dozens more dishes that will encourage creativity, fine motor skills and culinary interest. (This is a book that Mom and Dad can pull out for those rainy or snow-bound weekend afternoons when family time indoors is a must.) Cute Yummy Time (Penguin Books, October 2009) is available at Amazon.com and other major book retailers.
Friday Night Bites: Kick Off the Weekend with Food and Fun for the Whole Family

Friday Night Bites is a cookbook to bring the whole family to the kitchen. Geared towards the busy mom and dad who want family meals that won't break the bank, this practical cookbook also includes crafts, games and even special dinner get-ups for the kids to encourage family bonding around food. Have a Friday night dinner dedicated to dinosaurs: Quesadillasaurus, Chocolate Dinoturtles, Primordial Soup and Fossil Breadsticks. Have a family talent show "pop star" supper with Microphone Cupcakes for dessert or a primeval forest feast that includes Broccoli Trees and a Toad in the Hole entrée. Friday Night Bites boasts 20 different themed dinners and over 100 recipes to make family dinnertime fun and easy. There are menus and games sure to please everyone, from the pickiest eaters to the seasoned gourmets. Though this book isn't necessarily kid-specific, it does give Mom, Dad and the kids a chance to start the weekend cooking a meal and spending quality time together. Friday Night Bites (Running Press, September 2009) is a available at Amazon.com and other major book retailers.
Cooking classes for kids
For the authentic culinary learning experience for your little chefs, enroll them in a local cooking school or a few cooking classes that specialize in teaching kids to know their way around the kitchen. Check your local listings or do a search on the Internet for cooking classes in your area. Young Chefs Academy has locations throughout the country (visit YoungChefsAcademy.com to find a school near you) and many culinary schools have special kids classes on weekends or early evenings. You can also contact a local personal chef to come to your home and have one or a series of in-house cooking classes for your little chefs (invite a few friends and you've got a cooking class party). Include a food-themed gift certificate in your children's stockings or wrap one in a box of fun cooking gadgets to really get them excited about getting in the kitchen.