Getting creative with curry sauce
For someone who writes about food, you may be surprised that it took me the better part of my life to become what you might call an adventurous eater - and even now I use the term loosely. I still have a long way to go to truly be open to all that is considered food in this world. Take Indian cuisine, for example.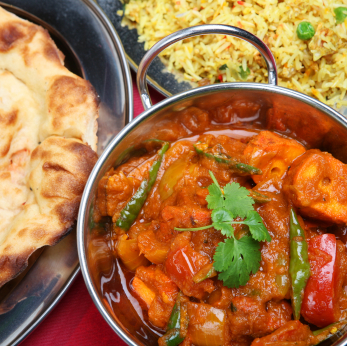 Indian cuisine is exotic and delicious
There weren't any Indian restaurants in the city in which I grew up - none that I knew of anyway. Indian cuisine was exotic, a little crazy sounding - and I was sure I didn't like it. In fact, it has only been in the last eight years or so that I have really opened my mind to Indian cuisine....and I really like it! In fact, I don't know how I lived my life before curry. My kids also like Indian cuisine, and that's lucky for all of us. Lately, my oldest son and I have been trying more Indian recipes and Indian-inspired dishes at home; most of them being curry-flavored dishes.
What is curry anyway?
"Curry" is a generic term that refers to a variety of spiced dishes, often inspired by Indian cuisine. Though you can buy curry powder in the local mega mart, the ingredients of different curry powders may vary. Curry powder is a spice blend that often includes, but is not necessarily limited to, turmeric, cumin, corriander, fenugreek and red pepper. It's easy to add commercially-purchased curry powder to many dishes; it's also fun to create your own from fresh spices.
"Curry" is an easy and versatile dish
One of the easiest way to make a "curry" is to cook a meat in a curry-flavored sauce. The two curry-flavored sauces I've included below are excellent ways to dress up a simple meat (or even tofu), served over basmati rice. You can also add some veggies to the sauces to round out the meal.  Peas and cauliflower seem to work especially well.
Curry sauce recipes
Curry Sauce
You can adjust the heat of this sauce by adding more or less curry powder and/or cayenne pepper. Ingredients: 2 tablespoons onions, finely chopped 1 garlic clove, minced 3 tablespoons white wine 1 tablespoon butter, softened 1 tablespoon all-purpose flour 1/4 teaspoon cayenne pepper (optional) 1 cup low-fat chicken broth 2 tablespoons mild yellow curry powder 2 teaspoons grated orange peel Fresh cilantro, chopped Directions: 1. In a medium-sized saucepan, sweat the onions and the garlic in the wine for about 5 minutes. 2. In a small bowl, combine the butter, flour and cayenne pepper. 3. Add the chicken broth to the onion mixture. Then add butter mixture and stir constantly until it has dissolved. 4. Bring sauce to a boil. Reduce heat to low and simmer until the sauce has thickened a bit and has turned glossy. Add curry powder, orange peel and chopped cilantro. 5. If you are going to add some par-cooked meat to the sauce, now would be the time to do so. If you are using this strictly as a sauce, you can serve it at this point. If you have added meat, cover and let the meat stew for about 20 minutes.
Coconut Curry Sauce
This curry has more of a southeast Asian flair. Ingredients: 2 tablespoons olive oil 1 small onion, finely chopped 1 tablespoon fresh grated ginger 1-1/2 tablespoons curry powder 1 tablespoon granulated sugar 2 cups coconut milk Kosher salt Freshly ground black pepper Directions: 1. In a small saucepan, heat the oil over medium heat. Add onions, ginger, curry powder and sugar, and saute for 1 minute. 2. Add coconut milk and reduce heat to a simmer. If you are going to add some par-cooked meat, add it now. 3. Cook the sauce for about 10 minutes (a bit longer if you have added meat). Season the sauce with salt and pepper before serving.