Restaurant supply stores: An unexpected resource
About this time of year, I like to take a survey of the kitchen. Thanksgiving and Christmas are around the corner and with them come lots of cooking and baking in addition to the general busy-ness of the holiday season. This means there's not going to be time to run out to the local kitchen store for this or that in the midst of everything. I need to be set, kitchen-wise, before it gets so busy. I think back to last year. Did I have enough bowls? Cookie sheets? Other basics? I make a list, and then I make a trip a few towns over to the restaurant supply store.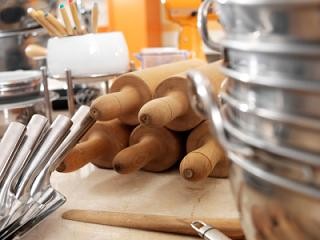 Restaurant supply store?
Yes, restaurant supply store. Not department store, not kitchen store, not anywhere else. For good basic kitchen supplies, restaurant supply stores are tremendous resources that won't break the bank. Besides that, they are a lot of fun! For example, I like having several half sheet pans around, and if I ever need one (I don't at this point, I have enough!), I know that they are a third of the cost at the restaurant supply store than they are at the high-end kitchen store, where, ironically, they are advertised as "commercial-quality." Additionally, if I need simple molds of any kind, biscuit or cookie cutters, tongs, offset spatulas, stainless steel bowls or any one of the dozens of common kitchen gadgets or equipment, I know I can find what I need at the restaurant supply store.
Restaurant supply stores carry the workhorses of kitchen supplies
You're right that restaurant-quality products aren't exactly the same quality as what you might purchase elsewhere. Sometimes restaurant-caliber cookware and tools seem lower quality because of their basic appearance, but they are really designed for utilitarian purposes, not beauty. They are meant to be the real workhorses of a restaurant kitchen; they are the products that take lots of abuse and keep going. Restaurant-quality kitchen supplies may not look exactly the same as the cookware and gadgets you are used to, they aren't "pretty" like your high-end retail kitchen essentials, but they do their job, and they do it well. Restaurant supply stores are certainly not where you'll find decorative oven-to-table cookware, but you may, however, find some fun specialty items (Think banana split dishes!).
Share the secret
Some restaurant supply stores may require you to buy certain kitchen items in bulk. If this is the case, go in with a friend, so you both can get what you need and get the deal. You can also think about Christmas gifts for the home cook or professional chef on your list; buy in bulk, keep what you need, and gift the rest. As you think about the cooking and baking you'll do for Thanksgiving and Christmas and the necessary kitchen supplies you'll need, keep your local restaurant supply stores in mind. They are a great kitchen resource!