Quick fix dinner to lunch recipes
Robin Miller, busy Arizona mom of two and host of Food Network's popular show Quick Fix Meals with Robin Miller, knows how to budget her money and time to keep her family deliciously fed. We caught up with Miller to learn some kitchen-savvy secrets to turning last night's dinner into a fast and filling brown bag lunch. Here are some time-saving tips and recipes for making the most of your evening meal leftovers.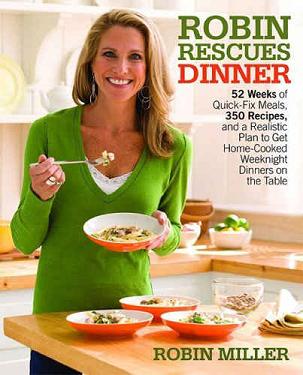 Tips to turn dinner into tomorrow's lunch
Miller, author of the recently released family-friendly cookbook Robin Rescues Dinner, is no stranger to a jam-packed schedule. The Food Network cooking show host and cookbook author has 15 years of experience as a food writer and nutritionist, penning over half a dozen cookbooks and juggling TV appearances, all while seamlessly managing -- and prioritizing -- her family time and making sure dinner is on the table. How does she do it?
Have realistic expectations
"Between after-school activities for my boys, work for my husband and me, school functions, play dates and everything else, it's invariably going to be another fun, busy week," Miller says. "But if I have three meals planned out and ready to go before Monday rolls around, I feel better prepared already. I don't set the bar so high that I can't meet it."
Make the time
For some Moms, even three meals a week can seem overwhelming. However, Miller suggests taking every daily opportunity to plan and prepare for dinner. You don't even need to lose sleep to make the time. "I do what I can before dinner so I'm not scrambling," she says. And you can, too. The time-saving expert suggests, "Prechop, precook, and prepare ingredients during the kids' naptime or when you have a little extra time." Vegetables, fruits and meats can be chopped earlier in the day; pasta or rice can be cooked in advance and even refrigerated for a couple of days, and dry ingredients can be premixed and waiting when dinnertime arrives.
Double up
If you are going to take the time to cook, make the most of it. Double or triple recipes so your family has leftovers or freeze the extra batches for later in the month. Miller's favorite time-saving trick is turning dinner leftovers into easy lunches. "Make a meatloaf for dinner tonight and send the kids to school with meatloaf sandwiches tomorrow," she explains. "Or serve chicken for dinner and turn it into chicken pitas for lunch."
Reach for convenience
Even a cookbook author and food professional can't always cook every meal from scratch. However, Miller, who recently teamed up with Tyson to promote fast, nutritious, family-friendly meals, isn't willing to sacrifice her family's health. "Reaching for convenience is easy when you know products are high-quality and good for you," she adds. "Pre-cooked products shave minutes off my cooking time and help me get dinner on the table." Be sure to read labels and opt for healthier packaged foods.
Be creative
Keeping your family meals fresh and offering a variety of dishes every week will keep your family tuned in to dinnertime and looking forward to lunch. Being creative with recipes will also do wonders for your kitchen motivation. Hungry for some inspiration? Check out Quick Fix Meals with Robin Miller on the Food Network or peruse Miller's cooking webisodes at FoodNetwork.com. "You can also visit EmbraceDinner.com for more quick fix recipes and ideas," Miller adds.
Quick fix lunch recipes from last night's leftovers
Here are a few of Miller's favorite dinner to lunch recipes, adapted from Robin Rescues Dinner.
Grilled Flank Steak with Blue Cheese-Crumb Topping
Serves 4 Ingredients: 2 to 2-1/2 pounds flank steak Salt and freshly ground black pepper 2 teaspoons olive oil 2 garlic cloves, minced 1/2 cup seasoned dry bread crumbs 1/2 cup crumbled blue cheese Directions: 1. Coat a stovetop grill pan or griddle with cooking spray and heat over medium-high heat. Season steak with salt and pepper and add to hot pan or griddle. Cook for 5 minutes per side. Remove and let stand 5 minutes. 2. Meanwhile, make crumb topping. Heat oil in a large skillet over medium heat. Add garlic and cook for 2 to 3 minutes, until soft. Add bread crumbs and cook 2 minutes or until golden brown. Add blue cheese and cook 1 to 2 minutes, until cheese starts to melt and mixture is crumbly. 3. Cut steak crosswise, against the grain, into thin strips. Serve half of the steak with all of the blue cheese mixture sprinkled over top. Reserve remaining steak for quesadillas (recipe below).
Steak Quesadillas
Serves 4 Ingredients: 1 tablespoon olive oil 1 cup sliced onion 1 tablespoon sugar 2 ripe avocadoes, pitted, peeled, coarsely chopped 1/4 cup ranch dressing 2 teaspoons fresh lime juice 1/2 cup diced tomato 1 to 2 tablespoons chopped fresh cilantro Salt and freshly ground black pepper to taste 4 (8- to 10-inch) flour tortillas 2 cups shredded Monterey Jack cheese 2 cups baby spinach leaves 3 to 4 cups cooked, sliced steak Directions: 1. Heat oil in a large skillet over medium heat. Add onion and sugar and cook 7 to 8 minutes, until soft and golden brown. 2. Meanwhile, make guacamole. In a medium bowl, combine avocado, ranch dressing and lime juice. Mash with a fork until blended. Stir in tomato and cilantro. Season with salt and pepper. Set aside. 3. Coat a stovetop griddle or large skillet with cooking spray and heat over medium-high heat. Arrange tortillas on a flat surface. Top half of each tortilla with cheese, spinach, steak and caramelized onions. Fold over un-topped side and place quesadillas on the griddle or in skillet. Cook 2 to 3 minutes per side, until tortillas are golden brown and cheese melts. 4. Serve quesadillas with guacamole on the side.
Chipotle Honey Mustard Chicken
Serves 4 Ingredients: 1/2 cup honey 1 tablespoon olive oil 1 tablespoon minced chipotle chilies in adobo sauce, plus 1 teaspoon sauce from the can or jar 2 teaspoons Dijon mustard 4 packages (6 ounces each) Tyson Fully Cooked Grilled Chicken Breast Strips* Directions: 1. In a small bowl, whisk together the honey, oil, chipotle chilies with their sauce, and Dijon mustard. 2. Put the sauce and chicken in a skillet over medium heat and bring to a simmer. Simmer for 3 to 5 minutes, until hot. *With leftovers remaining to make Mozzarella Pockets with Tomato, Basil, and Grilled Chicken
Mozzarella Pockets with Tomato, Basil, and Grilled Chicken
Serves 4 Ingredients: 4 whole wheat pita pockets, halved 12 ounces leftover Chipotle‐Honey Mustard Chicken (recipe above) 6 to 8 ounces sliced part‐skim mozzarella cheese (regular or smoked) 16 slices fresh beefsteak tomato 1/3 cup packed fresh basil leaves 4 teaspoons balsamic vinegar 4 teaspoons olive oil Directions: 1. Stuff chicken into pita pocket halves and then add mozzarella slices, tomato slices and basil leaves. 2. Drizzle in balsamic vinegar and olive oil (1/2 teaspoon each per pita pocket half). For a warm sandwich, microwave on HIGH for 30 seconds or serve cold.