Renew your Thanksgiving menu
Have you grown tired of the usual Thanksgiving roasted turkey, cornbread stuffing and cranberry sauce feast you've had since your youth? Whether you are hosting your first Turkey Day get together or simply wanting a fresh take on the dishes you usually serve, breaking from tradition can be a welcome change for you and your guests. You don't even need a vast departure from the holiday's classic dishes -- simple variations can give them a deliciously fresh appeal.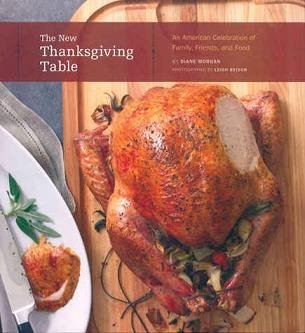 The New Thanksgiving Table
Diane Morgan loves Thanksgiving. So much so, she has written two cookbooks celebrating the holiday, and has even crisscrossed America teaching cooking classes focused solely on the Thanksgiving feast. Her latest cookbook The New Thanksgiving Table: An American Celebration of Family, Friends, and Food (Chronicle Books, November 2009) is a mouthwatering compendium of Thanksgiving recipes that reflect the Turkey Day dishes she has savored throughout the country. Morgan writes, "While the classic Thanksgiving meal includes turkey, cranberries, pumpkins and root vegetables, those same ingredients have been reinterpreted in myriad ways that reflect the diversity and breadth of twenty-first-century America." The New Thanksgiving Table is an invaluable resource for the Thanksgiving novice as it covers the simple basics of preparing a Thanksgiving meal, providing time-saving and planning tips as well as practical instructions to keep kitchen stress at a minimum. This holiday cookbook is also indispensable for the seasoned Turkey Day hostess who likes to give every Thanksgiving a uniquely memorable flair. With the tasty array of Thanksgiving recipes for every component of the holiday meal, you can serve a deliciously different Thanksgiving menu for many years to come.
Thanksgiving recipes
Bringing more than 70 regional Thanksgiving recipes together, Morgan's regional Turkey Day menus include appetizers, salad, soup, turkey, side dishes and desserts that you can follow for an authentic regionally-inspired holiday feast or mix and match to make a one-of-a-kind Thanksgiving meal. Here are three Thanksgiving recipes to whet your appetite for The New Thanksgiving Table as well as to inspire you to serve something different at your gracious holiday gathering.
Hickory grill-roasted turkey
No need to stress over a small kitchen -- simply put your turkey on the grill. Grill-roasting your bird will leave the kitchen oven available for cooking other holiday dishes, and best yet, grill-roasted turkey is absolutely irresistible, even for the biggest turkey skeptics.
Ingredients
1 (12- to 16-pound) brined turkey
Olive oil Gravy or barbecue sauce for serving
Directions
About 1 hour before you are ready to grill, place 6 to 8 cups of hickory chips in a large bowl, cover with cold water and soak. Truss and trim the turkey and rub or lightly brush with olive oil. Place bird, breast side down, on the roasting rack in a disposable roasting pan.
Drain hickory chips. Preheat gas grill to high with all the burners on. When grill is hot, turn off the burner directly below where turkey will sit and adjust the other burner(s) to medium-high. Place drained woodchips in the smoker box of the grill. Place roasting pan on the cooking grate on the side of the gas grill that has been turned off. Close the grill lid.
Grill-roast the turkey for 1 hour. Open the grill lid. With a wad of paper towels in each hand, turn the turkey, breast side up, and arrange it so the leg and wing facing the fire are now facing away from it. Continue cooking with the lid closed for 45 minutes more.
Turn turkey once again and continue cooking with the lid closed for another 45 minutes. Check the internal temperature of the turkey with a meat thermometer inserted into the thickest part of the thigh without touching the bone. Check both thighs. When temperature reaches 160 to 165 degrees F., the turkey is done.
Transfer turkey to a cutting board and cover loosely with aluminum foil. Let rest for 30 minutes to allow juices to distribute. Carve and serve with gravy or barbecue sauce.
Note: This recipe is an abbreviated adaptation from the original recipe in The New Thanksgiving Table.
Green beans with lemon butter bread crumbs and toasted almonds
Serves 6 to 8
A brilliant side dish, crisp-tender lemon-kissed green beans topped with crunchy toasted bread crumbs and almonds will be a quick favorite among your Thanksgiving guests.
Ingredients
5 tablespoons unsalted butter, divided
3/4 cup panko or other plain dried bread crumbs
Zest of 1 lemon
Kosher or sea salt
1-1/2 pounds fresh green beans, stem ends trimmed
1-1/2 tablespoons fresh lemon juice
1/3 cup slivered almonds, toasted
Freshly ground black pepper
Directions
In a small skillet over medium heat, melt 2 tablespoons butter. Add panko and toast, stirring constantly for about 2 minutes, or until golden brown and crisp. Remove from the heat and stir in the lemon zest and a pinch of salt. Set aside.
Fill a large saucepan two-thirds full of water and bring to a boil over high heat. Add 1 tablespoon salt. Add beans and cook for about 2 minutes until bright green and still very crisp.
Meanwhile, fill a large bowl two-thirds full of ice water. Using tongs or a slotted spoon, immediately transfer the beans to the ice water. Let cool in the water for 2 minutes and then drain thoroughly, blot dry with paper towels, and set aside.
In a 12-inch skillet over medium-high heat, melt remaining butter and swirl to coat pan. Add green beans and saute, stirring constantly, for about 3 minutes or until the beans are heated through and crisp-tender. Add lemon juice and almonds and saute for 2 minutes longer. Season to taste with salt and pepper. Transfer to a warmed serving bowl, sprinkle with the panko topping and serve immediately.
Honey roasted bosc pears with sticky toffee pudding ice cream
Serves 10
An update on Thanksgiving dessert, these delectably tender roasted pears are a perfect match for a rich toffee-flavored ice cream.
Ingredients
6 tablespoons unsalted butter, melted 5 firm, ripe
Bosc pears, halved lengthwise, leave stems intact, cored
3 tablespoons balsamic vinegar
2/3 cup honey
Freshly ground black pepper (optional)
1 pint sticky toffee pudding ice cream or other toffee-flavored ice cream
Directions
Position a rack in the center of the oven and preheat to 400 degrees F.
Pour butter into a baking pan or rimmed baking sheet just large enough to hold the pears in a single layer. Tilt the pan to coat the bottom completely with the butter. Arrange pears, cut side down, in the butter, Roast for 20 to 25 minutes or until tender when pierced with a knife.
In a small bowl, combine vinegar and honey. Spoon mixture over the pears and bake until bubbly hot, for about 5 minutes longer. To serve, arrange 1 pear half, cut side up, on each of 10 dessert plates and spoon some of the juices from the pan over top. If desired, grind black pepper over top. Place a small scoop of ice cream next to each pear and serve immediately.
---
More From SheKnows Explorer
---
---