A cake with a secret: Rainbow cake
Rainbow cakes have been making their way across the internet food blogs. They look so fun and festive that I decided I wanted to make one, too. Luckily I had the perfect occasion on the horizon: my son's birthday party. The finished cake looked like a slightly taller regular cake with its white frosting, but once we cut into it, a delicious secret was exposed. Each slice revealed a rainbow of brightly colored yummy layers.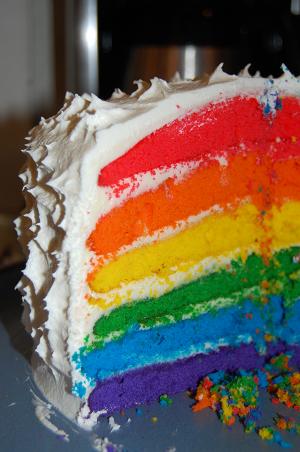 Rainbow cakes are certainly impressive
A rainbow cake looks impressive. People will gasp in amazement, "How did you do that?" But the truth is that while it looks hard, it's not. Making a rainbow cake is dish- and mess-intensive, but making one doesn't take much more time than a regular cake. Preparation is key.
Layers and layers of color
There are different ways to make rainbow cakes. You can pour different colors of batter freeform into the same pan for layers that have all the colors in one, or you can make individually colored layers. You can decorate the frosting in a rainbow manner, too. I opted for the individually colored layers approach. My finished cake was six thin layers of the color spectrum -- purple, blue, green, yellow, orange and red -- layered and topped with a tangy cream cheese frosting.
Make your own cake or use a store-bought mix
Another great thing about rainbow cakes is that any white cake recipe will work (trying to add coloring to a yellow cake doesn't have quite the same results). While I used a white butter cake recipe from my favorite cake cookbook, you could just as easily use a store-bought cake mix. A white frosting is also key in the final result. Although I made a cream cheese frosting, you could also use a buttercream frosting or even a store-bought frosting. Keep in mind that you will need more than a single quantity of frosting to fill this cake properly, so make sure you choose a frosting you really like.
Six Layer Rainbow Cake Recipe

Ingredients:
1 recipe white cake
Gel food coloring in violet, blue, green, yellow, orange and red
Kitchen scale Pencil and paper
Calculator
5 small bowls
6 identical cake pans (disposable aluminum will work)
1-1/2 to 2 quantities of white frosting of your choice
Directions:
1. Clear your workspace and get all of your elements in order before you begin. 
2. Weigh the bowl in which you will be making the cake batter. Write down this weight.
3. Preheat the oven according to cake recipe. Grease and flour six cake pans.
4. Make the cake batter. Weigh the bowl with the batter. Subtract the empty bowl weight from the full bowl weight, then divide by six. This is your target weight for each of the cake layers.
5. Put one of the small bowls on the scale, zero out the scale, and add batter to the target layer weight. In my case, each layer required 7-1/2 ounces of batter. Repeat this with your other small bowls. Then check the weight of the big bowl. It should also contain the right weight of batter for a single layer (current bowl weight minus empty bowl weight).
6. Using a separate small spoon for each quantity of batter, add gel food coloring and mix well. Scrape the colored batter into the pans (each color gets its own pan), carefully spreading them out evenly. The quantity of batter in each pan will be very thin.
7. Since you have far less batter in each pan, you will need to bake the layers for significantly less time than the recipe directions, and you will have to watch closely. For example, for the cake recipe I used, the original instructions specified baking for 25 to 35 minutes; my six cakes needed only about 18 minutes.
8. Remove the layers from the oven and let them sit just a couple minutes before inverting them out of the pan. To remove, place a plate upside down on top of the cake pan, hold on to both the plate and the pan, and invert both. The thin layer should fall out easily. Then invert the layers onto a cooling rack. Let them cool completely before frosting or wrapping and storing.
9. When you are ready to frost the layers, you can put the layers in any order you choose, but using a color progress similar to an actual rainbow or color wheel seems to make the most sense visually. Just remember that the primary colors are red, blue and yellow, and the secondary colors are orange (red+yellow), green (yellow+blue), and purple (blue+red). You can also use frosting to help even out uneven layers.
Note: I found it helpful to frost between the layers and apply a crumb coat to the exterior, then I let the cake chill in the fridge for a couple of hours before applying a final coat of frosting. It looked like a very normal white frosted cake -- until we cut it.