Homemade toaster pastries
I used to love toaster pastries growing up. The filling part, the frosting part, the pastry part, the sprinkles part. My mother would buy them only very infrequently, and I was sure that when I was a parent, I would get my kids these breakfast treats all the time. And maybe save some for myself.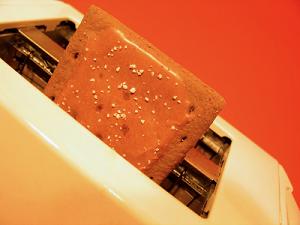 Toaster pastries not exactly the breakfast of champions
When I became a parent, my toaster pastry tastes changed. When I read the boxes of those toaster pastries at the market, they most certainly do not meet my basic packaged food ingredient criteria: no high-fructose corn syrup, no partially hydrogenated soybean oil, and easy to pronounce ingredients. And the last time I actually tasted one? It was so sickly sweet that I couldn't have more than a couple bites. This means, of course, that my kids love them and beg me to get them.
Homemade toaster pastries please Mom and the kiddos
While I resist (mostly successfully) buying toaster pastries, we do make them every now and again. The kids get into the mix to help out and we end up with some really tasty treats. Given the time they take to make, they aren't necessarily cost-effective compared to the store bought varieties, but they are very much appreciated (and a healthier choice).
If you can make pie, you can make toaster pastries
Making toaster pastries bears some resemblance to pie making. You make pastry, roll it out, cut it into even shapes, spread on some fruit preserves, put another piece of pastry on top and bake. You can make any size or shape you want -- you are not limited to rectangles, though they are the easiest in and out of the actual toaster. You can even frost them if you like.
Creative fillings make homemade toaster pastries even more special
Homemade toaster pastries won't keep as long as store bought ones - but then again, they are so tasty that you rarely have to worry about that. Try making them with flavors not typically found in the store varieties: peach raspberry, perhaps? If you can acquire fruit paste, such as guava, it also works quite well.
Homemade Toaster Pastries
Ingredients: Double recipe slightly sweet pie crust (recipe follows) Low-sugar fruit preserves Cream cheese frosting (optional, recipe follows) Directions: 1. Preheat oven to 400 degrees F. 2. Roll out the pie crust very thin. I find it easiest to do this between two sheets of plastic wrap. Cut the dough into an even number of shapes -- rectangles are the most common, but triangles and circles also work. 3. For each pair of dough shapes, spread a small amount of preserves over one piece of dough, leaving about a 1/4-inch border on all sides free of preserves. 4. Gently place the remaining pieces of dough on top of the pieces with preserves, carefully removing any air bubbles, and use the tines of a fork to seal the edges. Then use the fork to prick a few holes in the surface of the pastry. 5. Bake 10 to 15 minutes, until lightly browned. Frost, if desired. 6. You can freeze these and reheat in a toaster or microwave. If you choose to frost, best to use a toaster oven rather than a slot toaster.
Sweet Pie Crust
Ingredients: 2-1/4 cups all purpose flour 3 tablespoons granulated sugar 1 cup plus 2 tablespoons unsalted butter, chilled and cut into cubes 3 tablespoons ice water Directions: 1. In a bowl or food processor, whisk together the flour and sugar. 2. Sprinkle the butter over the flour mixture and either cut butter in with a pastry cutter or pulse in the food processor until ingredients are incorporated. 3. Add the ice water and stir quickly to blend, or add it through the feed tube of the food processor until the dough just comes together. 4. Knead the dough a few times to bring it together. Divide, shape into disks, wrap in plastic and refrigerate for at least 1 hour.
Cream Cheese Frosting
You'll have some left over. Ingredients: 1 (8-ounce) package of cream cheese, at room temperature 1/2 cup unsalted butter, softened Dash of vanilla extract 1-1/2 cups powdered sugar Directions: 1. Using a stand-mixer or hand-mixer, beat together the cream cheese and butter until well-incorporated. Add the vanilla and beat again for a few more seconds. Scrape down the sides of the bowl. 2. While the mixer is running, slowly add the powdered sugar. Beat until the frosting is light and fluffy.