Oh no! A leek!
My son loves to play that joke on me. When we have leeks in the refrigerator for a particular recipe, he'll come running into whatever room I am in and say, urgently, "Mom! Mom! There's a leek in the kitchen!" I fall for it almost every time.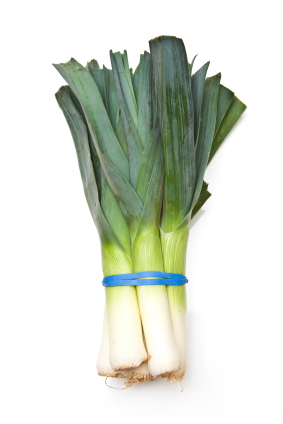 Leeks have a lovely mild onion flavor
So what are these veggies? The leek is part of the onion family, and it looks a bit like a giant scallion. However, the flavor isn't quite as sharp as a scallion, though it still definitely tastes like an onion. The edible part of the scallion - the white and light green part - is often cut lengthwise then sliced thin. You do need to be careful to wash leeks well; with the way they grow it's not uncommon to find bits of dirt among the tasty layers.
Leeks are deliciously versatile
We got about a dozen good-sized leeks in our final CSA farm share this year and we've been having fun cooking them in different ways. We grilled halved leeks, put a few very thin slices into a salad, and made a lovely leek soup (while chilled leek and potato soup is a classic, it's autumn, and I want hot soup right now). I think thin-sliced leek is also lovely in a colorful slaw or deep-fried similar to onion rings. The flavor of leeks is subtler than an onion or scallion and it can be perfect when you need a bit of that onion flavor, but not too much, which lends them to many wonderful recipes.
Leek recipes

Leek and Asparagus Soup
Ingredients:
1 leek, white part only, halved lengthwise, washed thoroughly, and chopped
2 tablespoons unsalted butter
12 ounces asparagus, cut into half-inch pieces (you can use frozen asparagus if fresh is not available)
1-3/4 cups reduced-sodium chicken broth
1 garlic clove, minced
1/3 cup heavy cream
Salt and freshly ground black pepper to taste

Directions:
1. In a large soup pot, heat the butter over medium-high heat until foam starts to disappear. Add the leek and sauté for 2 minutes, stirring frequently. Add the asparagus and cook for another 1 minute.

2. Add the chicken broth and garlic to the pot, then bring to a boil. Lower heat, cover and simmer for 10 minutes or until the asparagus is tender. Mix in the heavy cream, salt and pepper.

3. Using a hand blender or regular blender, puree the soup until smooth. Reheat gently, correct seasoning and serve.
Pasta with Leeks and Squash
Ingredients: 2 tablespoons olive oil 2 medium leeks, trimmed of roots and green ends, sliced thinly lengthwise and cleaned 1-1/2 cups sliced mushrooms 1 medium zucchini, julienned 1/4 cup dry white wine 1 cup sour cream 1 teaspoon minced fresh tarragon leaves 1/2 teaspoon salt 3 cups shaped pasta Directions: 1. In a large and deep frying pan, heat the oil over medium-high heat. 2. Sauté the leeks, mushrooms, and zucchini for 5 minutes. Add the wine and simmer for another 5 minutes. 3. Stir in the sour cream, tarragon and salt. Bring to a boil over medium heat, then reduce heat again and simmer until slightly thickened. 4. While preparing sauce, cook the pasta and drain throroughly. Add to the sauce in the frying pan and toss. Allow to simmer a few moments so the pasta can absorb some of the flavors. Serve.


Leek and Bacon Tart
Ingredients: Single quantity pie crust 3 thick-cut bacon slices, cut into thin strips 7 cups chopped leek 1/2 teaspoon salt, divided 1/4 teaspoon ground black pepper, divided 5 eggs 2/3 cup milk Directions: 1. Preheat oven to 425 degrees F. and arrange pie crust in a tart pan or pie plate. 2. In a large frying pan, cook the bacon until not quite crispy. Remove from pan to drain and then drain off all but 2 tablespoons of the bacon drippings. Add leek to bacon drippings in pan. 3. Reduce heat, cover and cook for 20 minutes, stirring occasionally. Season with 1/4 teaspoon salt and 1/8 teaspoon pepper. Remove from heat. Arrange leek mixture and bacon in prepared crust. 4. Combine eggs, milk, 1/4 teaspoon salt, and 1/8 teaspoon pepper, and whisk well. Pour the mixture over the leek and bacon into crust. Bake for 25 minutes or until the center is set. Let stand 10 minutes before serving.
Leeks Braised with Wine
Ingredients: 6 leeks, bruised layers removed, roots and tops trimmed, sliced lengthwise and washed well Kosher salt Freshly ground black pepper 3/4 cup extra virgin olive oil 1 cup sliced shallots 1 tablespoon fresh thyme leaves 1/2 cup dry white wine 1-1/2 to 2 cups chicken stock Directions: 1. Preheat oven to 400 degrees F. 2. With cut sides up, season the leeks generously with salt and pepper. 3. Heat wide frying pan over medium-high heat for 2 minutes. Add 1/4 cup oil and wait 1 minute. Place the leeks, cut side down in pan without crowding them. Sear 4 to 5 minutes, until golden brown. 4. Turn leeks over to cook 3 to 4 minutes more. Transfer them, cut side up, to a baking dish that will fit leeks and chicken stock. 5. Add another 1/4 cup oil to the still hot pan and heat over medium heat. Add shallots, thyme, a generous pinch of  salt and a pinch of pepper. Cook about 5 minutes, until just beginning to color. 6. Add wine and reduce by half. Add stock, and bring to a boil over high heat. Pour the wine mixture over leeks. The leeks should be not quite covered. 7. Braise in oven 30 minutes until tender. Serve hot.