Yummy winter squash for breakfast
Rich in nutrients, mildly sweet in flavor, winter squash is ideal for breakfast. Though mostly associated with savory entrees and side dishes for dinner, this hearty, tasty fruit can become healthy -- surprising -- and satisfying morning meals.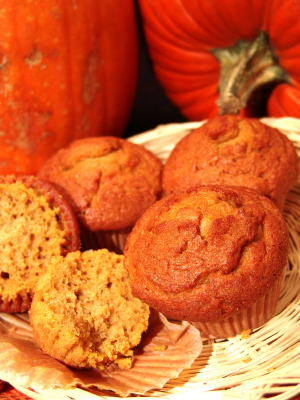 A perfect start to the day: Pumpkin
Fresh cooked, pumpkin puree or canned pumpkin is delicious blended into smoothies, but it can also be stirred into oatmeal, and used in pancake, waffle or French toast batter. For a tasty alternative to apple butter or jam, simmer pureed pumpkin with warm autumn spices -- cinnamon, cloves, allspice and ginger -- to make a thick pumpkin butter. Here's an easy recipe for pumpkin coconut muffins, which you can generously slather with pumpkin butter.
Pumpkin Coconut Muffins
Makes 12 Ingredients: 1 cup all-purpose flour 1 cup whole wheat pastry flour 2 teaspoons baking powder 1/4 teaspoon baking soda 1 teaspoon ground cinnamon 1/4 teaspoon ground allspice 3/4 teaspoon ground ginger 1/8 teaspoon ground cloves 1/2 teaspoon salt 6 tablespoons unsalted butter, melted and cooled 1/2 cup firmly packed brown sugar 3/4 cup canned pure pumpkin 1/4 cup well-shaken buttermilk 2 large eggs 1 teaspoon pure vanilla extract 1/4 cup shredded sweetened coconut Directions: 1. Preheat oven to 400 degrees F. and grease a 12-cup muffin pan. 2. In a large bowl, whisk together flours, baking powder, baking soda, spices, and salt. 3. In a separate bowl, beat together butter, brown sugar, pumpkin, buttermilk, eggs, and vanilla. Add wet ingredients to dry ingredients and stir until just combined. Stir in shredded coconut. 4. Divide batter among muffin cups and bake 20 minutes or until a knife inserted in the center of a muffin comes out clean and muffins spring back when touched. Let cool for a few minutes then invert and serve.
Eye-opening spaghetti squash
The tender, low-calorie strands of cooked spaghetti squash are a super substitute for pasta in many Italian-inspired dishes, and it can add texture and taste to an omelet or frittata for breakfast. The next time you make spaghetti squash for an evening meal, reserve about a cup for breakfast the next morning.
Spaghetti Squash Frittata
Serves 2 to 3 Ingredients: 2 tablespoons unsalted butter 2 tablespoons minced red onion 1 small garlic clove, minced 1 cup cooked spaghetti squash Salt and freshly ground black pepper to taste 4 eggs 2 tablespoons milk 1 teaspoon dried Italian seasoning 1/2 cup shredded fontina cheese Directions: 1. Turn the oven on broil and position a rack in the upper third of the oven. 2. Melt butter in a medium-sized oven-proof skillet over medium heat. Add onion and cook, stirring often, for 2 minutes. Add garlic and cook, stirring, for 30 seconds. 3. Add spaghetti squash and cook, stirring occasionally, for 5 minutes or until squash turns golden. Season with salt and pepper. 4. While squash is cooking, whisk together eggs, milk and Italian seasoning in a medium-sized bowl. 5. Arrange spaghetti squash in an even layer on the bottom of the skillet and cover with egg mixture, shaking skillet to distribute egg throughout squash. (Use a spatula, if necessary). 6. Sprinkle cheese evenly over egg and squash mixture and allow to cook for 2 to 3 minutes or until the bottom of the frittata has set. 7. Place skillet in oven and broil for 1 to 2  minutes or until cheese is bubbling and lightly browned and egg mixture is cooked through. Loosen edges of frittata and slide onto a serving platter. Serve warm.
Acorn and butternut squash for breakfast
Deep orange flesh and a welcome natural sweetness, cooked acorn and butternut squash can be used interchangeably in most recipes, including morning meals. Chunks of these lovely squash can be stirred into breakfast rice pudding, pureed into smoothies, or blended into batter for muffins, quickbread, pancakes or waffles. Acorn and butternut squash can also be a flavorful addition to biscuits -- similar to sweet potato biscuits -- which are a nice change from the usual buttermilk biscuits.
Acorn Squash Biscuits
Makes 12 The addition of crumbled bacon and brown sugar gives these biscuits a yummy candied bacon flair. Ingredients: 2 cups all-purpose flour 2-1/2 teaspoons baking powder 1/2 teaspoon baking soda 1/2 teaspoon salt 1/2 cup (1 stick) cold unsalted butter, cut into pieces 1 cup mashed cooked acorn squash, cold 2 tablespoons firmly packed brown sugar 3/4 cup buttermilk 3 slices cooked bacon, drained, crumbled Directions: 1. Preheat the oven to 425 degrees F. and lightly grease a large baking sheet. 2. In a large bowl, whisk together flour, baking powder, baking soda, and salt. Add the butter and rub into flour mixture with your fingers until the mixture resembles coarse crumbs. 3. In a medium-sized bowl, beat acorn squash with brown sugar until very smooth. Add squash mixture to the flour mixture and mix lightly to just combine. Do not overmix. 4. Add buttermilk and bacon and gently mix to make a smooth but slightly tacky dough. If necessary, add a bit more buttermilk. 5. Turn biscuit dough out onto a lightly floured surface and pat out into a large circle of even thickness, about 1/2-inch thick. 6. Using a large biscuit cutter, cut dough into 12 biscuits and place on the prepared baking sheet. Bake 15 to 16 minutes or until biscuits are golden brown and cooked through.