Molten chocolate cakes for a crowd
I love entertaining, but often have hospitality anxiety. I worry far too much about making a meal or event perfect that I can sometimes forget to enjoy myself. My guests seem to have a good time, but I end the night in an exhausted heap, nit-picking the details of what went wrong. The other night, I got entertaining right for the first time in a long time. I didn't overthink the food or beverages, and I didn't give myself time to get stressed. I acted on a whim. The whim was wanting to make molten chocolate cakes. Yum!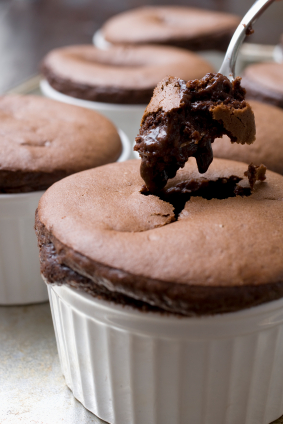 A dessert and wine party
On Friday morning I called a friend to see if she and her husband would like to come over for dessert and wine, then another friend, and another. Soon it was a party of 10 for molten chocolate cakes and good red wine. I resisted the last minute urge to make more (we didn't need it). I repelled the last minute uncertainty of enough wine (we had plenty). And I let myself enjoy the evening. It was great.
Molten chocolate cakes are easy to make
The thing about molten chocolate cakes is that they sound so decadent, you think they must be challenging to get right. But the truth is, they are not that difficult at all. In fact, they came together as one of the easiest desserts I've made in a long time. They sound impressive and they look impressive. And, yes, all that warm chocolate gooeyness oozing out of the center tastes impressive. But these decadent chocolate cakes are, oh, so easy. Truly.
Quality ingredients are essential
The key to great molten chocolate cakes is the ingredients; this is not a recipe for less than the best ingredients. Regular baking chocolate will not do. You need to go for the really good stuff. For this specific recipe, I used Green and Black's Organic 72% Baking Chocolate -- and it was perfect. Basically, you need excellent bittersweet chocolate with a high cocoa content.
Readying the ramekins
Another key element of molten chocolate cakes is the ramekins in which they are baked. You need four-ounce ramekins; they should not be expensive to acquire if you don't already have them. (Given my affection for creme brulee, I have enough!) You can choose to serve the dessert in the ramekins, but they look much nicer when turned out onto a plate. This means you need butter for appropriate greasing and flouring of the ramekins. Not shortening, not cooking spray, butter. This makes a difference in the final appearance of the cakes. Trust me.
Garnish elaborately
Molten chocolate cakes are lovely with softly whipped cream or ice cream, such as coffee chip, or even a light drizzle of caramel or raspberry coulis and garnished with a sprig of mint. It's all up to you. You could, if you wanted to get more complex, offer a "bar" of such toppings and sauces. The softly whipped cream was just fine for all of us.
Molten Chocolate Cakes
Serves 10 to 12 Ingredients: 1-1/2 cups unsalted butter, plus more for the ramekins 12 ounces very good bittersweet chocolate 6 eggs 6 egg yolks 3/4 cup sugar 1/4 cup plus 2 tablespoons flour Directions: 1. Preheat oven to 450 degrees F. Generously butter and flour 10 to 12 ceramic or glass ramekins. 2. In a double-boiler over gently simmering water, slowly melt the butter and chocolate together. It should be very smooth with a few stirs. 3. Meanwhile, in another bowl combine the eggs, egg yolks and sugar. Beat well with a whisk for a couple of minutes. 4. Remove the butter and chocolate mixture from the heat. Whisking constantly, pour the chocolate mixture into the egg mixture. Once incorporated, add in the flour swiftly. 5. Divide the mixture evenly between the ramekins. Bake 7 to 8 minutes. 6. After letting the cakes sit for just a few moments, run the edge of a pairing knife around the edge of each cake, then carefully invert onto a plate. Serve immediately.