Homemade gnocchi
Yes, even after potato bread and deliciously crispy hash browns, we still have potatoes in the house. And, yes, kept in a cool, dry, dark place where they will keep for a while, but I'll still need to use them. I'm thinking a good batch of gnocchi.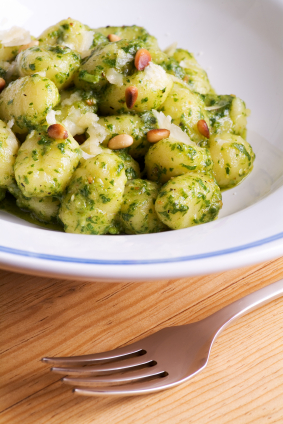 Gnocchi is Italian but it isn't pasta
Gnocchi is one of my favorite items in the pasta family, even though it's not technically pasta. It's a dumpling. Which means it's kind of like a noodle, yet not quite; gnocchi is thicker and more tender. This Italian comfort food is absolutely delicious with many of the sauces -- tomato sauce, pesto -- that go so well with pasta, but it's also amazing lightly fried in a little browned butter with sage and a light grate of romano.
Homemade gnocchi is worth the little extra time it requires
Gnocchi is not hard to make by hand. Seriously, it's not. It may be a bit time consuming to make by hand, but the results are very much worth it. If you take an hour or two to make fresh gnocchi, don't just make enough for dinner that night, put some in the freezer for another night. Freeze the gnocchi like you would berries: Spread gnocchi out on a parchment paper-lined cookie sheet, freeze, and then transfer frozen gnocchi to a plastic bag.
Basic Homemade Gnocchi
This Italian recipe makes quite a lot!
Ingredients
3 pounds potatoes
2 cups flour, plus more for kneading and forming
1 egg
1/2 teaspoon salt
Directions:
Boil the potatoes whole until tender. Depending on the size of the potatoes, this could take 40 minutes. Drain the potatoes and allow them cool for a little while.
Peel the potatoes (holding the potatoes with a dish towel if necessary) and put them through a ricer.
Once you have riced all the potatoes, toss them in a large bowl with the flour and the salt. Make a well in the center of the mixture, and crack in the whole egg.
Using a fork to start, then your hands, knead the egg into the potato mixture. Continue to knead into a smooth dough, adding more flour if necessary. A bit tacky is good; very sticky needs more flour.
On a well-floured board, cut pieces from the dough and roll into a rope. Cut the rope into 1-inch pieces.
Using a fork, press the tines of the fork lightly into each piece and pull back, making a slight indentation in each piece of gnocchi.
Toss the finished gnocchi with a little more flour as you finish each rope and either cook immediately or freeze for future use.
To cook fresh gnocchi, bring a pot of water to a gentle boil. Add the fresh gnocchi and let cook about 4 minutes.
Gently lift the gnocchi out of the water with a slotted spoon. Toss with sauce and serve immediately, or drain a little more and quickly saute with browned butter and sage. Serve hot.