Potato bread and rolls
The more I read about organic produce, the more I feel that root vegetables are an area where I want to make sure I go organic - which is why I have welcomed the avalanche of potatoes I've received from our organic CSA in the last weeks of the growing season. Still, there are a lot of potatoes at our house. A lot. Of many varieties. We'll be enjoying them for a couple months. And homemade potato bread and rolls are certainly on the menu.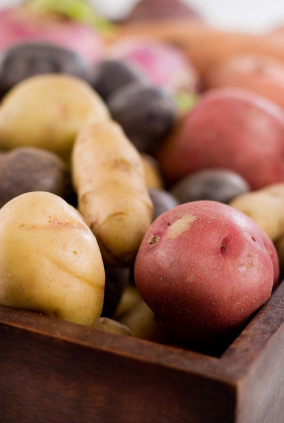 Homemade potato bread and rolls are a family affair
When we make hot dogs and hamburgers, my kids love nestling them in soft potato rolls for the buns. With all these potatoes at my house, we can make our own potato bread and rolls. My kids like helping me make bread, so this is a great way to get the whole family in the kitchen to cook. Then we can follow all the baking with some tasty burger making.
Potato Bread (and Rolls)
Excellent with a hearty winter soup - or slathered with honey butter - or shaped into buns for burgers. Ingredients: 2 medium-sized potatoes, peeled and cubed 1 cup potato water from cooking the potatoes 2 packages yeast 1/4 cup warm water 3/4 cup granulated sugar, divided 1/2 cup butter, melted 2 teaspoons salt 2 eggs plus enough whole milk to make 1 cup of liquid 6 cups all-purpose flour Directions: 1. Place the potatoes in a pot and cover with water. Gently boil potatoes until tender. Drain, reserving 1 cup of starchy liquid. Mash the potatoes with the potato water in a large bowl. Let cool to slightly warmer than room temperature. 2. In another small bowl, combine yeast, 1 teaspoon of sugar and the warm water. Stir well and let sit for a few minutes to bloom the yeast. 3. Add the remaining sugar, melted butter and salt to the mashed potatoes, and stir well. Mix in the yeast, then add the eggs and milk. 4. Add the flour a cup at a time to make a soft dough. Place dough on a floured board and knead it about 10 minutes, or until smooth and elastic. 5. Let dough rise, covered, in a warm place until doubled in size. Knead a few minutes and divide the dough into 2 loaves. Place dough in greased bread pans and let rise, covered, until doubled again. (Alternately, form the dough into rolls and place them on a cookie sheet lined with parchment paper. Let rise until doubled in size.) 6. While the dough is rising, preheat oven to 400 degrees F. Bake loaves for 20 minutes. Reduce heat to 300 degrees F and bake for an additional 25 minutes (shorter for rolls -- check on them frequently).
Irish Potato Cakes
Not exactly bread, not exactly pancakes, not exactly biscuits, Irish potato cakes are something (delicious) in between. Some versions are sweeter than others, and some are studded with nuts and dried fruits. This recipe uses leftover mashed potatoes as its base. Potato cakes can be eaten with just about anything from roasts to stews to jams and compotes. Ingredients: 1 cup mashed potatoes 2 tablespoons butter, softenend, plus extra for frying 2 eggs, beaten 1 cup grated raw potatoes 1/2 cup all purpose flour 1 teaspoon salt 2 teaspoons baking powder 1/4 cup milk Directions: 1. In a large mixing bowl, combine the mashed potatoes and butter. 2. In a separate bowl, combine the eggs and grated potato. Add to the mashed potato mixture and combine well. 3. In a third bowl, whisk together the flour, salt and baking powder, then mix into the potato mixture. Stir in the milk. Form the dough into patties. 4. In a wide skillet, melt some butter over medium high heat. Add the patties and cook until browned on both sides. Serve warm.