Heavenly homemade hash browns
As the CSA year comes to a close, I have potatoes. Lots and lots of potatoes. In spite of the problem of blight in the Northeast, our farm did well on the potato front. Sure, I can store some of them -- and I will -- but I also need to use some of them. First on the menu is hash browns.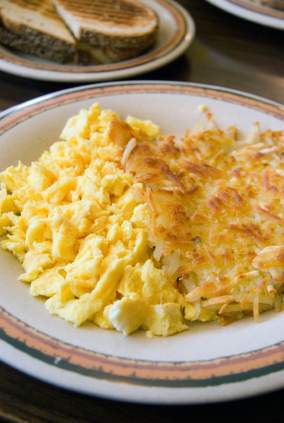 Hash browns at home are a real treat
While I typically associate hash browns with a somewhat decadent diner breakfast (and preferably after a fun night before), really good homemade hash browns are truly a treat. A totally doable breakfast that leaves you wanting more. Yeah, there's a little work, but they're just so good that the little bit of labor is worth it.
How to get ultra crispy homemade hash browns
The key to getting ultra crispy hash browns at home is to get the excess moisture out. Moisture will make the hash browns mushy - and more like potato latkes (which are good, but not what we are going for here). You can employ any number of methods to remove moisture: pressing with paper or cloth towels, or pressing between nesting mixing bowls or other heavy items. But what works really well is a potato ricer. When you use a potato ricer with raw grated potato (as opposed to pressing cooked potato through it), it expertly presses out the liquid. All of it.
Hash browns recipes
Crispy Homemade Hash Browns
Ingredients: 1 pound potatoes (or more if you're really hungry) 2 to 3 tablespoons canola oil, or grapeseed oil Kosher salt and freshly ground black pepper to taste Directions: 1. Scrub, peel and grate the potatoes. I like a fine grate, but you can grate the potatoes thicker, if preferred. Rinse the grated potato several times under cool water. Let drain well before further pressing out of moisture. 2. In a wide skillet over medium-high heat, heat the oil until very hot. Swirl it around the pan. 3. While the oil is heating, press potato in the ricer to get out as much liquid as possible. 4. Scatter the very dry grated potato in the pan to an even thickness. It should not be thick, but it should be even. 5. After 2 to 3 minutes, carefully lift up an edge. If the underside is golden and crispy, it's time to flip. If not, let it cook a bit longer until the bottom is golden and crisp. 6. Flip the hash browns and cook until the underside is crispy and golden as well. Remove from the pan, season with salt and pepper and serve immediately.
Hash browns variations
Basic hash browns is a dish that is satisfying enough, but variations are always fun and tasty. For a change from the basic recipe, you can:
Grate a couple carrots or a zucchini and mix with the potatoes
Use sweet potatoes - or mix half with regular potatoes
Grate a beet in with the potatoes
Try grated radishes or jicama mixed in with the potatoes
Mix in some grated cheese such as Parmesan just before frying - or sprinkle it on immediately after cooking
Saute some finely chopped onion in the pan before adding the potatoes
Add a generous bit of chili powder and cilantro to the potatoes for a real kick
Share your favorite hash browns variation below!