The best baking tips for better brownies
We all have homemade specialties or types of cooking for which we reign supreme. When we journey outside of our cooking comfort zone, we often seek out the culinary advice of those who have mastered that particular area into which we are venturing.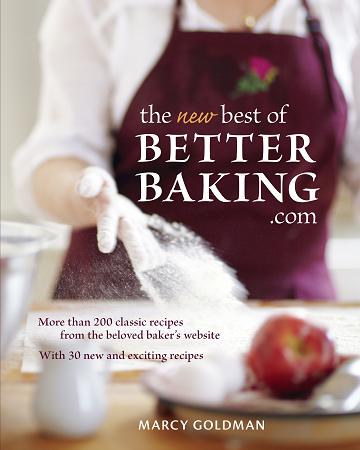 When my need to bake starts to niggle and I crave desserts I am not particularly savvy in creating, I look upon Marcy Goldman, the renowned Montreal-based pastry chef who is the founder of the ever popular online food and arts magazine BetterBaking.com. Goldman has compiled her top baking recipes and tips into her recent book The New Best of BetterBaking.com. To give you a taste of this delicious cookbook, here are Goldman's best brownie baking tips and an award-winning brownie recipe.
Who discovered brownies?
While you are sinking your teeth into a fudgy, intensely chocolate brownie, have you ever wondered who came up with such a mouthful of decadence? According to Goldman, a frequent guest on Siruis' Martha Stewart Living Radio whose work has appeared in Bon Appétit, Food & Wine, and Chocolatier, no one really knows the brownie's origin. "Legend has it that a harried baker forgot the leavening agent in her chocolate cake batter…another tale suggests that a cake dropped, thus changing its airy nature…a vintage Southern cookbook has a recipe for brownie prototypes called chocolate chew bread," she writes. "In any event, eating a good brownie is like coming home. It is familiar and comforting, simple and satisfying."
Baking tips for better brownies
Brownie making is certainly not rocket science, but knowing the pastry chef's secrets for extraordinary chocolate-dense bars will ensure your brownie eating experience is well beyond bliss. Here are Goldman's baking tips for the best brownies.
1. Choose quality chocolate
Goldman suggests high-quality semisweet or bittersweet chocolate and cocoa. Her favorites are Scharrfen Berger chocolate and cocoa as well as Saco Chunks and Saco Premium. "I also have tested and like Ghirardelli, Droste, and Callebut chocolates," she adds.
2. Sift the cocoa
To avoid lumps of cocoa powder in the midst of a finished brownie, scoop cocoa with a metal measuring spoon or cup, then sift or whisk gently with the flour.
3. Pick the right brownie pan
Pan size and shape are important in any recipe, says Goldman, but especially with brownies because the depth of the batter affects taste and texture. Shallow pans make chewy brownies while deeper pans make denser, cake-like bars. She recommends a 7x11-inch brownie pan made of aluminum, nonstick aluminum, or tin pans.
4. Spread with a spatula
Small metal spatulas are an essential utensil for spreading brownie batter and icing. Goldman suggests dipping spatulas in hot water before using to keep brownie batter from sticking.
5. Prevent overbrowning
Though you may enjoy the crusty corners or edges of just overdone brownies, having a pan full of hardened, dry bars is the ruin of an afternoon set aside for baking. Place brownie pans on baking sheets lined with parchment paper; this will keep the bottoms of the brownies from scorching before the tops are set.
6. Get to know your recipe
The key to perfectly baked brownies may be practice, practice, practice. Goldman says, "It is hard to ascertain when brownies are done, so it is generally better to go by baking times in recipes…or experience with the same recipe and your own oven to reach perfection." Remember that brownies tend to firm up as they cool so, if you must err, do so on the underdone side. "[They] can be chilled for dense, fudgy squares that are equally as good," Goldman adds.
Award-Winning Notting Hill Brownies
Makes 12 to 16 large brownies A recipe that needs its own Hall of Fame, this rave-worthy recipe is inspired by the scene in Notting Hill in which the characters compete for the last brownie left on the dessert plate after dinner. Chewy, but not overly so, these brownies are Goldman's test kitchen favorite. Serve them with ice cream or rolled in sugar. Ingredients: 2 cups (1 pound) unsalted butter, melted and cooled 2 cups white sugar 1-1/2 cups firmly packed brown sugar 1-1/2 teaspoons pure vanilla extract 6 eggs 1-1/3 cups unsweetened cocoa powder 2 cups all purpose flour 3/8 teaspoon baking soda 1/2 teaspoon salt 2 cups (8 ounces) chopped walnuts or pecans Confectioners' sugar for dusting Directions: 1. Preheat oven to 350 degrees F. and spray a 9x13-inch baking pan lightly with nonstick cooking spray. Line the bottom of the baking pan and a baking sheet with parchment paper. Set aside. 2. In the bowl of an electric mixer fitted with the paddle attachment, combine the melted butter, both sugars, vanilla and eggs. Beat well on the lowest speed. 3. In a medium-sized bowl, hand whisk the cocoa, flour, baking soda and salt together. Fold into the batter and blend well with the mixer, stopping once or twice to scrape the bottom and sides of the bowl. Fold in the nuts. 4. Pour batter into prepared pan on the baking sheet and bake for 35 to 45 minutes, or until set and slightly firm but not dry. Let cool completely on a wire rack then freeze for 1 hour. 5. Unmold and peel off parchment paper. Cut into 2.5x2.5-inch squares. Wrap each in waxed paper and keep frozen or refrigerated. Dust with confectioners' sugar before serving. The New Best of Better Baking.com cookbook is an invaluable baking tool to have in your kitchen. With more than 200 tried and true recipes from Goldman's website -- ranging from yeast-risen breads and rolls to sinfully sweet cookies, scones, pastries and cakes -- you'll find the gold standard of recipes for whatever baking need arises. You can also visit BetterBaking.com to subscribe to Goldman's vast collection of scrumptious recipes.