Homemade applesauce and 6 tasty uses
Here's a recipe for homemade apple sauce and 6 tasty ideas about how to use it.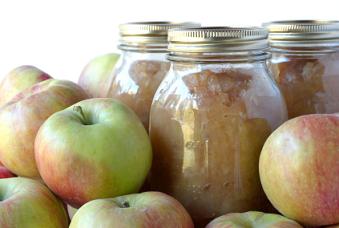 The apple trees are heaving with bright red and green orbs that are begging to be picked lest they fall from the branch. But what to do with all those crisp, juicy, fresh harvested fruits? Make applesauce.
Applesauce is family-friendly
Applesauce is one of those dishes that has universal family appeal. A fabulous first food for infants and simple snack for the kids, applesauce also has many useful culinary applications for the home cook. When a friend recently gave my son and I a container of still warm homemade applesauce, I couldn't wait to put it to use.
Make your own applesauce
When autumn arrives, apples are hard to resist. Even if you don't have an apple orchard to pick your own apples, you can still harvest them from the farmers market or, at the very least, the grocery store. Making applesauce just naturally follows.
Basic Homemade Applesauce
Ingredients: 3 pounds mixed apples 1/4 cup water 1/4 cup granulated sugar 1/2 teaspoon ground cinnamon Directions: 1. Core, peel and dice apples. Combine apples and remaining ingredients in a saucepan. Bring to a boil then lower heat and simmer, uncovered, stirring occasionally, until apples are tender. 2. Mash with a potato masher or a fork until desired consistency. Transfer to mason jars and store in the refrigerator. Note: Double the recipe and can the applesauce for future use.
Cooking with applesauce
Though quite delicious on its own, applesauce can be a star ingredient in many dishes, from breakfast to dinner, savory recipes to desserts.
1. Boost breakfast with an awesome apple oatmeal
Oats and apples are made for each other, especially when they are paired in a warm and filling breakfast dish. Make your usual oatmeal and swirl in a generous serving of applesauce. Top off with milk, a little brown sugar, cinnamon, raisins and coarsely crushed nuts and you have one hearty healthy breakfast for you and the kids.
2. Swirl in applesauce for a sweet snack
Honey-flavored Greek yogurt and applesauce sprinkled with fresh ground nutmeg makes snacktime taste like dessert. Not a fan of yogurt? Swirl applesauce into ricotta or cottage cheese. Puree cream cheese and applesauce and use as a dip for baby carrots, celery or even apple slices. The applesauce will cut snack calories and add a delicious dose of vitamins
3. Pair pork with applesauce
A classic comfort food that exudes the essence of fall, a sweet and spicy applesauce adds a contrasting texture and juiciness to an already moist grilled pork chop or roasted tenderloin. To make a sweet and spicy applesauce, simmer basic homemade applesauce with a bay leaf and a pinch each of ground cloves, ground nutmeg, and cayenne. Remove bay leaf before serving with pork. Sprinkle with crumbled feta for a flavorful treat.
4. Make Danish Applesauce Bread Crumb Pudding
A warm and wonderful dessert that is extra special topped with crème fraiche, sour cream or freshly whipped cream, this adaptation of classic Danish Applesauce Bread Crumb Pudding is also quite easy to make.
Danish Applesauce Bread Crumb Pudding
Ingredients: 1/2 cup (1 stick) unsalted butter 2-1/2 cups freshly made bread crumbs (pulse day-old slices of bread in the food processor) Zest of 1 large lemon, chopped 3 to 4 cups homemade applesauce 3/4 cup finely chopped walnuts Directions: 1. Preheat oven to 325 degrees F. and butter a 1-1/2-cup souffle dish. 2. In a large skillet, melt butter over medium heat. Add bread crumbs and stir to coat. Toast bread crumbs, stirring often, until just golden. Do not scorch. 3. Layer 1 cup bread crumbs, half of the lemon zest, and half of the applesauce. Repeat with 1 cup bread crumbs, and remaining lemon zest and applesauce. Sprinkle with remaining bread crumbs and the walnuts. 4. Bake for 25 minutes or until the topping is golden brown. Serve warm topped with crème fraiche, sour cream or freshly whipped cream.
5. Use applesauce to cut the fat in baked goods
A popular fat-reducing trick for baked goods is to substitute part of the oil or butter called for in a recipe with an equal amount of applesauce. Some diet-conscious cooks recommend substituting the entire fat portion, but I've found that substituting about half of the fat with applesauce keeps baked goods from being rubbery. Applesauce also gives baked goods a hint of apple flavor, depending on the amount used in a recipe.
6. Indulge in decadent applesauce desserts
Applesauce isn't simply used in baked goods to cut the fat and calories; it is often a star ingredient in rich and decadent desserts. A groan worthy applesauce cake slathered with a calvados cream cheese frosting is an impressive finale to an elegant dinner. Miniature applesauce crumb cakes can be served with espresso and vanilla ice cream in place of your afternoon tea and nibble. Here's my favorite applesauce cake recipe -- the spicy kick pairs deliciously with a cool hazelnut gelato.
Spicy Applesauce Coffee Cake
Crumb topping ingredients: 1/4 cup whole wheat flour 1/4 cup all purpose flour 1/4 cup packed brown sugar Generous pinch of ground cinnamon 1/4 cup finely chopped hazelnuts 1/4 cup unsalted butter, cut into pieces Cake ingredients: 1 cup all purpose flour 1/2 cup whole wheat flour 1/4 cup packed brown sugar 2 teaspoons baking powder 1/2 teaspoon baking soda 1/2 teaspoon salt 1/2 teaspoon freshly ground nutmeg Pinch of ground cloves A few twists of black pepper 1/2 cup homemade applesauce 1/2 cup vegetable oil 1 egg 1 teaspoon pure vanilla extract Zest of 1 small lemon, chopped 2 egg whites Directions: 1. In a small bowl, use your fingers to rub topping ingredients together until mixture resembles coarse crumbs. Set aside. 2. Preheat oven to 350 degrees F. and butter a 9-inch round or square cake pan. In a large bowl, sift flours, brown sugar, baking powder, baking soda, salt and spices. 3. In a second large bowl, whisk together applesauce, oil, whole egg, vanilla and zest. Add applesauce mixture to flour mixture and stir until just blended. 4. In a clean mixer bowl, beat egg whites until stiff peaks form. Fold a portion of the egg whites into the cake batter until well blended. Fold in remaining egg whites. 5. Pour batter into prepared cake pan and sprinkle topping over cake. Bake for 30 minutes or until a knife inserted in the center comes out clean. Transfer pan to a wire rack to cool. Serve warm.
Need more recipe ideas for that harvest of apples?