Breakfast ideas for busy school mornings
We've all heard about how breakfast is the most important meal of the day, but it can be hard to get your kids to eat a good breakfast in the morning. And it can be even harder for us moms to make them a healthy, well-balanced meal packed with variety and nutrition.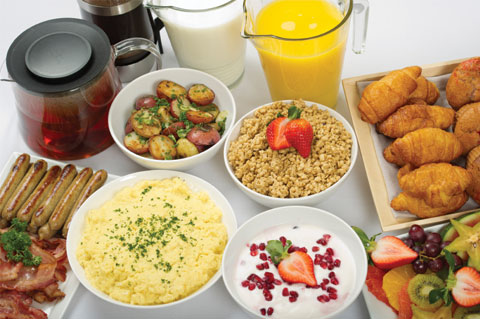 Some kids just don't like to eat right when they get up (hey, I don't either). Instead of sending the kids to school with empty tummies that are sure to start grumbling long before the lunch bell, get creative with your morning meals and think beyond traditional breakfast fare.
Get creative with morning meals
Breakfast doesn't have to be a full dinner platter of pancakes with hash browns and bacon on the side to be a worthwhile meal — and a solid meal doesn't have to be solid in ingredients. Trying to balance carbohydrates and fiber with protein is the best bet for carrying your child through to noon and that can be done easily with a "traditional" breakfast of fortified breakfast cereal and juice or with a fruity protein smoothie. Breakfast can be homemade energy bars or reheated frozen homemade breakfast burritos. It can be a hybrid, too. Try a frozen waffle smeared with sunflower butter or two waffles made into a sandwich with just about any filling. You can even make a breakfast pizza or offer something traditionally thought of as dessert — like rice pudding with a bunch of dried fruit, for example. Have fun with it and plan in advance!
Breakfast on the go
Sometimes breakfast has to be eaten while walking to the bus stop or in the car if you're running late. Just make sure it can be eaten with one hand (no spoons or, say, yogurt and granola) and with minimal mess. The smallest size of reusable aluminum water bottles can hold orange juice or a smoothie, and half-size insulated "coffee" cups can hold hot cocoa or warmed milk with a little honey in the colder months. This paired with a piece of fruit or a granola bar is sure to start your children's day off right!
Breakfast ideas for busy mornings
When you get up and know you've got to get out the door, opt for a quick morning meal. Take advantage of fresh fruit, frozen waffles, quick bread, leftovers and even deli meats to put together a balanced, kid-friendly breakfast.
Here are some quick and easy breakfast ideas:
Waffle, pancake or even French toast "sandwiches" filled with just about anything
Banana bread or zucchini bread sandwich filled with cream cheese or nut butter
Broiled ham and cheese on toast
Breakfast burrito
Homemade energy bars
Fruit and protein smoothies
Hard-boiled eggs and a piece of fruit
Celery with cream cheese and dried cranberries and nuts
Trail mix (without chocolate)
Granola/energy bar sticks used as a spoon for yogurt
Fried rice
Rice pudding with dried fruits
No matter what, just make sure to get your kids to eat something in the morning. If all else fails, put a resealable bag of cereal in your child's backpack for when the stomach grumbling starts. Again, plan breakfasts in advance to make it easier on yourself and try to make it fun for the kids, too!
More breakfast recipes
Banana strawberry smoothie
Citrus-yogurt muffins
Fruit swirl coffee cake