Eating on vacation: Bakery breakfasts
When traveling with the family, you don't always have a kitchen for healthy breakfasts. Diner breakfasts can get a little too heavy, and room service can be undeservedly expensive. However, with a little effort to find the bakeries that the locals love, you can put together a delicious breakfast for your family without breaking the calorie bank or the travel budget.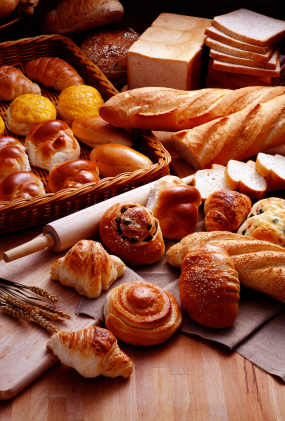 Ask the locals
Wherever you are staying , it always pays to ask a local or two what foods and food establishments they recommend. Their favorites may be off the beaten path or even very much out of the way, but consider your quest for good food a way to get to know the area in which you are traveling. If you are in a hotel, the concierge or front desk may direct you to these places. Or not. The hotel may have an interest in keeping you right nearby. If you suspect that the concierge isn't telling you everything, ask one of the hotel subordinates. See a member of the cleaning staff in the hall? Ask her! Or ask the gym attendant.
Ask about shop specialties
Once you make your way to the bakery, ask if there are any items the shop is particularly known for. You may be privileged to taste the flakiest elephant ears ever or the most perfect little currant scones. When choosing items from the bakery, you can choose just the right portions. If the muffins are giant, they are easy to share. Likewise with danishes and other pastries. And if any bakery goods are left over, simply take them with you for later.
Yes, there's plenty of butter
While you can spend less and eat less - and often better - in a bakery, you do still need to watch the relative fat and calorie content of the baked goods. I tend to look for items that are drier than others. Lots of shine - unless it's obviously a sugar-based glaze - tells me there's likely a higher butter or fat content. That said, a really good, flaky and tender croissant is worth the calories and the fat every time!
Look for added fruit and protein
Consider baked goods with fruit or nuts to round out the food groups. Croissants with fresh fruit filling, or fresh peach muffins, for example, will have a nutritional edge over items that are all carbs and fat. Items with nuts, such as almond scones, will provide a little extra protein. Many bakeries even offer more lunch-like fillings for some pastries - ham and cheese or spinach and feta immediately come to mind. While these can be delicious, they can also be heavy. For a lighter breakfast experience, you may want to choose another item.
Get extra for the road
Another great thing about the bakery breakfast is it gives you the opportunity to buy some tasty items for later in the day. A few extra croissants and a stop at a local deli can mean some really gourmet sandwiches for lunch or dinner. Share a large muffin and you've got a scrumptious little afternoon snack. Take advantage of the local bakeries while you are on vacation and enjoy a freshly made breakfast and delicious nibbles during the day.