Tasty toddler recipes
As your toddlers become more attuned to the tastes and textures of different foods, you will find that they have a natural affinity for their favorites, yet balk at foods that don't fit their preference profile. If their favorite foods are a balance of fruits, veggies, whole grains and lean proteins, you can rest easy that mealtimes won't be a nutritional challenge. However, if your tykes tend to favor one food group while shunning others, you may have to get tricky to ensure they eat a nutritionally balanced diet. Here are some tasty tips and recipes to keep your little ones creatively well-fed.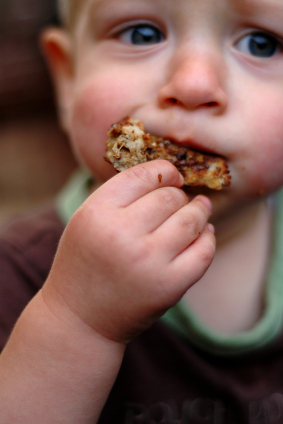 Feed your toddler's curiosity with creative meals
Toddlers are curious creatures that are easily drawn to intriguing new things, including unfamiliar foods - or foods served in novel ways. Creating meals that interest your little ones is as easy as making dishes that are colorful, multi-textured, uniquely shaped and, of course, tasty. (Read about the Color Wheel Meal) Here are just a few ways to keep your toddler hungrily engaged:
Mix chopped dried cherries and apricots into lean meat for meatballs, meatloaf, or mini-burgers.
Melt cheese and sliced lean meats between whole wheat toaster waffles for a whimsical waffle sandwich.
Fill a whole grain hot dog bun with a banana and drizzle with warm nut butter and preserves.
Make miniature veggie quiches with miniature phyllo shells.
Arrange cooked noodles into a "nest" and fill with tomatoes, olives and beans as eggs.
Toss together different colored canned (rinsed) beans for a colorful side-dish.
Make colorful chicken or fish, fruit and veggie kabobs.
Roll sticky rice, peas, sun-dried tomatoes and shredded carrots into fun bite-sized balls.
Toss shredded meat or poultry with a mild BBQ sauce or salad dressing and wrap in lettuce or colorful tortillas.
Make fruit and/or vegetable smoothies in an array of bright colors.
Stir a colorful mix of dried or fresh fruit into oatmeal, ricotta cheese, yogurt, and ice cream.
Make happy faces with fruit and nuts on pancakes, waffles, or toast.
Be adventurous and combine ingredients that offer a variety of tastes, textures and colors. Simply aim to make every meal unique.
Tasty toddler recipes
Easy Cheese Cherry Turnovers
Makes 12 Though these sound like a sweet breakfast dish or dessert, they are actually quite suitable for a lunch or dinner meal. Fresh cherries and a light cream cheese tofu spread nestled in tender puff pastry pockets deliver a flavorful balance of nutrients and are the perfect size for hungry little hands to pick up. Ingredients: 1 egg 8 ounces soft tofu, drained 6 ounces softened Neufchatel (light cream cheese) 2 tablespoons agave or honey 1-1/4 cups chopped, pitted sweet cherries 1 (17.3-ounce) package puff pastry sheets (2 sheets), thawed Directions: 1. Preheat oven to 400 degrees F. Beat egg in a bowl and set aside. 2. In a medium-sized mixing bowl, beat together tofu, cheese and agave or honey until smooth. Fold in cherries. Set aside. 3. Unfold 1 pastry sheet on a lightly floured surface and use a rolling pin to roll it into a 13-1/2x9-inch rectangle. Using a sharp knife, cut sheet into 6 evenly-sized squares. Prick pastry squares with fork. Repeat with remaining pastry sheet. 4. Fill each puff pastry square with 2 to 3 tablespoons cheese-cherry mixture, folding square into a triangle by bring two opposite ends together. Press the sides with the back of a fork to seal. 5. Place turnovers on a large baking sheet and brush with egg. Bake for 15 to 20 minutes or until turnovers are lightly browned and filling is heated through. Let cool and then serve warm.
Vegetable Medley Rice Balls
Makes 12 rice balls Japanese sticky rice is a gracious host for holding a colorful medley of nutritious vegetables. Rolled into balls, these yummy bites become a fun finger food for your toddlers. Ingredients: 2 cups cooked Japanese sticky rice, warm 1/2 cup minced, cooked red or yellow beets 1/2 cup minced blanched carrots 1/2 cup shelled green peas (or frozen, thawed) 1 teaspoon rice wine vinegar Directions: Combine all ingredients in a large bowl. Roll mixture into 12 balls and serve. You can also refrigerate balls for up to 2 days.
Corn Flake Chicken Tenders
Makes 12 chicken tenders Kids love chicken nuggets, especially when served with an array of colorful dipping sauces. Far healthier than the deep-fried fast food renditions, these corn flake coated strips of skinless chicken breast are paired with tasty - and healthier - dips. Ingredients: 2 eggs 1 cup coarsely crushed corn flakes or bran flakes 1/2 cup unseasoned breadcrumbs 1/2 cup grated Parmesan or Asiago cheese Zest of 1 lemon, minced 12 chicken tenders (or about 1-1/4 pounds sliced chicken breast), rinsed, patted dry Vegetable oil Light honey mustard dressing Ketchup Yogurt sauce Directions: 1. Beat eggs in a wide, shallow bowl and set aside. Combine cereal, breadcrumbs, cheese, and lemon zest in a plastic zip lock bag. 2. In batches, dip chicken tenders in egg and then put in the bag with the cereal mixture, shaking to coat. Remove well-coated chicken tenders and transfer to a plate until all chicken tenders are coated. 3. Heat a layer of vegetable oil in a large nonstick skillet over medium heat. In batches, cook chicken tenders, covered, for 3 minutes or until the bottom is lightly browned. Carefully flip and cook, covered, for an additional 3 minutes or until both sides are golden and the chicken is fully cooked through. 4. Serve with honey mustard dressing, ketchup and yogurt sauce for dipping.