4 Make-ahead school lunches
If you've ever tried to pack your kids' lunches in the harried minutes before school starts, you'll likely be nodding your head furiously over the next statement:school lunches should be made the night before. When lunches are packed up and placed in the fridge the night before, the next morning is absolutely enchanting.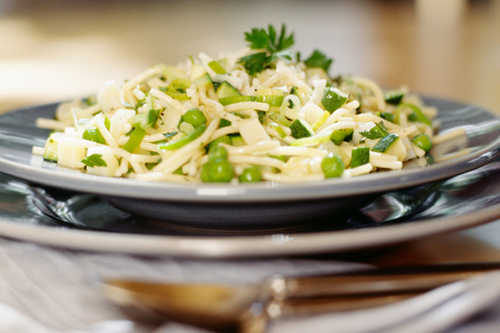 The kids come down the stairs in their matching clothing, dine on a warm breakfast, daintily grab their lunch totes and head on their merry way. Wait until the morning to try to pull together a brown bag of nutritious treats, and somehow everything is all the more hectic. The countertops are a mess, the kids are a mess, the morning is a mess. I don't know why it works this way, but in our house it always does. So, we try to pack our lunches for Tuesday after we eat dinner on Monday.
However, when making lunches ahead of time, not everything saves well overnight. Peanut butter and honey sandwiches turn into a crystallized clump of white bread. Ham sandwiches with pickles and tomatoes get soggy and horrid tasting. If you've ever found yourself caught in the school lunch packing conundrum, here are four fantastically quick and clever lunch ideas which can be made ahead of time, with every one tasting just as delicious after sitting in the fridge overnight as they did fresh.
Pasta by the peashore
This quick, simple pasta salad is easy enough to whip up the night before you need it and tastes even better after marinating in the fridge all night. Plus, it's an all-around winner, because kids can't get enough of its simple, nutritious flavor.
2 cup cooked whole-wheat pasta shells
1/2 cup frozen peas
1/3 cup pre-cooked chicken, sliced
1/3 cup bottled Italian dressing
In a large bowl, toss together all ingredients. Spoon into half-cup sized plastic containers before packing in your school lunch tote. Don't forget to pack a plastic spoon, too!
Pizza bagel supreme
If your kid is a pizza lover, try making this simple pizza-inspired bagel recipe for lunch. Bagels make a great make-ahead meal idea because the bread is so sturdy, staying firm and un-soggy all night long!
1 wholegrain bagel
2 tablespoons cream cheese
8 slices pepperoni
2-3 green bell peppers, sliced
1 tablespoon of sliced black olives, drained well on a paper towel
Cut the bagel in half and smear the cream cheese on the cut-side of the bottom bagel slice. Layer the pepperoni, bell peppers and olives on top of the cream cheese. Place the top bagel slice on top. Wrap well before storing in the fridge overnight.
Eggscellent eggs
Most kids love hard-boiled eggs, but they take some preparation to have on hand for school lunches.  If you're planning on making your school lunch the night before, hardboiled eggs are a perfect addition. They hold up well overnight, are packed with protein and are so much fun for kids to peel in the lunchroom (so long as you cook them right!)  Make these eggs extra fun by inviting your kids to paint polka-dots on them with Q-tips and food colorings. Pack them with a variety of fresh cut fruits, vegetables, and a granola bar for a filling, well-balanced meal.
6-12 uncooked eggs
Salt & pepper to taste
In a large pot, place eggs in a single layer; cover completely with water. Place over a cold burner on the stove, then turn the stove on high. Bring water to a boil, turn the heat to low, and simmer for an additional two minutes, the turn the heat off of the stove, but leave the pan on the warm burner. Cover the pot with a lid and allow it to sit on the stove for 15-20 minutes. Tip a good portion of the hot water into the sink, leaving the eggs in the pot. Cover immediately with several cups of ice.  Doing so will "shock" the membranes, making the eggs really easy to peel.  Store in the refrigerator for up to 3 days.  To eat, peel and discard hard shell. Sprinkle the inside, cooked part of the egg with a little salt and pepper.  Eat & enjoy!
Tea time bites
Kids love bite-sized lunches. These dainty lunchtime treats are a snap to put together, can be packed in a bento-style lunchbox and don't need to be stored in a fridge overnight. That way, your child can pack their school backpack the night before and be totally ready to head out the door when the morning alarm rings!
1 Nutella and wholegrain bread sandwich (cut into small finger sandwiches and wrapped tightly in plastic wrap)
1 clementine orange
Bag of dried fruit & nut trail mix
Yogurt or chocolate-covered pretzels