Sandwich recipes for busy school nights
School nights – and family nights in general! – are extremely busy and a stash of simple dinner recipes is any mom's saving grace. Sandwiches are a spectacular dinner option because the variety is endless – hot, cold, pressed, open-faced, the list goes on. Try one of these simple sandwich recipe ideas for tonight's supper and we're pretty sure your little students will give you an A+!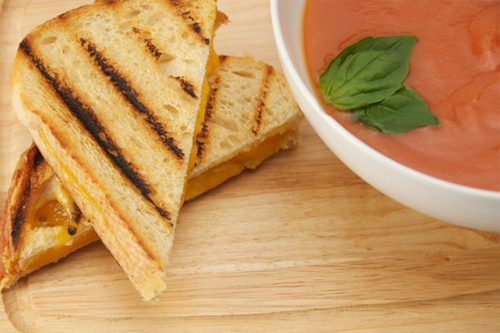 Chicken Cordon Bagel Melt
Quick, easy and reminiscent of chicken cordon bleu, this is one quick recipe your whole family will love.
To make:  Microwave 2 frozen chicken patties for 1-2 minutes (just enough to soften them). Slice one onion bagel in half and spread each half with a thin layer of cream cheese. Place a chicken patty on top of each bagel. Top chicken patties with a thin slice of ham and a slice of swiss cheese. Bake in an oven preheated to 400°F until cheese is bubbly, about 7-8 minutes.
Café Grilled Cheese
Grilled cheese is everyone's favorite!  It's even better when dipped in tomato soup. To make a snappy tomato soup, heat 1 can of tomato sauce and a 1/2 cup of whole milk together in a microwave safe container until steaming. Salt and pepper to taste, serve with grilled cheese sandwiches, and enjoy!
To make: Place a slice of American cheese, a slice of ham, several leaves of fresh spinach and thinly sliced tomatoes between two pieces of bread. Spread a thin layer of butter on the outside of the sandwich and grill in a skillet heated to medium on the stovetop.
California Tuna Melt
Most kids don't mind the subtle flavor of avocado, although some might not like a bundle of sprouts atop their sandwich. Invite your kids to customize their own tuna melts by providing sliced tomatoes, avocados and sprouts, and encourage them to top their sandwich with at least two of the provided toppings.
To make: Mix a can of tuna with 2 tablespoons of light mayonnaise, salt and pepper to taste. Cut an English muffin in half and top each half with a heaping spoonful of tuna mixture. Place a slice of muenster cheese on top of the tuna and bake on a cookie sheet in an oven preheated to 400°F for 5-7 minutes, or just until the cheese begins to melt. Remove hot sandwiches from the oven and top with a slice of tomato, a slice of avocado and sprouts (if desired) before serving.
Peanut Butter & Cheese
Sometimes you just don't have a lot of food left in your house. Here is a pantry friendly recipe that uses just the basics while still providing needed protein and fiber from peanut butter and fresh fruit.
To make: On a slice of whole grain sandwich bread, spread 1 tablespoon peanut butter.  Spread 1 tablespoon of light cream cheese on the second slice of bread. Place sliced strawberries and/or bananas on top of the cream cheese. Top with the peanut butter covered slice of bread before serving. 
Spicy Chicken Sandwich
Chicken sandwiches seem to be popping up on a lot of fast food restaurant menus lately. Try making your own version of this popular meal at home in just a couple of minutes.
To make: In a small bowl, combine 1 tablespoon of paprika, 1 tablespoon of cayenne pepper, ½ tablespoon of garlic salt, and 1 teaspoon of onion powder together. Place a frozen chicken patty on a cooking sheet and spray it with a thin layer of non-stick cooking spray. Sprinkle the spice mixture on top of the chicken patty (use more if you want it spicy, a little less if you don't), then bake according to package directions. Serve on a hamburger bun with shredded lettuce and mayonnaise.
More sandwich ideas