5 Snacks kids can make
When you need an after school snack in a hurry, just leave it to the kids! These 5 kid friendly snack ideas are easy enough for kids to put together themselves – even the kindergartners in your crowd! All ages will love the taste of these easy kid snack recipes.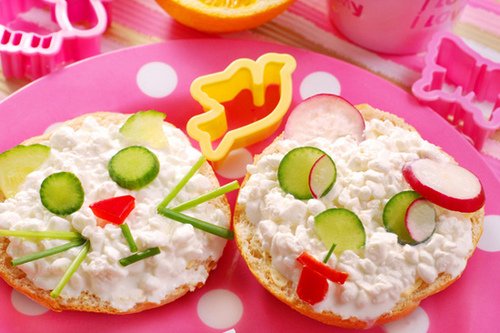 You'll also want to take a moment to show your kiddo how to prepare these snack ideas the night before to avoid any moments of a morning meltdown. When properly equipped with the right tools, and a little bit of training, kids 5-15 will be all set to make themselves these quick, delicious snacks, and you'll be all set to have a stress-free morning.
Polka dot stick
Using a butter spreader, smooth a small amount of peanut butter into the center of a piece of celery. Push a row of M&M's® into the peanut butter and wrap with plastic wrap before heading out the door to school.
Creamy cracker sandwiches
Using a butter spreader, smooth a small amount of whipped cream cheese onto a round butter cracker. Top with a second butter cracker. Pack into a reuseable container.
Chicken licken
Hard-boil several eggs, (you may store them in the refrigerator for up to three days). In the morning, invite your child to peel an egg or two, then sprinkle the outside of the egg with a little salt and pepper before packing it into a reuseable container for school.
Say cheese
Allow your child to cut their own clever shapes out of prepackaged cheese slices, then serve them on pretzels or wholegrain crackers at snack time.
Baby cakes
Kids can make their own bite-sized sandwiches for snack time by layering sliced ham and cheese between whole wheat sandwich bread, then cutting the sandwich into pieces with tiny cookie cutters.  Fun and yum! It's the perfect way to snack on a sandwich.
More kid friendly snacks